Asrock Vision 3D HTPC Review
Page 14 :

Final Thoughts By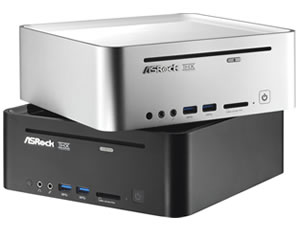 TechSpot is celebrating its 25th anniversary. TechSpot means tech analysis and advice
you can trust
.
When you buy through our links, we may earn a commission.
Learn more
.
Final Thoughts
Asrock's Vision 3D is the most powerful HTPC we've tested yet, though it's also the most expensive by far. The system was showcased earlier this year and officially released in November but you won't have much luck finding one for sale in the U.S. for now. Pricing is not completely clear as a result, but we expect the base model to retail for around $800, making it a little over 20% more expensive than the Core 100HT-BD.
Although the hardware is largely unchanged, the Vision 3D has a few crucial upgrades, namely the higher clocked Core i3 processor and the Nvidia GeForce GT 425M graphics card – the latter of which made a world of difference in our testing. The GeForce GT 425M provides a significant boost in gaming performance over the Core 100HT-BD as well as other HTPC systems with integrated graphics. For those seeking even more performance, Asrock has made it very easy to overclock the CPU and GPU within Windows.
We haven't talked about the whole "3D" aspect of the Vision 3D. 3D entertainment is the latest trend in technology, and the Vision 3D supports both gaming and movies in the extra dimension. We're not keen on the movement, but if that's what concerns you the most you shouldn't have any issues playing 3D Blu-ray movies with the box. Gaming performance is bound to suffer when Nvidia's 3D Vision is turned on, so keep in mind you will be limited by the capabilities of a mobile-oriented GPU.
We appreciate the Vision 3D's support for three USB 3.0 ports, and although the HM55 chipset will limit the performance of USB 3.0, it'll still provide a boost over USB 2.0. Meanwhile, the Wireless-N 300Mbps network card is capable of streaming high bitrate content and is an essential feature of Asrock's new HTPC.
In fact, it's these features that make Vision 3D so great, and why Asrock can fetch such a premium price. When we opened the Vision 3D, it was apparent that Asrock didn't cut corners, using only the best components. Finding quality hardware such as the Western Digital Scorpio Black hard drive and Kingston DDR3 memory lurking inside was a nice surprise.
However, before we even found out what was hiding inside, the Vision 3D already impressed us with its aesthetically pleasing design. The Asrock Vision 3D comes in either black or silver and would have no problem fitting into any home entertainment setting. Alternatively, it has enough power to serve as a desktop PC for standard needs and entertainment purposes.
Many of you are probably thinking, "I could build a much more powerful computer for the same price!" And you're right. However, it would be somewhere in the vicinity of 5x larger and consume more than twice as much power, so keep that in mind. For anyone seeking the ultimate small form factor computer, we've found it: the Asrock Vision 3D.