TechSpot is celebrating its 25th anniversary. TechSpot means tech analysis and advice
you can trust
.
When you buy through our links, we may earn a commission.
Learn more
.
Final Thoughts
The OCZ RevoDrive X2 240GB is an interesting product that delivered both impressive and disappointing results in our evaluation. First, the RevoDrive X2 got off to an excellent start with our file copy testing, delivering 3-4 times more performance than the Vertex 2 Pro 100GB and in many cases doubling the performance of the Crucial RealSSD C300 256GB and Samsung 470 Series 256GB drives.
Based on this observations we were thrilled to see how the RevoDrive X2 240GB would do in our real world tests, but we were quickly let down. The performance was just average compared to the current SSD leaders, setting no new records.
The synthetic benchmarks then provided jaw-dropping numbers again, and we noticed something interesting about the Atto Disk benchmark results. While the RevoDrive X2 240GB managed to produce the amazing 700MB/s+ read and write performance when working with 128K files, smaller 1K, 2K and 8K tests provided no performance advantages over a single Vertex 2 Pro SSD. We can only assume this relates to the average real world figures.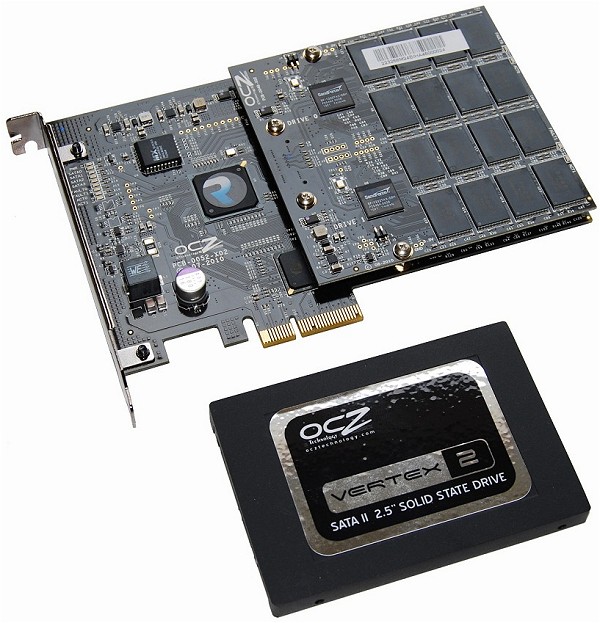 The drive's impressive high-end performance is far from useless though. Some of our tests proved that it is very usable. Take the file transfer testing for example, where the RevoDrive X2 240GB sustained on disk data transfer rates of 230MB/s and above. Unfortunately, for those hoping to boot into Windows in record time or load applications at warp speed, the OCZ RevoDrive X2 is not the answer. However, the RevoDrive X2 has a lot to offer to someone that is constantly working with large files.
If you happened to be considering a solid state RAID0 setup with four drives already, the RevoDrive X2 makes plenty of sense from a convenience standpoint as it's easier to install and configure. However, pricing is an obvious weakness versus four standalone drives. Currently the RevoDrive X2 240GB will set you back $670, four Vertex 2 60GB SSDs are about $520, and four Crucial RealSSD C300 or Samsung 470 Series 64GB drives would total $530. We're willing to bet the RAID0 performance of the Crucial/Samsung drives is something pretty special, but unfortunately we haven't been able to test this.
Coupling these options with the fact that next-generation SandForce and Intel SSD controllers are just around the corner, we can't confidently recommend investing in the RevoDrive X2 right now. For what it's worth, if you understand its shortcomings and decide to take the plunge, the RevoDrive X2 shouldn't disappoint as it's one of the fastest MLC based SSD solutions currently available.
Update (12/23): We had wrongly stated the RevoDrive X2's pricing in the original version of this review. Instead of the suggested $490 price point, the actual cost of the OCZ RevoDrive X2 240GB as reviewed here is $670. The first version of the RevoDrive that only carries two SandForce controllers instead of four is sold for $490. Hopefully you won't make the same mistake we did. Thank you to the readers that pointed this out.