TechSpot is celebrating its 25th anniversary. TechSpot means tech analysis and advice
you can trust
.
When you buy through our links, we may earn a commission.
Learn more
.
RevoDrive Hybrid in Detail
As its name suggests, OCZ's new arrival is a hybrid storage product that combines both hard disk and solid state technology. Like previous RevoDrives, the Hybrid model is built on a black PCB that features multiple layers and connects using the PCIe Gen2 4x interface.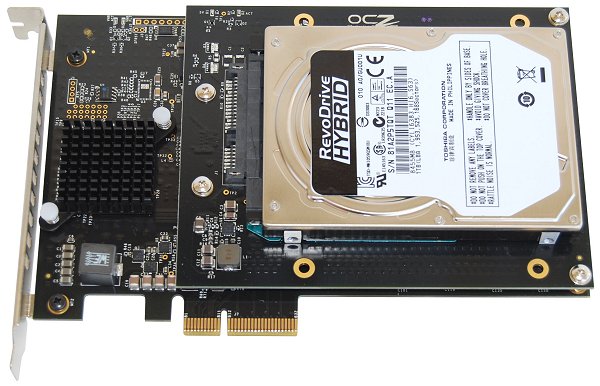 The PCI Express card measures 167.64 (L) x 98.42 (W) x 22.15mm (H) and weighs just 289 grams. The RevoDrive Hybrid features 100GB of MLC NAND flash memory, two SandForce SF-2200 controllers, a proprietary OCZ controller and a Toshiba MK1059GS 2.5" HDD.
OCZ has essentially created a 100GB version of the RevoDrive 3 and augmented it with a 1TB hard drive. This is evident when looking at the claimed read/write performance of 910MB/s and 810MB/s, which is achieved by placing the two SandForce SF-2200 chips in RAID0.


Each controller is linked to eight OCZ-branded 25nm asynchronous MLC NAND flash "M2501064TD48AX21" chips. There are just four chips on the front side of the PCB with the controllers, while the other dozen are located on the backside of the PCB. These SandForce controllers and the flash memory they're attached to serve as a large high-speed cache.

Then on a separate PCB which sits over the SandForce controllers is the Toshiba MK1059GS (HDD2K51) 2.5" hard drive. This 1TB hard drive is used as the primary drive of the RevoDrive Hybrid and this is where the Windows install and all your other data will be stored.
As far as mechanical drives go, the Toshiba MK1059GSM isn't exactly fast with a 5400RPM spindle speed and a 12ms average seek time. However, since it's backed by two SandForce SF-2200 controllers in the RevoDrive Hybrid, its own access time might not be an issue.
Once formatted, the Toshiba MK1059GSM offers 931GB of storage while the SSD has 93GB, but this is inaccessible when using cache mode. Toshiba's drive consumes 2.2 watts when seeking while the RevoDrive Hybrid is said to use 10W when active and 8.1W at idle.
While the SandForce controllers are tied together using the proprietary OCZ RAID controller, the actual caching function is handled by software called Dataplex. This can be downloaded from OCZ's website and the RevoDrive Hybrid comes with its own unique CD key to use the software. Let's press on to the installation process to discuss this in greater detail.