TechSpot is celebrating its 25th anniversary. TechSpot means tech analysis and advice
you can trust
.
When you buy through our links, we may earn a commission.
Learn more
.
Final Thoughts
Although the GTX 680 was unveiled over a month ago, finding one is still difficult. The lack of availability has somewhat spoiled Kepler's debut and we hope it's corrected shortly. Overall, Nvidia has been very disorganized with the GTX 680's release and as a result, many tech sites (us included) didn't receive review units.
AMD has kept Nvidia on its toes in recent generations. The Radeon HD 4000 series spurred a war that saw the GTX 200 series receive numerous price cuts, the HD 5000 series had full run of the market for half a year before GTX 400 cards arrived, and this time around, AMD was almost three months ahead with the HD 7970.
Being slightly behind, it was important for Nvidia to come out guns glazing. To a certain extent, that's precisely what it's done. The GTX 680 is without question the fastest single-GPU graphics card money can buy. Not only is it faster than the HD 7970, but it's also more efficient, quieter and cheaper when it first launched.
The GTX 680 promptly forced the HD 7970's price down from $549 to $479 and there are over half a dozen cards available at this price. Even with those adjustments, Nvidia seems to have an edge in our testing. Assuming you can find one for its list price, the GTX 680 is 4% cheaper than the HD 7970 while being 7% faster.
Gainward's GTX 680 only adds to that value, as it may very well be the highest quality card we've tested. As exaggerated as that may sound, we were surprised how cool and quiet the card is under full load courtesy of its second-generation Phantom cooler. Sadly, this isn't without tradeoffs though, as it uses a triple-slot design.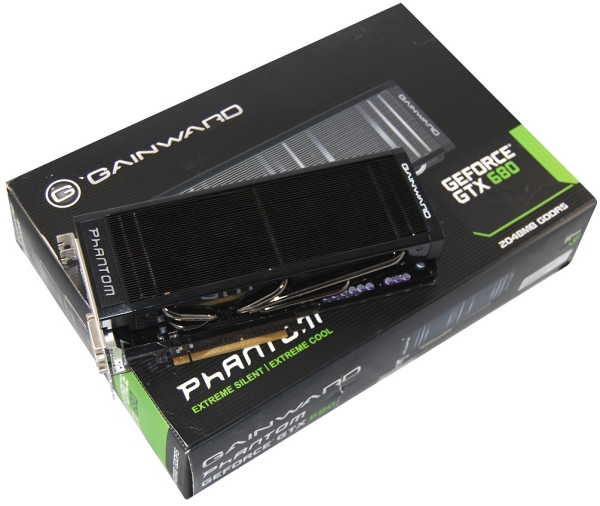 The GTX 680 Phantom comes factory overclocked, yielding a slight boost in most games. Given the card's fancy cooler and power design, we expected to push it hard, but we were disappointed after getting only a 7% bump over Gainward's overclock. Nonetheless, this isn't necessarily indicative of all GTX 680 Phantoms.
Gainward's card could be the ultimate GTX 680, though it isn't available yet and pricing remains a secret. With availability still poor across the entire GTX 680 range, it is difficult to gauge what the Phantom will fetch when it arrives. However, if it manages to near the $499 MSRP, it'll be awfully difficult to ignore.
Pros: Excellent performance, fastest single GPU card money can buy. Very efficient for a high-end graphics card. Gainward's Phantom design grants quiet and cool operation.
Cons: Availability is very limited across the board; Gainward's Phantom model isn't available yet. Price shouldn't be too high to justify the custom design.