TechSpot is celebrating its 25th anniversary. TechSpot means tech analysis and advice
you can trust
.
When you buy through our links, we may earn a commission.
Learn more
.
Most people anticipated seeing the iPhone 5 surface last year but, of course, Cupertino had different plan, instead opting to beef up the iPhone 4's internal hardware and leave its chassis virtually untouched. Apple received a lot of criticism for this decision, though that didn't dampen sales, as the iPhone 4S kept Cook and company near the top of the proverbial food chain for yet another year.
The sixth-generation iPhone has finally landed following months of rumors and speculation, and this time there are plenty of changes internally and aesthetically. It addresses a number of concerns that critics have raised over the past year, but as with any high-profile launch (and especially with Apple products), new complaints have already surfaced. We'll investigate these and more as we put the iPhone 5 under the microscope.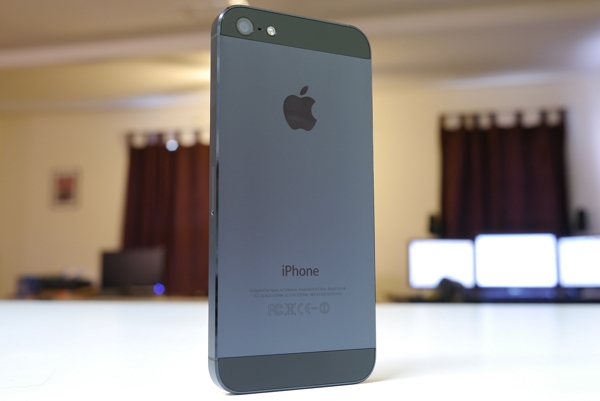 Apple has almost completely redesigned the iPhone's exterior, yet it still looks very much like the iconic handset everyone is familiar with. For the first time in the iPhone's history, Apple bumped the screen size up – albeit slightly. The 4-inch display retains the same 326 PPI density as its predecessor with an effective resolution of 1,126 x 640. Even so, the iPhone 5 has a small display compared to some other devices on the market.
The display's width remains unchanged by design. Apple said it wanted users to still be able to hold and operate the phone with one hand – an obvious jab at larger handsets like the upcoming 5.5-inch Note II. The extra real estate is immediately evident when surfing the web, writing an email or texting. Unfortunately, developers will have to rework their apps to fully support the new resolution and as of writing, there aren't many apps that are 100% iPhone 5-compatible.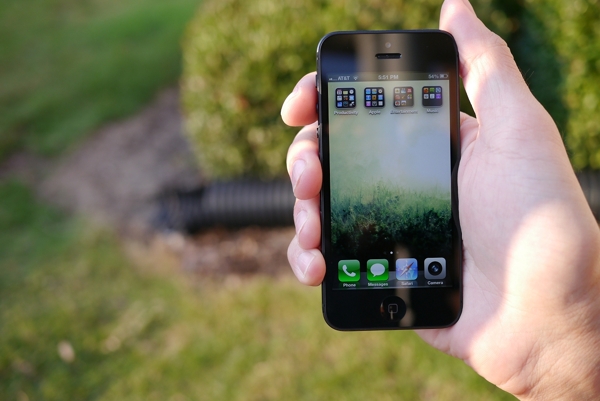 Desired screen size will largely come down to user preference, but I approve of the boost. The idea of having an even larger screen is appealing but my smallish hands and similarly-sized pockets certainly appreciate the continued narrowness of the iPhone 5.
Despite its increased screen size, the iPhone 5 is 18% thinner and 20% lighter than the 4S – a not so subtle change that becomes obvious as soon as you pick it up. Apple has replaced the solid-glass back with a combination of glass and aluminum for the rear shell. The band around the perimeter of the handset has been darkened (on the black model) and tapered while the front glass panel is noticeably thinner. There's no plastic to be found on the iPhone 5.
Even with the iPhone 5 installed in an OtterBox Defender case, it only feels roughly as heavy as a bare iPhone 4. Without a case, the phone feels unusually light – almost as if it's just a fake demo unit you'd find tethered at a retail store. It's a pretty remarkable feat that highlights Apple's engineering efforts.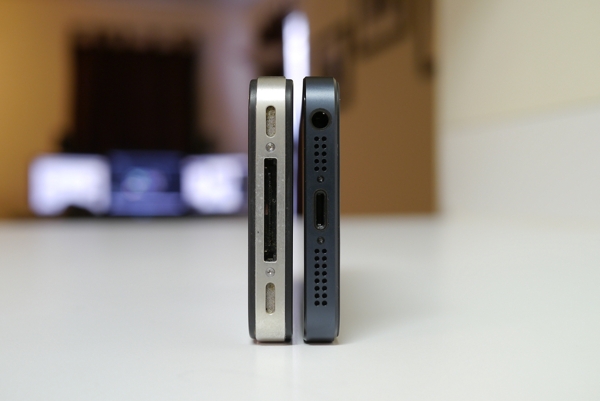 Apple has moved the headphone jack to the bottom of the iPhone in a move that I initially assumed had something to do with internal hardware placement. It wasn't until I actually used the jack that I began to appreciate the move. It's nice not having the earphone cable coming out of the top and potentially getting in your way when interacting with the device. There are a few instances where this could be a drawback, however, such as when you're on the treadmill and want to stand the phone upright while listening to music. It's not likely to be a problem most of the time but it's something to be aware of.
Many people seem to be bothered by the new Lightning connector, which replaced the 30-pin connector that's been a staple on the iPhone since day one, because old dock accessories will no longer work unless you purchase a $29 adapter. I'm probably one of the few people that will say this, but I like the new Lightning connector. Not only is it many times smaller than the legacy solution, but it can be plugged in regardless of its orientation, so it's easier to use in the dark.
Critics argue that this USB 2.0 implementation is slow and that Apple should have used a more common micro-USB connector instead – a valid point, though there does seem to be anything stopping the company from adding USB 3.0 or even Thunderbolt support in future revisions. The only issue I foresee is that I can no longer use the same cable to charge my iPad.
The iPhone 4S shipped with one of the best cameras in a mobile phone and now it's even better. Apple reduced the size of the iSight camera by 25% while making it 40% faster. It still shoots at 8 megapixels but results are said to be better thanks to a new sapphire crystal on the lens and backside-illuminated sensor.
There's also some pretty impressive image processing built into the A6 processor that reduces noise in low-light environments. Apple has also added a panorama feature that lets you to capture up to 240 degrees in a single photo – perfect for that lovely sunset or massive reunion. You just have to rotate the camera on a guided line and the iPhone handles the rest and produces a high-quality 8,640px-wide image. Of course, this is a feature that some Android handsets have shipped with and it's even been possible via third-party apps on previous iPhones, but that doesn't take too much thunder away from Apple's native offering in my opinion.
The front-facing camera has also been upgraded to 720p resolution for improved video quality over FaceTime – a feature that's now available over cellular (with an eligible data plan on AT&T, of course).