Apple iPhone 5 Review
Page 3 :

Usage Impressions and Conclusion By
TechSpot is celebrating its 25th anniversary. TechSpot means tech analysis and advice
you can trust
.
When you buy through our links, we may earn a commission.
Learn more
.
Usage Impressions and Conclusion
When using the iPhone 5 as a phone (people still do that, right?), call quality was clear. I didn't experience any dropped calls even in areas when I only had one or two bars. Apple's AntennaGate seems to be a thing of the past. I didn't experience any unusual drops in signal regardless of how I held the phone.
Wireless web surfing was also pleasant although there was a time or two when I seemed to lose my Internet connection as I transitioned from LTE to standard 3G service. I was back up and rolling in less than a minute but the transition certainly wasn't seamless in my experience.
Each iPhone 5 ships with a set of Apple's new earbuds, now called EarPods. Apple spent three years working on the redesign and it shows. In addition to sounding better than the original earbuds, the EarPods are more comfortable and actually fit properly in my ears. With the old earbuds, I could never really get the left one to sit properly. They also never really felt secure. Granted, the EarPods aren't necessarily one-size-fits-all.
The EarPods include an integrated remote to adjust volume, control media and answer or decline phone calls just like the old version. Overall this is a good addition, especially considering the convenient carrying case, although I'm not sure they'll replace the Logitech Ultimate Ears 500 as part of my travel kit.
I won't spend too much time talking about iOS 6 as it could be the subject of its own review, but I do want to touch on some of the more prominent new features and the OS in general. Most controversial of all is the new Maps application that replaces Google's offering. By this point we've all heard complaints about the new service and its myriad of errors – so much so that Apple has publically addressed the issue.
In my experience, Google's version is much better. I do like the flyover map overlays that are available for select cities and the turn-by-turn navigation is nice, but overall, the level of detail simply isn't there. Furthermore, if you live in a large city like New York or San Francisco and rely on public transit, note that there aren't any maps or directions for you. This won't be a concern for many, but some will certainly miss it from Google Maps. These are all things that Apple will no doubt be working on for quite a while and we've even heard rumors that Google could submit its own maps application to the App Store "soon".
The latest version of iOS no longer carries a native YouTube app, although a standalone version is available for download should you choose to do so. Passbook, Apple's first attempt at a virtual wallet, allows you to load things like boarding passes, movie tickets, store gift cards and coupons on your phone. There aren't a ton of vendors participating in the program yet, but I did find big names like Ticketmaster, Walgreens and Target onboard. This service will likely gain momentum, but right now it isn't too useful.
Apple has also implemented a shared photo stream that lets you to share pictures with a group of friends privately or in public. Each user that subscribes to the photo stream can leave comments on or "like" photos you've shared. The service worked flawlessly in testing, as I was able to see my friend's photos almost instantly and vice versa. It's kind of like a private version of Instagram in a sense and could be useful if you typically send the same picture to several different people.
Apple has also added Do Not Disturb to iOS 6, allowing you to get through an important meeting or a full night of sleep without being bothered. Your phone won't ring, vibrate, light up, or produce any other sort of disruption when DND is activated. Instead, all calls, messages and notifications will be stored in the Notification Center where you can check them the next time you turn the phone on.
The service can be controlled on a schedule or toggled manually in the Settings although take note of the latter because it could be pretty easy to forget it's enabled. Of course, you can categorize contacts as VIPs to override the feature so you won't ever miss a call or message from certain people.
Additionally, the Mail client now has a pull-down feature to refresh (although it still very annoyingly lacks a Select All feature to mass delete messages) and the lock-screen camera is now accessed by swiping the screen up rather than just tapping the camera icon.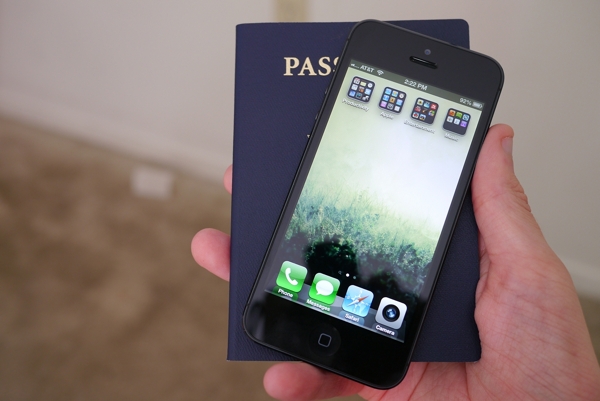 Overall iOS 6 is an incremental update that doesn't really bring a lot of innovation to the table. Apple made some minor improvements here and there that help the overall experience and won't require users to learn a completely new system. That also means there's still plenty that iOS can't do, so if you're coming from Android, that's something to keep in mind.
Apple has stuck with the same familiar pricing model: a 16GB iPhone 5 is $199, a 32GB model costs $299 and a 64GB version will set you back $399 – all with a two-year contract, of course. This pricing is in line with other flagship handsets like the 16GB Galaxy S III ($199) but may actually be cheaper than the upcoming Note II.
The iPhone 5 is the handset that many people have been waiting for. It's lighter, thinner, faster and more durable that previous versions. It may not be as open as Android and it doesn't have the largest screen, but Apple has once again proved why it's among the most innovative consumer tech companies in the world.
If you're coming from the 4S, it's worth evaluating how important things like a larger screen, more processing power and 4G LTE are to you. With iOS 6, the 4S gains features like FaceTime over cellular, panorama pictures, turn-by-turn GPS and Passbook. Conversely, iPhone 4 users have a lot more to gain as many iOS 6 features don't carry over and the speed increase will be more noticeable. Meanwhile, Android and Windows Phone user might be surprised at how well rounded the iPhone 5 is if they give it an honest try.
Pros: Super fast, larger display, thinner body, solid battery life, LTE, improved camera.
Cons: Some apps still need to be updated for the larger screen, if you've invested in iPhone accessories you'll need a $30 Lightning adapter to use them, Apple Maps feels half-baked – though this is an iOS 6 feature and a Google Maps app is coming.