TechSpot is celebrating its 25th anniversary. TechSpot means tech analysis and advice
you can trust
.
When you buy through our links, we may earn a commission.
Learn more
.
Desktop Mode, Enhancements, Conclusion
The Desktop: Enhancements and New Features
To smooth the transition between the new UI and the old one, windows are now flat and no longer translucent, which does help a bit and gives the desktop a modern minimalist look. Windows Explorer with the ribbon interface works well and for some reason does not feel as intrusive as it did when Office first implemented it. The ribbon is also context-aware so it will gray out the options that are not available for certain files or locations.
The Windows 8 desktop experience has been polished over Windows 7. Visually, the system appears more responsive than before. I say visually because in our formal testing we discovered that both operating systems tend to perform very closely for the most part. However, Windows 8's combination of sleeker transitions and no lag between actions make the system appear more responsive, and it does boot up and shut down faster. It's also better optimized to wake up from sleep than its predecessor, and is meant to make your battery life last longer, though we didn't test this last part.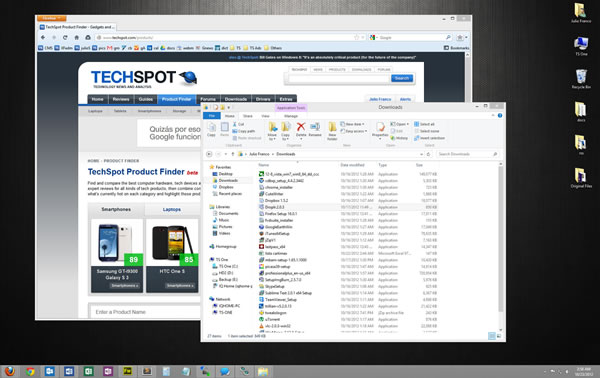 The Task Manager is hugely improved. You can manage running programs and services, and get very detailed data on what's going on your system at any given time. From the same window, you can configure startup programs and get information on whether a specific program or service is causing major delays at launch. In short, the Task Manager is way more powerful.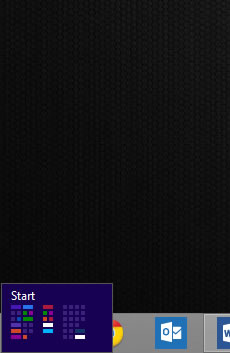 Another valuable addition aimed at advanced users is the power user menu. Right-click the lower left corner (Start hot corner) and you'll find a menu of system setting shortcuts, including Command Prompt (with admin privileges), Device Manager, Event Viewer, System Properties and Network Connections.
File copying has received a nice upgrade with a more detailed dialog box and a real-time throughput graph that shows the status of the transfer. And while on the subject of file management, Windows 8 has added a new capability called File History that helps you create automated backups of important files. This feature is not enabled by default, but if you have a roomy secondary hard drive or external drive then this becomes a must-have. File History is easy to setup by picking the files you want Windows to backup (can be entire directories or libraries), and the OS will monitor for changes and save copies of these files, including previous versions. In a way it feels like a local version of Dropbox (or Skydrive), it's simple and requires zero user intervention once it's set up.
Another new storage capability, albeit more advanced in nature is Storage Spaces. In short what this provides is a way for you to mirror an entire drive (RAID style) using software, so you can have two or even three redundant copies of your files in case of drive failure.
Search functionality on Windows 8 works well. The Windows key + keyword shortcut is still there, though I wish the OS gave unified results without making me choose whether I'm looking for a program, file or setting. The OS should be able to discern that or at least try. Macs have a considerably better solution with universal search in OS X.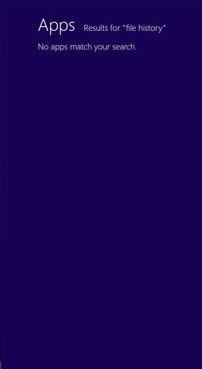 Personally, I don't believe Internet Explorer is a factor to be considered. Microsoft will say IE10 is better than ever, but I still prefer Chrome or Firefox. In the worst of scenarios, I don't think anyone will suffer for relying on Microsoft's built-in web browser.
Unlike previous Windows releases, you shouldn't be worried about device drivers and related incompatibilities. Granted, 100% effectiveness in this regard is almost impossible to achieve, but this is no Vista repeat and Microsoft has evidently built upon the smooth transition that we observed on Windows 7.
Last in the list of new OS features is Reset and Refresh. Though it may be years until you have to touch either option, Windows 8 adds the capability of resetting your system to factory state in a matter of a few minutes. Refresh is similar but it keeps all your settings and Metro apps (not desktop). Advanced users will like to know there's also the option to create your own custom restore image, so you can install all desired applications and configure the OS to your liking. Then create a reset image that can get you back to this state if anything went wrong down the line.
Windows vs. Windows
If I were to use the iPad as a benchmark, I would say the Windows 8 makes a compelling case to become a huge iOS competitor, even though I haven't tested the OS with a tablet. However, some big questions remain unanswered: Will it be fast and run efficiently on tablet hardware? Will Surface tablets sell? Will hardware companies invest heavily to make awesome devices? Will software developers flock to the platform? Will tablets and PCs first coexist and finally merge as one the way Microsoft has prepared for it to happen? I guess we'll know most of the answers in less than a year.
In the meantime, if we are looking at the desktop, I believe Windows 8 remains a nice upgrade, possibly a Service Pack-plus caliber upgrade when you look at the desktop improvements. Metro doesn't make Windows 8 more capable, but it does pave a way for Microsoft to sell slates and appeal to a mainstream user base that craves simpler devices (think of every single netbook, tablet or smartphone user today).
Windows 8 doesn't mess with the essential aspects that made Windows 7 successful, and I believe that is key. The OS performs as well or better than 7 on the same hardware, the overall look and feel of Windows 8 has been further refined, built-in applications don't hinder the experience and system security builds upon its predecessor, so there are no unpleasant surprises like UAC or other problematic, unproven security measures.
There will be four Windows 8 versions:
Windows 8 - The main distribution for consumers, covers all features discussed in this article.
Windows 8 Pro - Adds advanced features that usually power users appreciate including Remote Desktop server, BitLocker, Encrypting File System, Hyper-V, and Virtual Hard Disk Booting. Also there will be a Windows Media Center free add-on on offer. Replaces Windows 7 Professional and Ultimate.
Windows RT - Also known as Windows on ARM. This edition won't be sold separately but only come pre-installed in ARM-based tablets and will only run Metro apps.
Windows 8 Enterprise - Same as Windows 8 Pro. Distributed through other channels.
Windows 8 will launch Friday, October 26, and through January 2013, Microsoft will offer a promotional rate of $40 to upgrade any previous Windows version to Windows 8 Pro – a big first for the company. The standard rate for the retail DVD and downloadable upgrades is $70, while OEM full retail copy will be $100 for Windows 8 and $140 for Windows 8 Pro.
Microsoft assumingly knew they were too late to the tablet game to come up with a dedicated tablet operating system, so "Windows everywhere" is possibly a strategy that had no second best. It's the bet the company had to make to remain relevant, leveraging their PC muscle to gain traction in other growing markets. Windows 8 is a risky sales proposition but a fine operating system at the same time.
Pros: Solid and stable OS. Performance on-par or better than Windows 7. The traditional desktop receives a healthy dose of enhancements. Metro is visually appealing and should work really well on touchscreens. Upgrade price is attractive and extends all the way back to XP licenses.
Cons: Metro and the desktop have been forced to co-exist and it shows. UI changes can add to confusion. No Start button makes no sense. OS has yet to prove itself on the tablet market with further hardware and software support.