TechSpot is celebrating its 25th anniversary. TechSpot means tech analysis and advice
you can trust
.
When you buy through our links, we may earn a commission.
Learn more
.
In 2006 AMD announced 'Fusion', a project aimed to develop a system on a chip that combined a CPU and GPU on a single die. Making the dream a reality for AMD was their acquisition of graphics chipset manufacturer ATI that same year.
The project wasn't without technical difficulties however, and it took AMD 5 years until the first Fusion APU saw the light of day. Based on the Lynx architecture, this first chip combined K10 CPU cores and a Radeon HD 6000 series GPU. Shortly after AMD would release APUs designed for desktop (Llano), mobile (Sabine), ultra-mobile and embedded (Brazos) platforms. All of these APUs and even current generation ones managed to fit a CPU and GPU into a single die, but still required a chipset to properly function.
If AMD could move the chipset on-die, then they would have created a true SoC solution and would be a step closer to a Heterogeneous System Architecture (HSA).
With the new Kabini and Temash platforms AMD has achieved just that. The Kabini APU that we are reviewing here today is aimed at the subnotebook, ultra-thin and small form factor markets, while Temash is aimed at tablets, hybrid laptops and other ultra-low power devices, usually with screens 11 inches or lower.
Based on the Jaguar architecture these new APUs feature between 2 and 4 cores, numerous architectural improvements regarding power requirements and performance such as support for newer x86-instructions, a higher IPC, a CC6 power state mode and clock gating.
However, the big news is that Kabini will be AMD's first, and also the first ever, quad-core x86-based SoC. The chipset or Fusion Controller Hub (FCH) for Kabini is codenamed "Yangtze" and is integrated on-die. Moreover, Kabini will feature DirectX 11.1-compliant GCN-based graphics as well as numerous heterogeneous system architecture (HSA) improvements.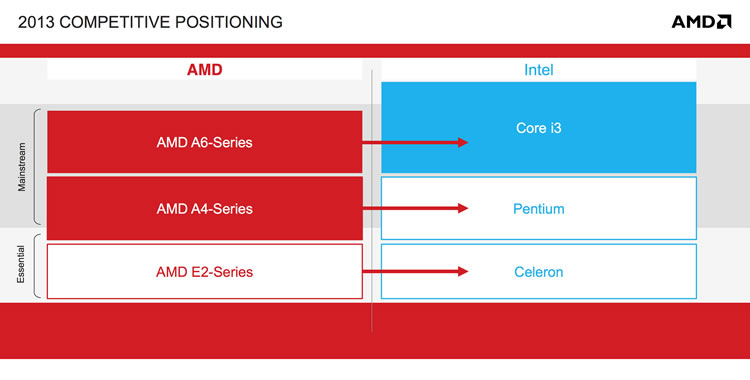 While on the topic, the new HSA branding is meant to take over Fusion due to a trademark dispute between AMD and Arctic Switzerland AG. Arctic claims to be the first to use "Fusion" for its range of computer power supply products since 2006.
Kabini A-Series APU
AMD are releasing their first Kabini based processors today with the launch of the A6-5200 and the A4-5000. For some reason AMD has only sampled laptops featuring the A4-5000 which targets the budget Pentium line, we assume because they believe this is the more interesting processor out of the two.
The A4-5000 features four Jaguar cores clocked at 1.5GHz and a total L2 cache of 2MB, while the on-die GPU is the Radeon HD 8330. The faster A6-5200 still features four cores but clocked at 2.0GHz, while the GPU of choice is the Radeon HD 8400.
When compared to the Bobcat cores used in previous APUs, Jaguar improve on performance in a given power envelope. Jaguar offers a higher IPC, better frequency at a given voltage and improved power efficiency through clock gating and unit redesign. The instruction set as also been expanded to include SSE4.1, SSE4.2, AES, CLMUL, MOVBE, AXV, XSAVE/XSAVEOPT, F16C and BMI1.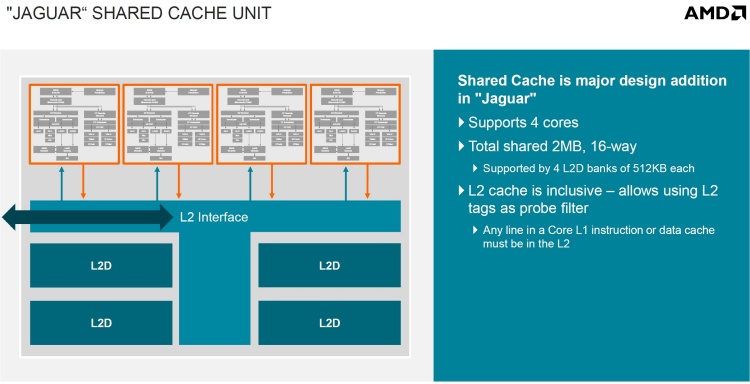 Improvements made to the Jaguar core's frontend, integer execution, floating point unit, data cache, L2 interface and shared cache unit have all helped to improve efficiency as has the move to the 28nm design process.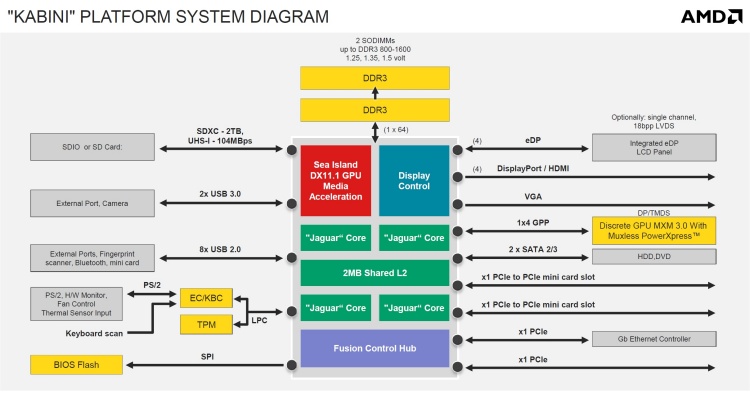 The integrated Kabini chipset features support for two USB 3.0 ports, two SATA 6Gb/s ports, as well as xHCI 1.0 and SD/SDIO 3.0 protocols for SD-card support.
Utilizing Radeon HD 8000 series graphics, Kabini supports a range of APIs including DirectX 11.1, OpenGL 4.3, OpenGL ES 3.0 for the graphics and OpenGL 1.2, DirectCompute and C++ AMP for compute.
Although the A6-5200 (HD 8400) and A4-5000 (HD 8330) feature different GPUs, they are actually very similar as they both boast 128 SPUs, 16 TAUs and 16 ROPs. They do differ in clock speeds, where the HD 8330 runs at 500MHz while the 8400 is slightly faster at 600MHz. These are similar specifications to the Radeon HD 7480D featured in the A4-5300 processor, which we happen to have on hand for testing, so it will be interesting to see how the two compare. Finally, it is worth mentioning that Kabini features dual display Eyefinity support along with wireless display support.