LG G2 Review
Page 5 :

Battery Life, Final Thoughts By
TechSpot is celebrating its 25th anniversary. TechSpot means tech analysis and advice
you can trust
.
When you buy through our links, we may earn a commission.
Learn more
.
Battery Life, Final Thoughts
Smartphone battery life is a crucial aspect of making a device great, and more often than not, OEMs prefer producing slim devices to ones with large batteries. The G2 is, in some aspects, an exception to the trend, as LG has packed in a relatively large 11.4 Wh (3,000 mAh) battery into the handset. Comparing this to the Galaxy S4 which has a 9.88 Wh battery, for example, reveals the G2 has a 15% larger battery for a 4% larger display. With the S4 already having a decent power pack, the G2's battery should go above and beyond.
And it does. In my time using the LG G2, I found the battery life to be excellent, easily lasting a day with any tasks that you like running in the background. The phone's software does feature a battery saver mode, but I never found the necessity to use it, because at the end of a day of moderate usage I was usually left with around 40% of the total charge still remaining.
When you're doing high-powered tasks on the G2, using the Snapdragon 800 SoC to its full potential, the G2's battery will last for five hours at best. This gives you a decent amount of gaming time, and if you balance your usage well, you could probably game for an hour or so at work (when things get boring) without having to plug for a recharge.
The G2 also features the best set of battery monitoring tools I've seen on an Android device. Not only do you get a graph that predicts, based on current usage trends, exactly when the phone will die, but you can also stop applications that are using too much battery with relative ease. This combined with a battery saver mode that you can set to automatically activate, turning off a range of features that you set, potentially allows the phone to last for two days.
Finally, if you want to see how this device performs in our battery life test against other devices, check below. In this test, the phone is placed in airplane mode and a 720p video loop is played at 75% brightness until the phone dies. Handsets that score more than eight hours in this test tend to have great battery lives, and the G2 delivers by topping the chart.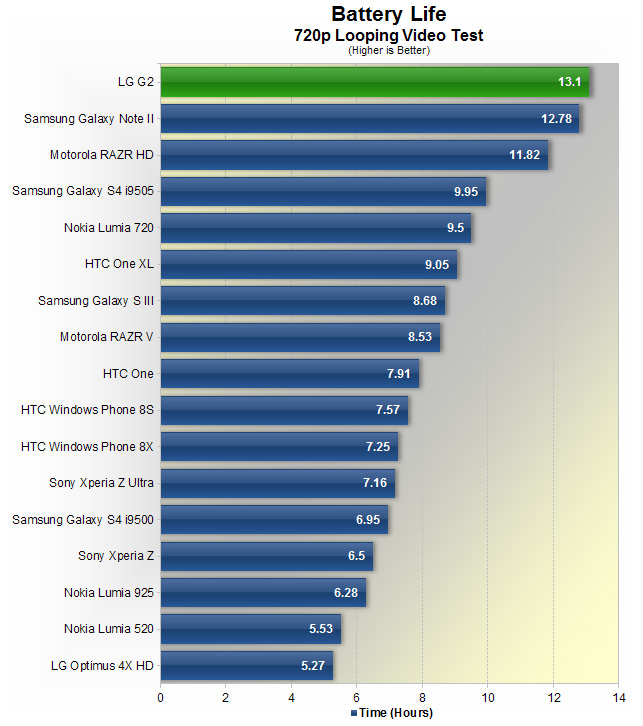 Final Thoughts
From the spec sheet to the final product, it's clear that the G2 is LG's best effort yet. The company has gone all-out to pack the handset with brutally fast, top-end hardware alongside a strong suite of software features that rivals the Samsung Galaxy S4.
LG's True-HD IPS+ LCD display is one of the nicest I've seen, fitting edge-to-edge thanks to the relocation of the power and volume buttons to the back of the device. While the position of the buttons is unconventional, it's surprisingly functional and comfortable to use; the issues I had with the design related to the plasticky feel, rather than the button placement.
Previous devices from LG have included mediocre (at best) cameras, but the G2 bucks this trend, opting for a high quality Sony Exmor RS sensor with OIS: a decent combination especially when paired with a strong feature set. The battery life from this device is also superb, packing enough juice to last all day, and although this makes the phone a bit thicker than other flagships, it's more than made up for in stamina.
The software represents an interesting proposition, because it's certainly more bloated than stock Android, but there are some truly useful features to be found if you dig deep enough. I'm in no way a fan of the UI design LG has gone for, but I can put up with it for inclusions like Quiet Mode, Text Link, Quick Remote and a ton of camera/video-related features.
With outright prices for the G2 starting at $570 for a 32 GB model, the handset is priced similarly to the 16 GB Galaxy S4 ($580) and the 32 GB HTC One ($600), which puts it in an tempting position for flagship Android smartphone buyers. The G2 is more powerful than both and comes with a larger battery, but the One features a better aluminium construction and higher quality (albeit smaller) display. Comparing the G2 to the S4 is even tougher, because their feature sets are so close to one another.
At the end of the day, the LG G2 is serious competition to other high-end smartphones on the market, and its wide array of features make it a fine choice for nearly anyone's needs.
Pros: Amazing battery life for a performance powerhouse. Beautiful edge-to-edge display, complemented by a strong software suite. Finally an LG phone with a decent camera!
Cons: LG's custom skin is heavy and visually unpleasing. Plasticky construction lacks that premium touch.