Posts: 9,329 +119
Staff member
What just happened? In another example of why we can't have nice things, Dropbox has announced it is limiting the amount of storage customers will receive on its Advanced plan, which previously offered an unlimited amount. The company has taken this decision due to people abusing the service for purposes such as crypto and Chia mining.
Dropbox announced that its business-focused Advanced plan is being moved to a metered storage policy. The company explained that the original limitless plan was designed to offer teams as much storage as they required, and it knew some organizations would use a lot more than others.
However, Dropbox says it has become aware of a growing number of customers buying Advanced subscriptions even though they were not running a business or organization; instead, many have been using the unlimited storage for other purposes, including crypto and Chia mining, unrelated individuals pooling storage for personal use cases, or even instances of reselling storage.
Dropbox added that there has been a surge in this sort of behavior over the last few months as other services make similar policy changes to their unlimited storage tiers. It says customers like these can consume thousands of times more storage than legitimate business customers.
Dropbox confirmed it will no longer be offering customers as much storage as they require and is moving to a metered system. Customers who use 35TB or less per license, which covers over 99% of Advanced customers, can keep the same amount they're using at the time they're notified of the change. They also get an additional 5TB credit of pooled storage for five years at no additional charge to their existing plan.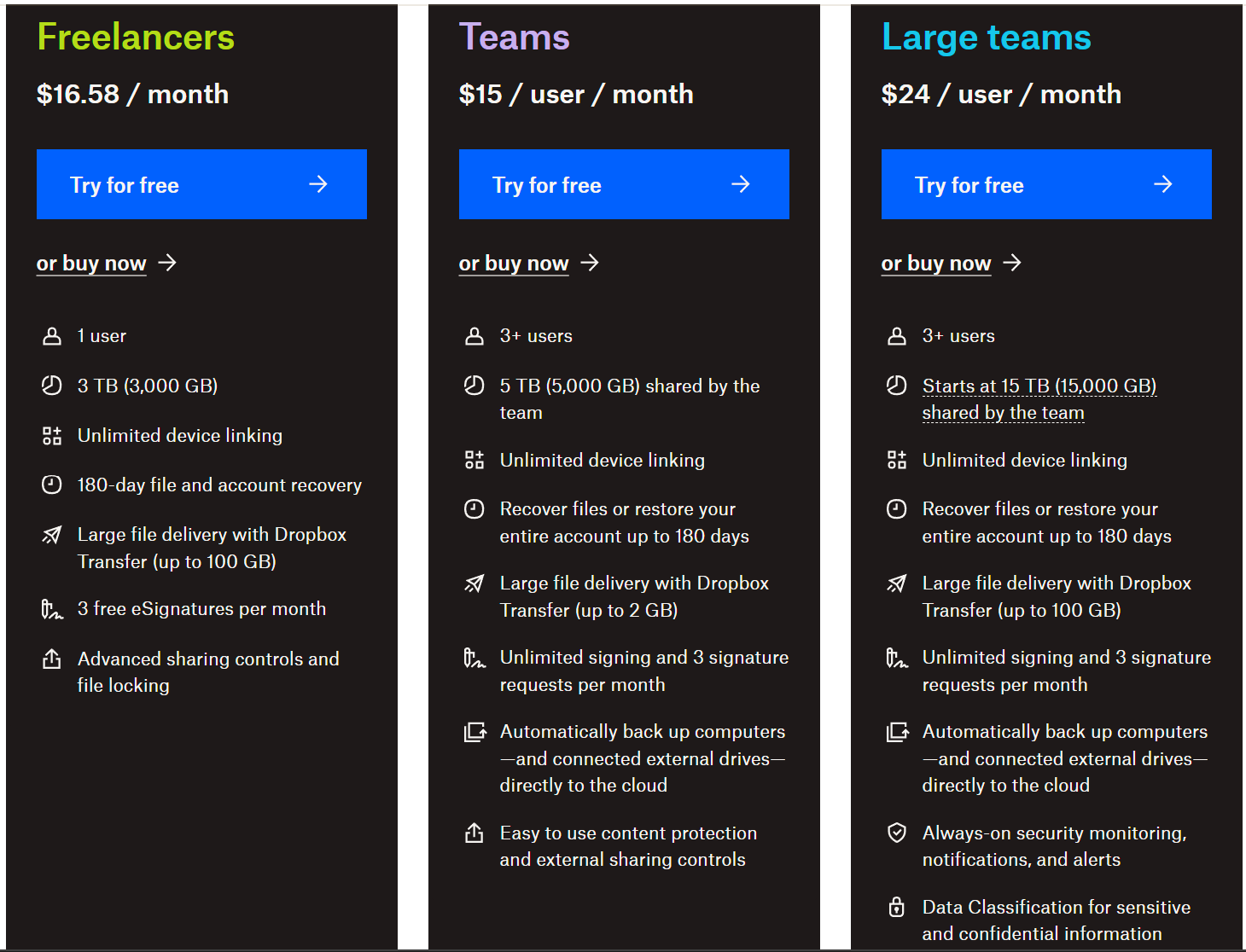 The small minority currently using over 35TB will receive the same offer but the extra 5TB (up to 1,000TB) of pooled storage will only be free for one year. Dropbox said it will contact these customers to discuss a range of storage solutions that work for their businesses.
"We will begin gradually migrating existing customers to the new policy on November 1," the team states, adding: "You don't need to do anything today. We'll notify all customers at least 30 days prior to their planned migration date."
New customers on the Advanced plan will pay $24 per user per month when billed yearly, with a minimum of three users required, and get 15TB of pooled storage. Dropbox will also be offering storage add-ons for new customers on September 18 and existing customers on November 1 at 1TB for $10/month if purchased monthly or $8/month if purchased annually.
https://www.techspot.com/news/99922-dropbox-kills-off-unlimited-storage-offer-response-crypto.html