Something to look forward to: The next first-party PlayStation title to receive a PC conversion is Ratchet & Clank: Rift Apart, marking the franchise's PC debut. While Sony hasn't revealed the game's system requirements, the publisher has confirmed a range of PC-exclusive features mostly in line with its prior PC ports.
Ratchet & Clank: Rift Apart will release on Steam and the Epic Games Store on July 26 for $59.99. Sony has started detailing what PC port studio Nixxes has added to the formerly PlayStation 5-exclusive title, with information on system specs coming later.
Like Sony's other PC conversions, Rift Apart will support unlocked framerates and resolution upscaling methods to enhance performance and image quality. The game includes the full range of upscaling features from all three GPU manufacturers: DLSS 3 (which includes DLSS 2 super-resolution for anyone worried), Nvidia Reflex, DLAA, FSR 2, and XeSS.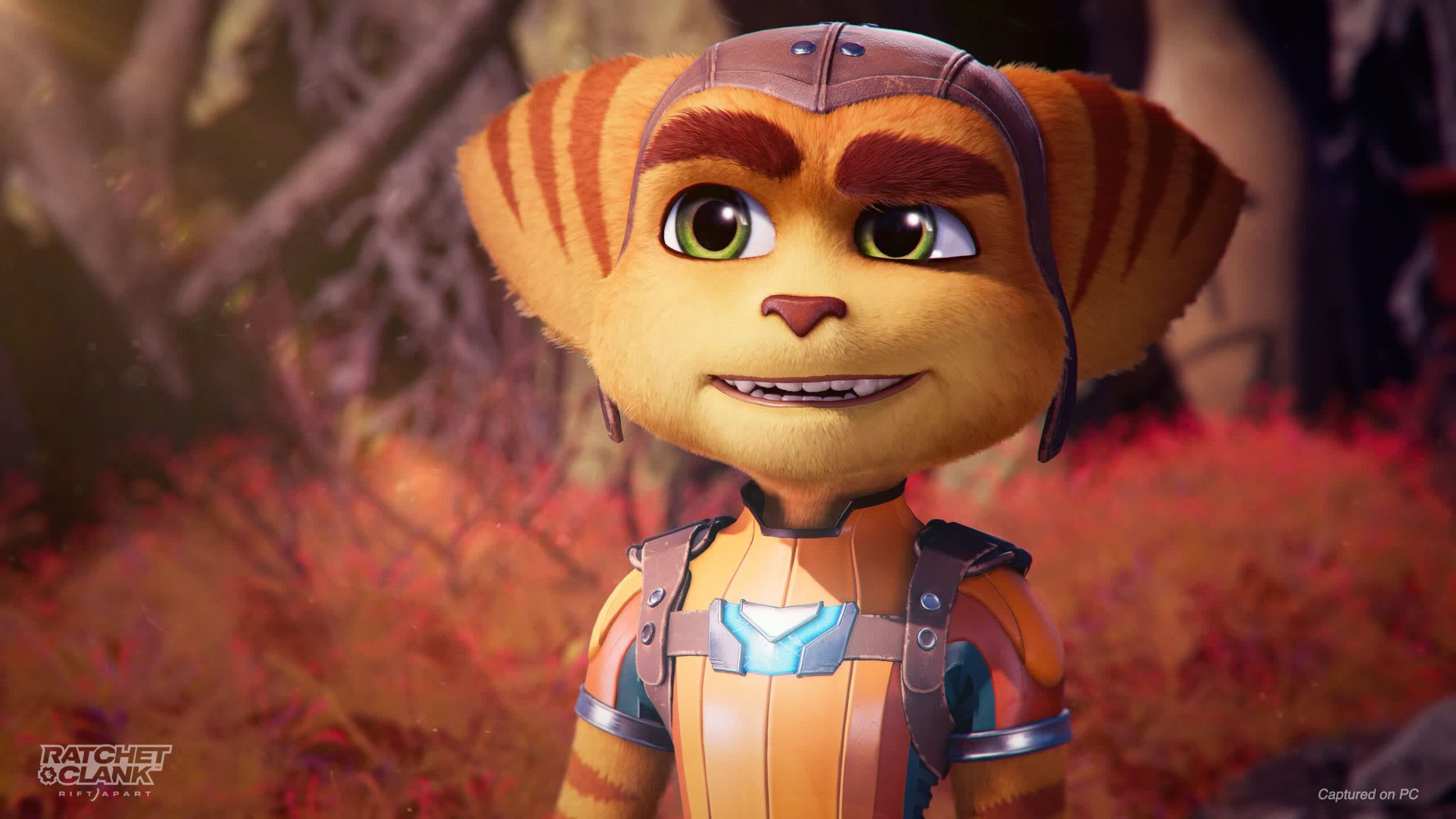 As expected, Rift Apart supports 21:9 and 32:9 aspect ratios for ultrawide monitors. Furthermore, Nixxes added a 48:9 mode for triple-monitor setups. Full mouse and keyboard input accompanies DualSense support, with haptic feedback and dynamic trigger effects through a wired connection.
The only new graphics feature Sony confirmed for the PC version of Rift Apart is ray-traced shadows to accompany the PS5 version's ray-traced reflections. The reflections will receive multiple quality settings.
Although we don't know the game's exact system specs, Rift Apart is one of the more visually impressive PS5 exclusives, so it could be noticeably more demanding than some recent Sony titles like Spider-Man Remastered or Sackboy: A Big Adventure. The upcoming action platformer could land somewhere closer to Returnal, which recommends an RTX 2070 Super or RX 6700 XT (and infamously, 32GB of RAM for 4K gameplay).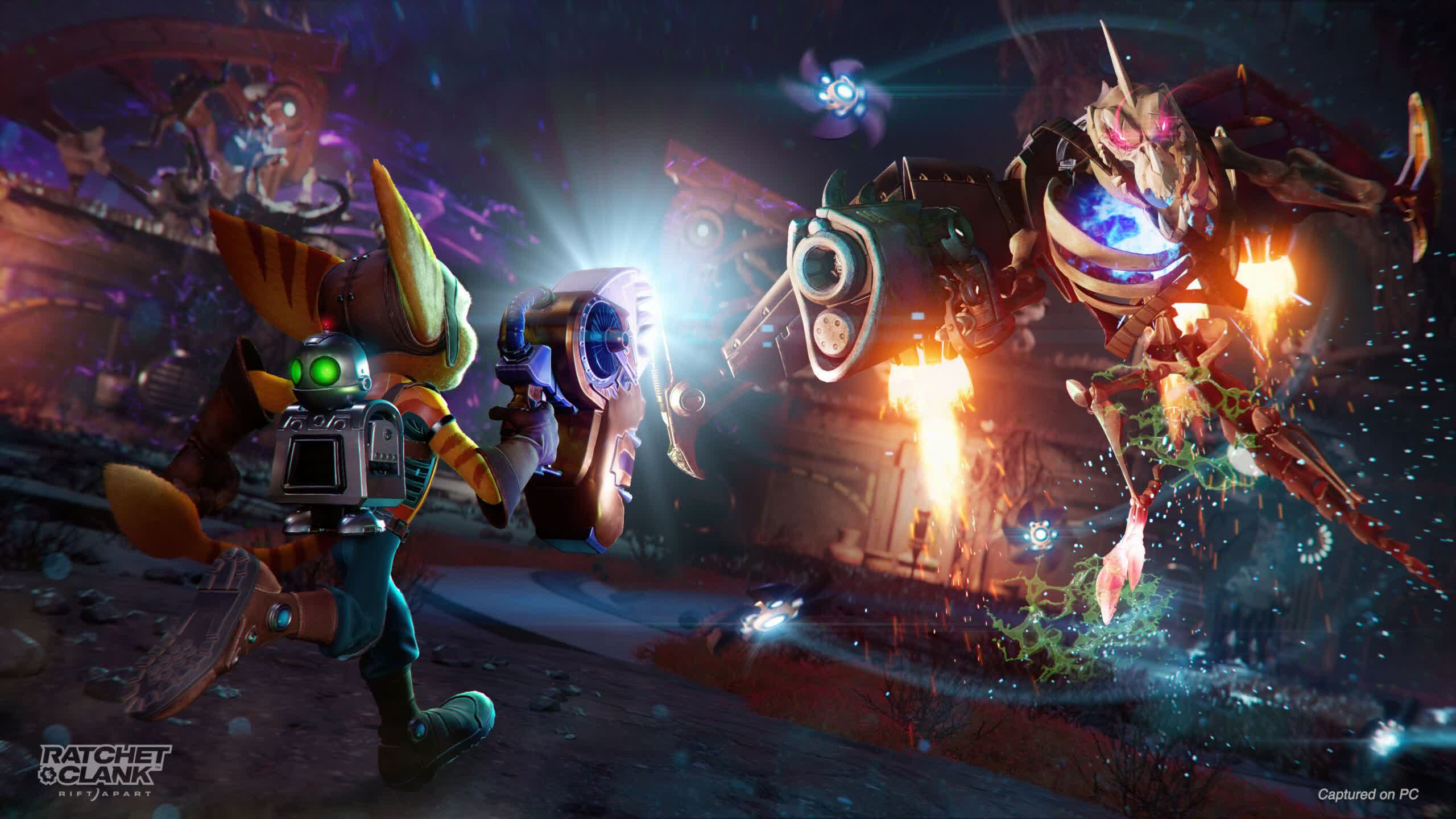 One noteworthy aspect of Rift Apart that could have significant implications for a PC conversion is how it almost instantly loads new scenes when activating interdimensional portals. Fans assert this feature heavily leverages the PS5's NVMe SSD, and it could be interesting to see how fast PC storage needs to be to match the console's performance in these areas. Tests show it doesn't need the PS5 SSD's full 5.5GB/s bandwidth. Nixxes and Sony will likely strongly recommend an SSD if not require one.
Although Rift Apart is the latest entry in a long-running series, Sony assures customers it's a good place to hop in. One factor that hurt Uncharted's PC commercial performance is that many prospective buyers had never played the prior three games.
https://www.techspot.com/news/98878-ratchet-clank-rift-apart-arrives-steam-epic-games.html