Posts: 7,415 +65
Staff member
The influence social media has on the world today is enormous, a fact reflected in a new report from the Pew Research Center that shows 67 percent of adults in the US now "get at least some of their news from social media."
The results come from a survey of 4,971 US adults taken between August 8 and 21. They show that the number of people using the likes of Facebook and Twitter to find news stories is growing, up 62 percent from 2016.
A somewhat surprising find is that more older Americans are turning to social media to keep up to date with current events. 55 percent of those aged 50 years or older use the services to discover news stories, a 10 percent increase compared to last year.
When it comes to individual platforms, Facebook continues to lead the way, with 45 percent of all US adults using it for some of their news. 18 percent of adults get their news items from YouTube, while eleven percent favor Twitter.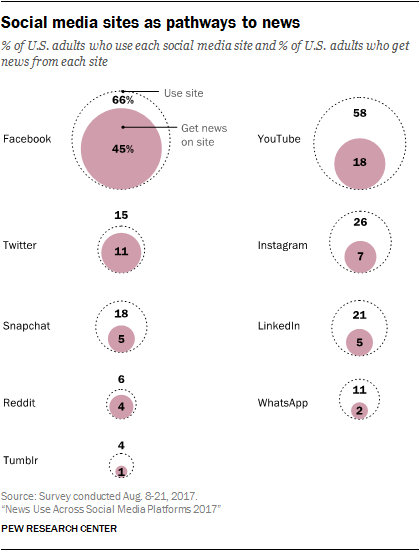 It appears that Donald Trump's love of Twitter and the fact he uses it for official US policy announcements have increased the service's popularity as a news site. 74 percent of users now get their news from Twitter, something CEO Jack Dorsey may be pleased to hear; the company changed its iOS store category from 'Social Networking' to 'News' last year.
The report also discovered that Instagram and Snapchat news consumers are much more likely to be nonwhite and younger, while LinkedIn and Twitter have the largest share of college graduates among their news users.
With so many people using social networks to discover news items, more is being done to clamp down on the spread of fake stories. Facebook, which was accused of influencing the US election last year through the sharing of false reports, has introduced several measures to combat the problem, such as letting users tag posts, as well as blocking ads on pages that share fake news.
https://www.techspot.com/news/70908-two-thirds-american-adults-get-their-news-social.html