Packard Bell (subsidiary of Acer) has revamped its "imedia" desktop series – and their logo too, for what it's worth. While notebooks and mobile technology as a whole has exploded, desktops still offer the best bang for your buck. Keeping this close to heart, the top-end imedia has been outfitted with components which balance cost and performance.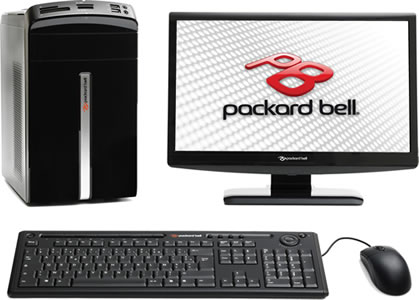 At its best, the imedia provides the choice between an Intel Core 2 Quad and an AMD Phenom II X4, up to 8GB of DDR3 RAM and an Nvidia GeForce GT230 with a whopping 1.5GB of VRAM. It has plenty of storage capacity with up to a 1TB HDD and is media-friendly with HDMI-out and a Blu-ray combo drive. It houses 6 USB 2.0 ports, an eSATA port, a multi-card reader and an optional Firewire port. Other optional specifications include a DVBT TV tuner with a remote control and a Wi-Fi adapter.
Cutting edge? Nah – but it's a great package that offers quite the spectrum of customization. Its starting price isn't half bad either at £299 ($489), which kicks things off with a Celeron.