TechSpot is celebrating its 25th anniversary. TechSpot means tech analysis and advice
you can trust
.
With PC technology progressing so rapidly, system builders generally attempt to time their purchases strategically so they get the best bang for their buck. Diving into the market too soon ensures you'll pay an early adopter tax, but waiting too long means you risk buying something that is approaching the conclusion of its lifecycle. Fortunately, folks shopping for DDR3 DRAM can take the plunge without fearing buyer's remorse.
According to iSuppli, DDR3 modules will remain the dominant DRAM technology throughout 2011 and several following years before it's eclipsed by a speedier next-generation version. DDR3 DRAM represents 85 to 90% of today's DRAM market and that will grow to 94% by 2013. In 2014, iSuppli predicts that DDR4 will emerge with a 12% share – a figure that will mushroom to 56% by 2015, leaving DDR3 with 42% of the market.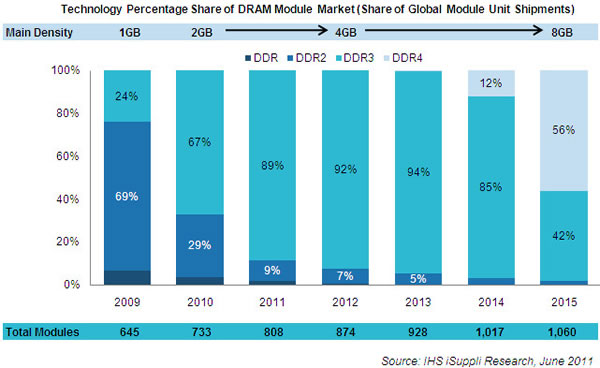 Judging by the transition from DDR2 to DDR3, DDR3 should remain relevant for at least a year or two after the arrival of DDR4. DDR3 launched in 2007, but it took two years to achieve a 24% share and three years before it outgrew DDR2 with 67% of the market. During its early years, DDR3 was simply too expensive to justify purchasing over DDR2, but demand (and inherently pricing) changed with the arrival of Intel's Nehalem chips.
If you haven't been watching RAM prices lately, it's a grand time to outfit your machine with 8GB or even 12GB of DDR3 modules. Last June I purchased a 2x2GB 1600MHz kit of RAM from Newegg for $110. That same kit is currently available for precisely half off at $55. Meanwhile, 2x4GB (8GB) 1600MHz kits are starting at only $65, and 3x4GB sets are as low as $95 – prices we don't expect to get much lower in the near future.