TechSpot is celebrating its 25th anniversary. TechSpot means tech analysis and advice
you can trust
.
Akamai has released its State of the Internet report for the first quarter of 2011, unleashing a metric crap ton of information about the Web. Among various other statistics, the 39-page report details the global proliferation and average speed of broadband Internet connections. Unsurprisingly, Internet has continued its explosive growth over the last few years with the number of unique iPv4 addresses growing 80% from 323 million in the first quarter of 2008 to 584 million in 2011.
The US represents the largest slice of that figure with more than 142 million unique IPv4 addresses – nearly double China's second place figure of 73 million. Japan holds 41 million addresses, Germany has 34 million and France has 24 million. South Korea, the UK, Brazil, Italy and Spain completed the top ten list with 13 million to 22 million addresses.
Those standings will eventually change. While the US holds the most addresses, it has the lowest annual adoption rate out of the mentioned countries (10% versus 35% for South Korea, 28% for Italy, and 27% for China). We assume that's because most of the US population is already connected to the Internet.
In addition to having the largest IPv4 adoption rate, South Korea leads the world in average broadband speeds by a wide margin at 14.4Mb/s. Hong Kong, China is second with an average speed of 9.2Mb/s, Japan is third at 8.1Mb/s, the Netherlands follows with 7.5Mb/s, and Romania claimed fifth with 6.6Mb/s.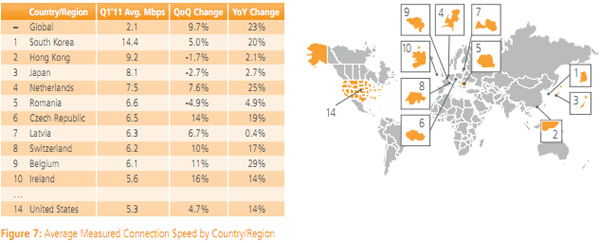 The US didn't even make the top ten list, having been forced to fourteenth with an average connection speed of 5.3Mb/s, behind the Czech Republic, Latvia, Switzerland, Belgium, Ireland and others. The US is notorious for ranking low on global speed standings, we're sure this won't come as a surprise to most of you.
Within the US, Delaware continues to offer the fastest broadband with an average of 7.5Mb/s, ahead of Rhode Island's 6.8Mb/s – though it should be noted that they are the smallest states in the US. Wisconsin, New Hampshire, Connecticut Indiana, Maine, Virginia, California and Utah follow with 5.6Mb/s to 6.0Mb/s.