TechSpot is celebrating its 25th anniversary. TechSpot means tech analysis and advice
you can trust
.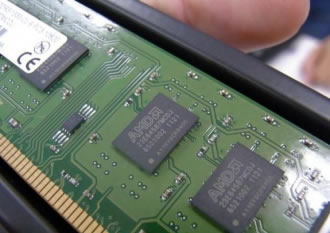 Undiscouraged by plummeting DRAM prices, AMD has begun elbowing its way into the system memory market. The prominent chipmaker has announced three new DDR3 RAM series: Entertainment, UltraPro Gaming, and Enterprise. All of the 240-pin DIMM sticks will measure 30mm tall, will accommodate 2GB of memory chips (256M words x 64 bits, 1 rank), and will operate at 1.5V. However, each product line has data rates and timings tailored for their respective purpose (which should be given away by the product names).
Entertainment modules will operate at 1333MHz with CL-tRCD-TRP timings of 9-9-9 and are marketed as quick, reliable memory ideal for digital entertainment – be that HD or 3D movies, video and music editing, or frying enemy spies on Team Fortress 2. The UltraPro Gaming series is supposedly comprised of superior quality, hand-selected parts that are probably more flexible with overclocking and come configured at 1600MHz and 11-11-11. AMD hasn't detailed the Enterprise parts yet, but they'll be aimed at workstations and servers.
Pricing on the Radeon-branded DDR3 memory hasn't been announced, but the 1333MHz parts have reportedly surfaced in Japanese stores for approximately $20, which sounds about right based on Newegg's current 2GB DDR3 1333MHz prices. When they eventually hit US shelves, we imagine they'll come in a 2x2GB kit configuration for around $35, assuming prices don't slip further by then. As noted above, AMD's decision comes at an awkward point in the DRAM market as industry leaders have been slashing prices to spur sales.
Less than two weeks ago DigiTimes reported that Kingston cut deals to sell its 2GB DDR3 modules for $11, forcing competitors to lower their asking price as far as $10. Although that's expected to boost shipments, insiders and analysts believe the overall demand will remain weak, leading to further price cuts through August. A separate report by iSuppli offered the same conclusion last month, predicting a 9% decline in DRAM prices through the third quarter, another 4% in the fourth, followed by a 1% dip in the first quarter of 2012.
Considering that bleak outlook, we suspect AMD is less interested in profiting off its new endeavor, but instead hopes to strengthen its brand name by offering a complete computing platform. The company offers a broad spectrum of chipsets, processors, graphics cards, Fusion APUs, and now, system memory. Notably missing from the company's new DDR3 lineup, however, are 1866MHz modules for its latest Llano APUs. We witnessed a healthy performance bump between DDR3 1333MHz and 1866MHz in our A8-3850 review.