TechSpot is celebrating its 25th anniversary. TechSpot means tech analysis and advice
you can trust
.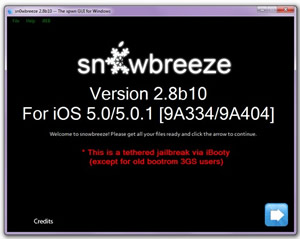 Another version of iOS, another jailbreak. The iHacking community has been on a roll lately, releasing jailbreaks in record time for virtually all iterations of iOS 5, even throughout its months in beta. The latest jailbreak for iOS 5.0.1 is not without caveats however, so please read carefully before continuing.
The latest versions of redsn0w and sn0wbreeze can be used to perform a tethered jailbreak for all models except the 4S and iPad 2. iPhone 3GS users may still enjoy being untethered, provided they have an older boot rom installed.
A tethered jailbreak means if your iPhone or iPad are restarted, the user must reconnect the device to a computer running a jailbreak utility. If the device is not plugged in at boot time, it will not boot into iOS successfully. This is opposed to an untethered jailbreak, where your phone or tablet can be freely restarted without any ill effects.
Despite the obvious shortcomings, BigBoss' semi-tethered jailbreak patch partially solves this problem. Verified to work with 5.0.1, SemiTether allows your device to reboot without being plugged in albeit with limited functionality. Users of this method can make calls, text and run third-party web browsers from the App Store. However, this somewhat liberating method also breaks certain features like the native Mail app, mobile Safari, jailbreak tweaks, most apps and Cydia. If this happens, the device must be taken home, plugged into a computer with redsn0w and restarted the old-fashioned, tethered way.
Another limitation are compatible models. Any iPhone or iPad running Apple's new dual-core A5 chip have been immune thus far to known jailbreaking methods. That includes the 4S and iPad 2. The iOS hacking community has admitted that working around the A5's on-die boot rom poses an enormous hurdle, but we can be sure there are people currently hard at work trying to solve this conundrum.
Well known iOS hacker, MuscleNerd, recommends, "Jailbreakers and unlockers should avoid today's 5.0.1 until a flow for downgrading to 5.0 is developed.". His concern stems from Apple's recent ability to "flip a switch" at any given time which could render existing, untethered jailbreaks useless. The old practice of saving your SSH blobs alone is not enough to guarantee you can restore your phone once this happens. 
Dev-Team Blog had this to say about Apple's new trick:
This will only affect restores starting at iOS5 and onward, and Apple will be able to flip that switch off and on at will (by opening or closing the APTicket signing window for that firmware, like they do for the BBTicket).  geohot's limera1n exploit occurs before any of this new checking is done, so tethered jailbreaks will still always be possible for devices where limera1n applies.  Also, restoring to pre-5.0 firmwares with saved blobs will still be possible (but you'll soon start to need to use older iTunes versions for that). Note that iTunes ultimately is *not* the component that matters here..it's the boot sequence on the device starting with the LLB.
Instructions for jailbreaking can be found here.