TechSpot is celebrating its 25th anniversary. TechSpot means tech analysis and advice
you can trust
.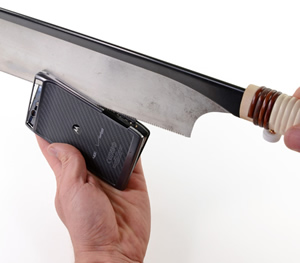 iFix has voided yet another warranty in order to show us exactly what makes the new Droid Razr tick. To open the phone, they begin to saw the unit apart with a dozuki, but quickly realized a spudger and plastic opening tool were also reasonably effective.
Motorola has been making a come back after being set aside for years by other companies that have had a seemingly endless stream of hipper smart phones. About two years ago though, the company introduced the Droid, which turned out to be a very successful smartphone series. Back in action, the company is betting its super-identifiable Razr namesake and styling will bring back the same "wow" factor as it did in 2004. Be sure to check out our hands on review, if you have not already.
The Droid Razr packs a lot of technology into a "razr" thin form factor, so what we find inside the phone is an impressive amount of thoughtful engineering. The unit is packed tight with no room to spare, filled with EMI shielded chips, an ultra-thin 1750mAh battery, tiny ribbon cables and a lot of adhesive.
The website rates the Droid Razr a 4 out of 10 on its repairability score, a rating low enough to probably scare away all but the most confident do-it-yourselfers.
iFixit lists the inordinate number of chips found inside the unit:
Toshiba THGBM4G7D2GBAIE 16GB EMMC Flash Memory
Samsung K3PE7E700M-XGC1 4Gb LPDDR2 RAM
Qualcomm MDM6600 Dual-Mode Baseband/RF Transceiver
Qualcomm PM8028 Power Management IC
Avago ACPM-7868 Quad-Band Power Amplifier
Motorola T6VP0XBG-0001 (believed to be the LCM 2.0 LTE baseband processor)
Texas Instruments WL1285C Wilink 7 Bluetooth/Wi-Fi/GPS
Skyworks 77449 Power Amplifier Module for LTE/EUTRAN Bands XIII/XIV
Toshiba Y9A0A111308LA Memory Stack
ST Ericsson CPCAP 6556002
Hynix H90H1GH51JMP
Infineon 5726 SLU A1 H1118 3A126586
Bosch 2133 C3H L1ABG accelerometer
iFixit also notes some unusual design elements. The digitizer (the glass on the front) is permenantly adhered to the AMOLED LCD display, which makes breaking the digitizer an expensive accident. Also, there are a tremendous amount of chips on the system board facing the display which makes it eerily devoid of all visible circuitry on the bottom. This was done to keep the Razr slim, no doubt.
Images courtesy of iFixit. You can view the full teardown here.