TechSpot is celebrating its 25th anniversary. TechSpot means tech analysis and advice
you can trust
.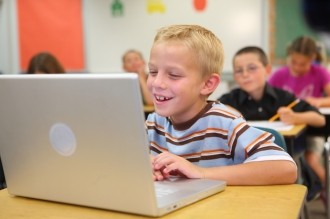 A new study from security firm AVG suggests that the average 11-year-old is just as tech savvy as their adult counterpart. The fourth installment of AVG's Digital Diaries, which studies the digital life cycle of children, also reveals that parents are largely oblivious to this fact.
The study found that only 10 percent of UK parents believe their 10- to 13-year-old is better informed about the Internet than they are. On a global scale, 87 percent of fathers claimed to know more about the Internet than their children.
Almost 60 percent of UK parents polled said their 10- to 13-year-old has a computer in the privacy of their bedroom, meaning there is no consistent, real-time monitoring of online activity. The study found that most parents have no idea what their kids are doing online, although 58 percent admitted to having logged into their child's computer to find out. 72 percent of parents in the US have done the same thing.
AVG points out that certain tech skills, for example the use of social networking sites at a young age, can put children into adult-like situations that they aren't yet equipped to handle.
"Children are online at such an early age that many have developed the technical maturity of adults by their tween years. However, they have not developed the equivalent intellectual or emotional maturity necessary to make the right decisions in the many complex situations they face online," said JR Smith, CEO of AVG Technologies.
It's no secret that children in today's age are accessing technology at a much younger age than most of us did as kids. Nearly every facet of the modern world is intertwined with technology in some shape or form and in many instances, basic life skills are taking a backseat to tech skills.
In the second installment of the multi-part study published last year, AVG found that more kids between the ages of 2 and 5 could play a computer game, operate a smartphone application and open a web browser than could ride a bike, tie his or her shoelaces or swim unaided.
Image courtesy Morgan Lane Photography / Shutterstock