TechSpot is celebrating its 25th anniversary. TechSpot means tech analysis and advice
you can trust
.
Fresh specifications and performance figures for Intel's upcoming handset platform have slipped out this week. Codenamed Medfield, the Atom-branded system-on-a-chip is expected to challenge ARM's grip on the mobile segment and based on the new details, it seems chipzilla right on track. VR-Zone received performance stats for a 10.1-inch (1280x800) reference tablet powered by Intel's 32nm SoC, which contains a 1.6GHz CPU, 1GB of LP-DDR2 RAM, a GPU, as well as Wi-Fi, Bluetooth and FM radios.
The chip scored a healthy 10,500 in Caffeinemark 3, outpacing popular solutions such as Nvidia's Tegra 2, which scored 7,500. For reference, Qualcomm's Snapdragon MSM8260 scored 8,000, while an unnamed model of Samsung's Exynos hit 8,500. Although Medfield's performance seems solid at first glance – and it's certainly an achievement for Intel – that gap will likely be closed when ARM's partners release their next-gen parts. SoCs based on ARM's 28nm Cortex-A15 are due in the coming year.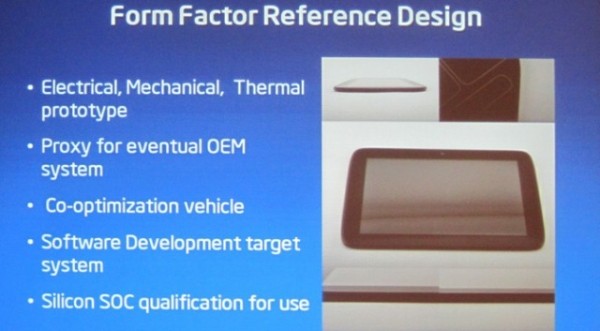 Assuming Medfield is on par with the performance of its rivals, users will focus on their power consumption. Unfortunately, it seems Intel might still be lagging behind in that department. The prototype chip reportedly consumed 2.6W at idle and about 3.6W when playing 720p Adobe Flash videos and other strenuous tasks. The final Medfield parts are expected to improve those figures, pushing idle and load consumptions down to 2W and 2.6W. Even if Intel meets that target, it might not beat ARM's offerings.
Nonetheless, Medfield proves that Intel is serious about entering the mobile segment – something that would have been difficult to say about Moorestown, the company's previous attempt at busting into the handset market. Speaking with Reuters, Mike Bell of Intel's Mobile and Communications division recently said Medfield would be "very competitive" when it ships and noted that Intel already has the next three generations in the making. Medfield is expected to receive a 22nm die shrink in late 2012.