TechSpot is celebrating its 25th anniversary. TechSpot means tech analysis and advice
you can trust
.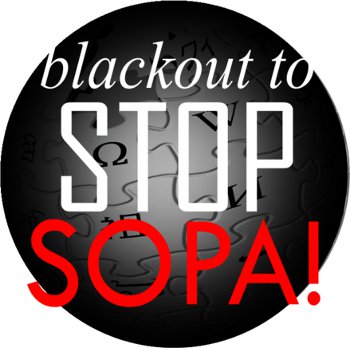 The unprecedented blackout of websites yesterday in protest of the highly criticized Stop Online Piracy Act (SOPA) and Protect Intellectual Property Act (PIPA) legislation saw Wikipedia's English site shut down for 24 hours, as well as countless other websites displaying their disapproval of the bills. Even Google aired its disgrace by blacking out its Google logo on their homepage.
Twitter released data yesterday saying the popular micro blogging service had recorded over 3 million Tweets about PIPA and SOPA. Most were in support of the protest, but as the day wore on some took to Twitter to vent their frustration at being unable to use the websites that had shut down in protest.
Senate members rushed for the doors with 18 Senators announcing they opposed the new PIPA bill. Sen. Roy Blunt (R-MO) blamed the mass exodus on Sen. Harry Reid (D-NV) for "pushing forward with a flawed bill that needs much work," according to reports by Ars Technica.
One of the chamber's longest-serving members, Sen. Orrin Hatch (R-UT) said PIPA was "simply not ready for the prime time." A view echoed by many of those withdrawing support.
Sen. Marco Rubio also withdrew his co-sponsorship of the bill, saying via Facebook that there was "legitimate concerns about the impact the bill could have on access to the Internet and about a potentially unreasonable expansion of the federal government's power to impact the Internet. Congress should listen and avoid rushing through a bill that could have many unintended consequences."
The Stop Online Piracy Act, which will resume in February, lost three co-sponsors yesterday as well. Republicans Lee Terry, Tim Holden and Benjamin Quayle withdrew their support for the proposed bill. Terry said the bill as it is "currently drafted isn't the solution," when speaking to Omaha.
A spokesperson for Terry went on to say, "Terry has long been an advocate of an open Internet, something that opponents think was threatened by SOPA. The bill would give the U.S. attorney general authority to seek court orders against foreign Internet sites believed to be engaging in copyright infringement or online piracy. The bill also would grant the government broad power to go after websites hosting copyright content."
Microsoft also aired its concerns regarding SOPA yesterday, although it declined to take part in the blackouts. "We oppose the passage of the SOPA bill as currently drafted," a spokesperson for Microsoft said in a statement to ComputerWorld. "This is an important issue and we think the recent White House statement points in a constructive way to problems with the current legislation, the need to fix them, and the opportunity for people on all sides to talk together about a better path forward [...] Hundreds of millions of customers rely on our services every day so we don't plan to shut those down to express our view."
Amazon also took part in the protests, opting against a complete blackout, instead choosing to feature a large advertisement on its website which read, "reasons to oppose or modify SOPA,"  that re-directed users to the netcoalition.net website when clicked.
Overall, yesterdays actions against these proposed bills successfully displayed a united front against legislation that will ultimately hurt freedom of speech, privacy and destroy the internet as we know it today. Those in support of them will be left with no doubt in their minds as to what the general public and many high profile companies feel about them in their current form.