Asus releases boot loader unlocker for Transformer Prime tablet
By Rick Burgess
TechSpot is celebrating its 25th anniversary. TechSpot means tech analysis and advice
you can trust
.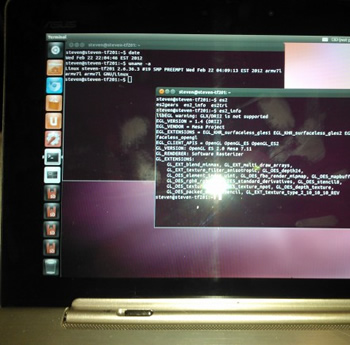 Holding true to its promises, Asus has finally released a boot loader unlock utility for its EEPC Transformer Prime tablet (TF201). The tool will allow modders and tinkerers to load custom ROMs, giving them unfettered access to the device and the freedom do use it as they wish.
Users eager to jump right in may download the utility here.
However, there are a few things unlockers should be aware of. Early Transformer Prime adopters must update their firmware to Android 4.x (Ice Cream Sandwich) before unlocking their boot loader. Most importantly however, users who choose to unlock their tablets will forfeit their warranties. Are there any legal issues Asus nullifying its warranty over unlocking? I wonder.
To keep modders from getting too clever, Asus claims unlockers will also not be able to return their tablets to their original, factory pre-installed state. It won't be surprising if an unofficial method to do so appears, however.
To the disappointment of the homebrew community, Asus released the Transformer Prime tablet in late December with a 128-bit encrypted boot loader. Efforts to root the device have been successful, however unlocking the boot loader has proven to be a difficult hurdle to jump.
For those who aren't familiar with the difference between "rooting" and "unlocking" a device, the terms are different although not exactly mutually exclusive.
When a device is rooted, that means hackers have found a way to gain full administrative rights on the device's operating system. This type of access is commonly referred to as a "super user" and gives users almost limitless power. Well, almost limitless power over everything but the boot loader.
In the case of some devices like the Transformer Prime, the boot loader is programmed in such a way that it prevents loading third-party software through encryption and digital signatures. Since the boot loader is ultimately responsible for loading the operating system itself, an unlocked boot loader means users will finally have complete control over the device.
Here's what Asus has to say about the utility:
Unlock Device App: Unlock boot loader(Only works with TF201 ICS OS)

Notice:

Only suitable for Andriod4.0 Ice Cream Sandwich OS version.
Before you download, install, and use the Unlock Device App you acknowledge and assume complete risk to the quality and performance of this App, including but not limited to the following: once you activate the App you will not be able to recover your ASUS product ("Original Product") back to original locked conditions;the Original Product with the activated App will not be deemed the Original Product; the Revised Product will no longer be covered under the warranty of the Original Product; the software of Revised Product will no longer be deemed the software of the Original Product and can no longer receive ASUS software updates; your purchased digital content may also be affected.

You also acknowledge ASUS does not guarantee service satisfaction to any Revised Product, including events involving paid service requested by you to be performed to the Revised Product.
Furthermore, such repaired Revised Product will not be covered under the warranty of the Original Product; the software of the repaired Revised Product will not be deemed the software of the Original Product and will not receive ASUS software updates.
It is strongly advised that you avoid activating this App unless you fully understand and accept the risks that may arise.

* This tool now only works with TF201 ICS. It won't work on other devices or TF201 HC

Source: support.asus.com
Somewhat unsurprisingly, ports of alternative operating systems like Ubuntu are already under way.