TechSpot is celebrating its 25th anniversary. TechSpot means tech analysis and advice
you can trust
.
As expected, Apple unveiled the latest iteration of its mobile operating system during today's Worldwide Developer Conference. The changes include improvements to Siri, which has been criticized for being too beta-like, the introduction of Apple's own Map app, the integration of Facebook, as well as various tweaks to the Phone app, FaceTime, Safari, Mail, Photo Stream and more. A developer beta is available today, while everyone else (dating back to the 3GS) will have to wait until later this year.
Siri: Now available on the iPad. Supports new languages including Canadian French, Spanish for Spain, Mexico and the US, Italian in Italy, French, German and Italian dialects for Switzerland, as well as a few Asian languages. You can ask sports and movie questions now, while OpenTable integration enables restaurant reservations. Siri can also launch apps and dictate tweets, while a new "Eyes Free" feature will appear in cars later this year and let you access Siri by pressing a button on your steering wheel.
Map: Confirming rumors, Apple announced that it is ditching Google Maps in iOS 6 in favor of its own solution. Among other features, the new Map app will offer Yelp integration, crowd-sourced traffic reports, turn-by-turn navigation that works even with your phone locked, and a "Flyover" mode, which is basically satellite view but includes a 3D photographic model of several cities. Apple's Map app is also backed by Siri, so you can ask questions like "are we there yet?" for an estimated arrival time.
Facebook: This time last year, Apple introduced iOS 5 with Twitter integration, and the company has given Facebook similar treatment this time around. You can now post to Facebook directly through Apple's app, including images yanked from the Photos app. Apple's Facebook solution is integrated with Siri as well as the Calendar app allowing events to be synchronized. Also, the company will provide an API, so third-party applications will be able to pull information from or post information to Facebook.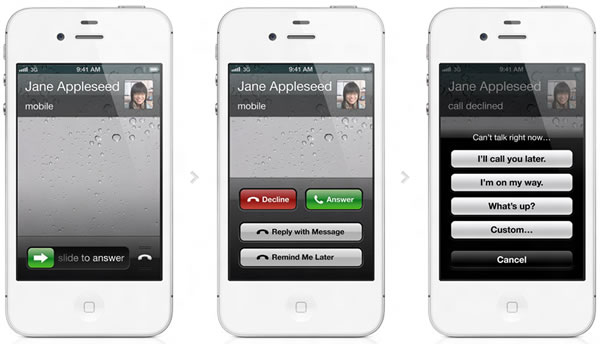 Phone: Despite making significant changes to its operating system over the years, Apple has left the Phone app largely untouched. With iOS 6, you'll be able to automatically reject a call and reply with a preset text message, such as "I'll call you later." A new Do Not Disturb mode lets you mute notifications (it won't even light up your screen), yet it can filter important calls. For instance, you can create a whitelist allowing notifications from certain individuals and folks who call multiple times can get through.
FaceTime: Although the quality won't be as good, you'll soon be able to make video calls over 3G – a feature iOS users have requested since the iPhone 4's arrival in June 2010. It's unclear if all carriers will support this. Apple is also unifying device IDs, so when someone sends a FaceTime request to your phone number, you'll be able to answer it from your iPad or Mac. This will also work with messages.
Safari/Photo Stream: Apple's browser will gain fullscreen support in landscape mode, as well as live tab syncing with OS X 10.8 Mountain Lion via iCloud, and an offline reading mode that lets you access an article you marked to read later, which currently requires a third-party application. The update will also let you upload photos to popular sites from directly within Safari, while Apple's Photo Stream service will let you select people who will receive a notification whenever you post a new image.
Other: A new "Passbook" app will house and provide information about all your tickets, boarding passes and coupons. For instance, it can display a gift card's balance after you use it and it can update your gate number in real time. The Mail app will gain inline video and photo support as well as VIP and pull-to-refresh functionality. A new "Lost Mode" will let you send a phone number to your phone and, assuming the person who finds your device is honest, they'll be able to tap a message to call you back.