TechSpot is celebrating its 25th anniversary. TechSpot means tech analysis and advice
you can trust
.
With prices falling well below $1 per gigabyte, many enthusiasts can finally justify the luxury of running their operating system and applications off flash storage. SSD shipments have climbed sharply this year, with each quarter topping the previous period by millions of units, and iSuppli expects that trend to continue as flash drives become the standard in non-budget notebooks and desktops by the latter half of this decade.
Manufacturers shipped about 5.8 million drives in the first quarter of 2012 and that figure jumped to around 7.1 million by the second quarter for 12.9 million units shipped during the first half of this year. Analysts at iSuppli expect that figure to more than double to 28.0 million units during the second half of 2012, with an estimated 10.5 million units due to ship in the third quarter and 17.5 million projected to ship in the fourth.
All told, iSuppli expects the industry to close the year with about 41.0 million shipments producing revenues of $7.5 billion. Of note, all of these numbers exclude hybrid cache solutions that employ flash memory. Additionally, despite the rapid growth of SSD shipments, iSuppli says the industry will fall short of previous forecasts. Analysts originally expected manufacturers to move about 33 million units during the second half of 2012, with 13.0 million in the third quarter and 20.0 million in the fourth, or about 5 million more drives.
The drop to 28 million is at least partly blamed on Intel's ultrabook initiative. "Intel Corp. has not matched its ambitious goals for ultrabooks with the marketing needed to propel the platforms as a desirable, affordable alternative to conventional notebooks and tablets," iSuppli analyst Ryan Chien said. Earlier this month, iSuppli drastically reduced its forecast for ultrabook shipments in 2012 from 22 million units to 10.3 million. Likewise, it cut 2013's projection from 61 million to 44 million, citing weak marketing and high prices.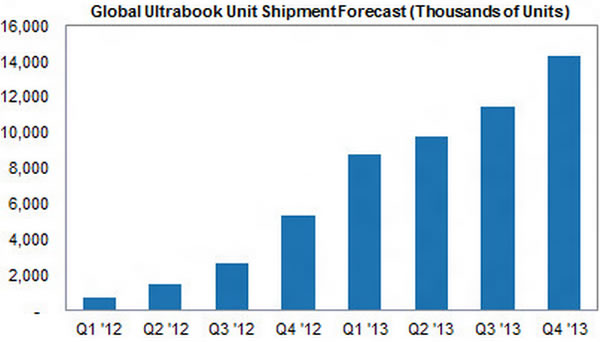 To encourage strong sales in 2013, the firm believes ultrabooks need to incorporate new features and lower unit prices to around $600 on average instead of $1,000. If that doesn't happen, iSuppli foresees hard times for ultrabooks. "With the economy languishing, ultrabook sellers may have trouble finding buyers at the current pricing,especially with fierce competition from new mobile computing gadgets such as the iPhone 5, Kindle Fire HD and forthcoming Microsoft Surface," senior iSuppli analyst Craig Stice said.