TechSpot is about to celebrate its 25th anniversary. TechSpot means tech analysis and advice
you can trust
.
Not to be outdone by its arch-nemesis AMD, Nvidia has launched a fresh volley of mobile Geforce GTX 700M GPUs, namely the GTX 760M, 765M, 770M and 780M. Nvidia claims its GTX 780M is the fastest mobile GPU in existence, even besting AMD's recently released Radeon HD 8970M -- a chip, if only briefly, stood atop the heap of mobile GPUs fit for gaming.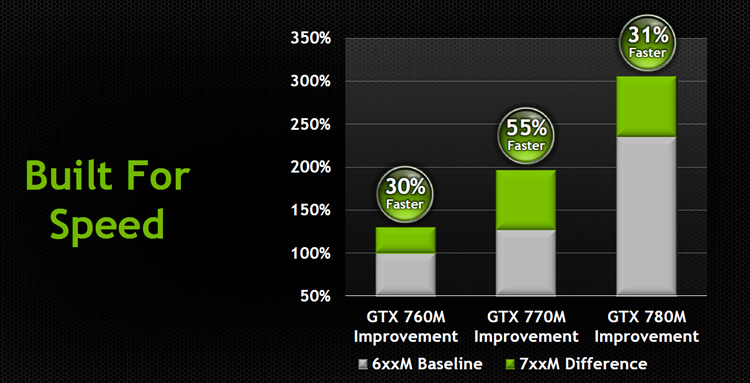 Overall, the new offerings appear to be between 30-55 percent faster than their previous generation counterparts (660M, 670M and 680M). Nvidia is claiming that notebooks equipped with 700M-series GPUs can be up to 40 percent lighter (and thinner) than those equipped with 600M-series hardware. Presumably, this is due to lower power consumption and smarter efficiency (e.g. Optimus) which lead to better thermals; however, exact figures were absent from the announcement.
The Geforce GTX 760M and 765M are similar with 768 CUDA cores, 2000MHz memory clock and a 128-bit GDDR5 memory interface. However, the 765 has a base clock of 850MHz versus the 760's 657MHz. Meanwhile, the 770M is a solid mid-range performer with 960 CUDA cores and a 192-bit wide memory bus. 
The GTX 780M (i.e. the GTX 700M flagship) boasts 1,536 CUDA cores, 4GB of 256-bit GDDR5 and a base clock of 823MHz. By comparison, a full Geforce GTX 780 (desktop version) features 2,304 CUDA cores, a 863MHz base clock and 384-bit GDDR5. Although certainly outgunned by its desktop-based brother, Nvidia's GTX 780M is a relatively close mobile adaptation and plenty fast for modern titles.
Nvidia claims the 780M can run Bioshock Infinite, Battlefield 3, Farcry 3, Tomb Radier (2013) and Assassin's Creed III at 1080p with settings cranked up to "Ultra". Can it run Crysis though? Looks like we'll have to wait for a definitive answer on that very important question.