TechSpot is celebrating its 25th anniversary. TechSpot means tech analysis and advice
you can trust
.
It's been two full years since Google publically announced intentions to purchase Motorola Mobility in a move that CEO Larry Page said would "supercharge the Android ecosystem." Motorola has launched a handful of smartphones since the summer of 2011 but they've yet to capitalize on the potential that many Android partners feared.
Despite the aforementioned phone releases, the Moto X represents the company's first attempt under the Google banner and is touted as the first smartphone made in the US. Its arrival follows months of leaks, rumors and even a public tease or two. The cat is finally out of the bag as Motorola officially unveiled the handset at a media event earlier today in New York.
Also read: Spec-by-spec: Here's how the Moto X stacks up to the competition
For starters, the Moto X sports a 4.7-inch AMOLED display operating at 1,280 x 720 resolution, a combination that is good for 316 pixels per inch. Inside is the Moto X8 chipset which consists of a Qualcomm dual-core 1.7GHz CPU, a quad-core Adreno 320 GPU, 2GB of RAM as well as natural language and contextual computing processors. Photos and video come courtesy of a 10-megapixel rear camera capable of 1080p video recording alongside an LED flash.
The handset supports the usual gamut of connectivity options including GSM, HSPA+, CDMA, LTE, Wi-Fi, Bluetooth 4.0, GPS and NFC in addition to an array of sensors including an accelerometer, proximity sensor, digital compass, ambient light sensor and a gyroscope. Uptime from the 2,200mAh battery is pegged at 24 hours of "mixed use" which includes talk, touchless control, video watching and web browsing. The phone will ship with Android 4.2.2 Jelly Bean and will be available in 16GB and 32GB capacities (with a catch) across all four major US carriers.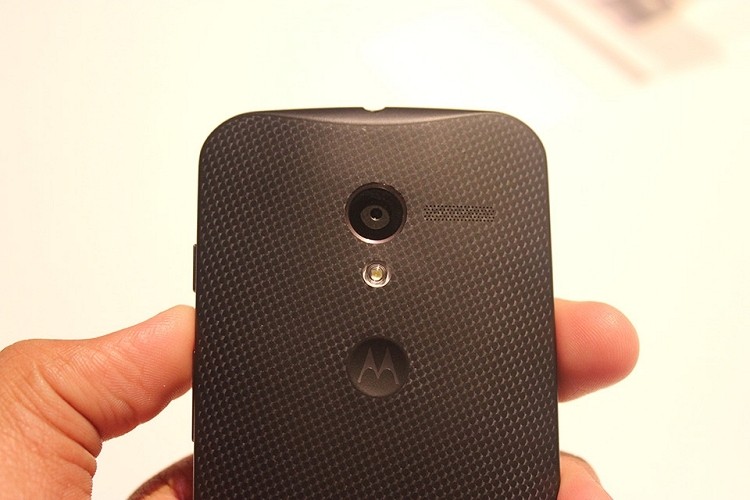 If you haven't already come to this conclusion on your own, I'll go ahead and lay it out for you - the Moto X isn't exactly a powerhouse compared to today's top handsets. But that's alright as the Moto X aims to make up for any hardware deficiencies with an impressive software suite and a level of customization unlike anything we've seen before.
Using an online tool called the Moto Maker, prospective buyers can fully customize the Moto X to their liking. I'm not talking about simply changing the color of the backplate, but instead virtually every aspect of the handset. The front bezel, side-mounted buttons and even the ring around the camera lens are all customizable. You can even have a message engraved on the back of the handset. Mixing and matching the colors, we're told there are more than 2,000 different possibilities.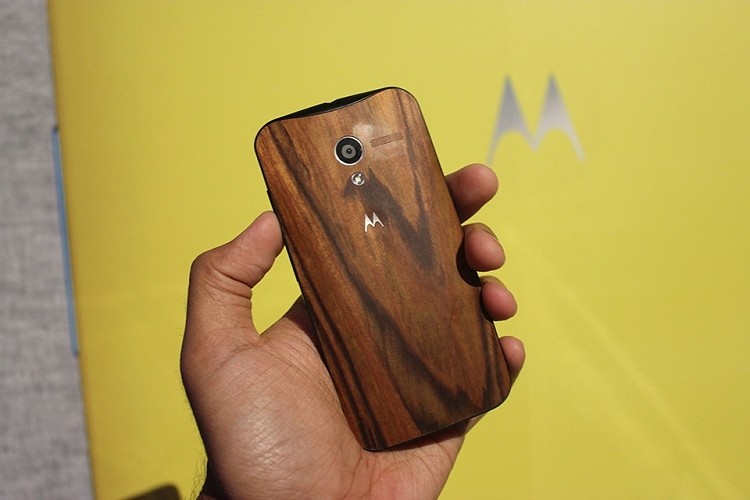 Oh, and Motorola is even working on an option to use different materials for the build, including wood. And because the handsets are made in the US, you can order a phone that is uniquely yours and have it at your doorstep within four days.
Motorola's smoking gun, it seems, is in the software. Specifically, being contextually aware of its surroundings - or in laymen's terms, it's always listening. Even when the phone is asleep, you can wake it with your voice to ask for directions, perform searches, place calls and more. Simply say "Ok, Google Now."
The flagship (for now) Moto X will begin shipping in late August or early September for $199 and $249 for the 16GB and 32GB versions, respectively, with a two year service agreement (seems those competitive pricing rumors didn't pan out). Google said they might also offer the handset through the Google Play Store at some point.
It's worth noting, however, that AT&T has an exclusive deal on the customization process - at least to start with. Until that period expires, users on other carriers will be stuck with having to choose either a white or black version of the phone. Furthermore, the 32GB model is also an AT&T exclusive, we're told.
Do you think Motorola did enough with the Moto X to become a relevant player once again or did they fall short of your expectations?