TechSpot is about to celebrate its 25th anniversary. TechSpot means tech analysis and advice
you can trust
.
Following a string of leaks and official teasers Motorola finally unveiled the Moto X smartphone at an event in New York this afternoon. The device is not only the first to be developed under Google's stewardship since last year's acquisition, it's also the first smartphone to be assembled in the US, which aside from scoring them a few  political and PR points, allows the company to offer 'built-to-order' devices with minimal delay.
Customization options cover quite a few cosmetic choices and your pick of either 16GB or 32GB of internal storage. Specifically, Motorola will let you pick any combination between 18 backplate covers, a black or white front panel, and seven different colors for the side-mounted buttons and the ring around the rear camera lens. In all there are actually more than a thousand possible combinations to make something that's uniquely yours.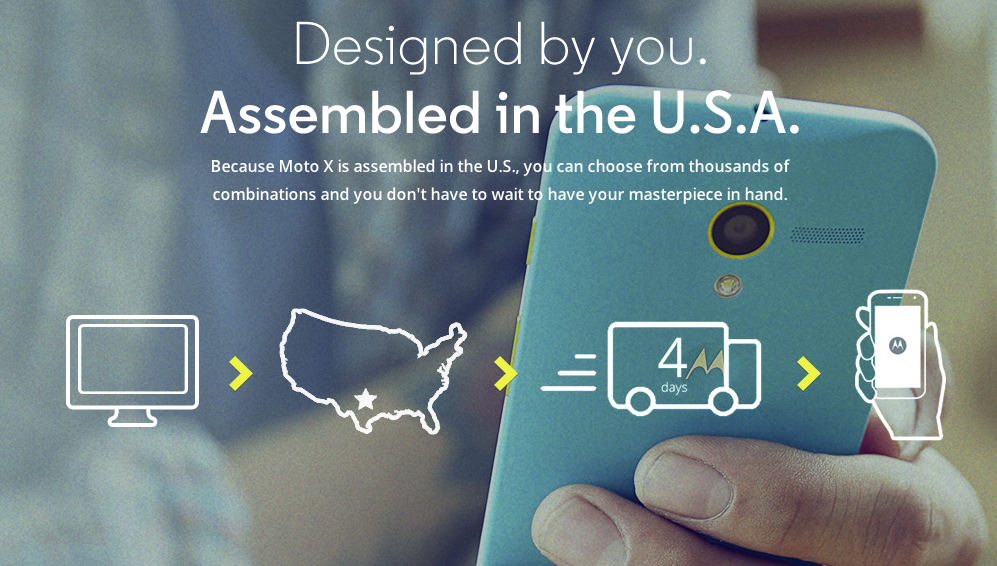 In terms of specs Motorola isn't going for the high-end crown. But that isn't necessarily a bad thing; rather, the company believes it can carve itself a market with a high-quality device that can do nearly everything the majority of people will want or need it to do, without getting caught in the specs race.
The tricky part is Motorola still wants the Moto X to compete in the big leagues at $199 on-contract. Detractors will be quick to point out that you are getting mid-range internals at high-end pricing, and with reason. But aside from the unprecedented level of customization, Motorola is hedging its bets on battery life (quoted at 24 hours of mixed usage), as well as signature features like always on voice controls and gesture recognition.
Whether that amounts to a recipe for success or a missed opportunity -- specifically on the pricing front and lack of stock Android -- remains to be seen. For now, here's how the Moto X stacks up next to the current crop of high end smartphones, as well as its spiritual counterparts in the mid range of the market.
High end smartphones
 
Moto X
Apple iPhone 5
HTC One
Samsung Galaxy S 4
Sony Xperia Z
Nokia Lumia 925
Price
(on contract)
N/A ($200)
$650 ($200)
$600 ($200)
$650 ($200)
$600 ($0*)
$528 ($0*)
Availability
3Q 2013
Now
Now
Now
Now
Now
Metascore
N/A

89

89

87

84

82

Review
More info
Review
More info
Review
More info
More info
 
System chip
Motorola X8 (Qualcomm Snapdragon S4 Pro)
Apple A6
Snapdragon 600 APQ8064T
Snapdragon 600 APQ8064T
Snapdragon S4 Pro APQ8064
Snapdragon S4 Plus MSM8960
CPU
1.7GHz dual-core, Krait
1.3GHz dual-core, Apple Swift
1.7GHz quad-core, Krait 300
1.9GHz quad-core, Krait 300
1.5GHz quad-core, Krait
1.5GHz dual-core, Krait
GPU
Adreno 320
PowerVR SGX543MP3
Adreno 320
Adreno 320
Adreno 320
Adreno 225
Display
4.7-inch
AMOLED
4-inch
IPS LCD
4.7-inch
S-LCD 3
5.0-inch
Super AMLOED
5.0-inch
TFT
4.5-inch
AMOLED
Resolution
(PPI)
720 x 1280
(316)
640 x 1136
(326)
1080 x 1920
(468)
1080 x 1920
(441)
1080 x 1920
(443)
768 x 1280
(334)
RAM
2GB
1GB
2GB
2GB
2GB
1GB
Front camera
2MP
1MP
2.1MP
2MP
2.2MP
1.2MP
Rear camera
10MP
8MP
4MP
13MP
13.1MP
8.7MP
Storage
16/32GB
16/32/64GB
32GB
16/32/64GB
16GB
16GB
USB
Yes
No
Yes
Yes
Yes
Yes
microSD
No
No
No
Yes
Yes
No
 
Cellular
HSPA+ / LTE
HSPA+ / LTE
HSPA+ / LTE
HSPA+ / LTE
HSPA+ / LTE
HSPA+ / LTE
Wireless
Wi-Fi 802.11ac, Bluetooth 4.0
Wi-Fi, Bluetooth 4.0
Wi-Fi 802.11ac, Bluetooth 4.0
Wi-Fi 802.11ac, Bluetooth 4.0
Wi-Fi 802.11n, Bluetooth 4.0
Wi-Fi 802.11n, Bluetooth 3.0
NFC
Yes
No
Yes
Yes
Yes
Yes
 
Operating System
Android 4.2.2
iOS 6
Android 4.2.2
Android 4.2.2
Android 4.2.2
Windows Phone 8
App Marketplace
Google Play
iTunes
Google Play
Google Play
Google Play
Windows Marketplace
Weight
130g
112g
143g
130g
146g
139g
Other
Always-on voice recognition / authentication, gesture controls
Airplay
HDMI out
via microUSB
HDMI out
via microUSB
HDMI out
via microUSB, Water resistant
 
Mid range smartphones
 
Moto X
Apple iPhone 4S
HTC One mini
Samsung Galaxy S 4 mini
Nexus 4
Nokia Lumia 625
Price
(on contract)
N/A ($199)
$550 ($100)
N/A
$500
$350 ($0*)
N/A
Availability
3Q 2013
Now
August 2013
Now
Now
Q3 2013
Metascore
N/A

88

80

80

86

73

Review
More info
Review
More info
More info
More info
More info
 
System chip
Motorola X8 (Qualcomm Snapdragon S4 Pro)
Apple A5
Snapdragon 400
Snapdragon 400 MSM8930
Snapdragon S4 Pro APQ8064
Snapdragon S4 
CPU
1.7GHz dual-core, Krait
800 MHz dual-core, Cortex A9
1.4GHz dual-core, Krait
1.7GHz dual-core, Krait 300
1.5GHz quad-core, Krait
1.2GHz dual-core
GPU
Adreno 320
PowerVR SGX 543MP2
Adreno 305
Adreno 305
Adreno 320
?
Display
4.7-inch
AMOLED
3.5-inch
IPS LCD
4.3-inch
4.3-inch
Super AMLOED
4.7-inch
TFT
4.7-inch
Resolution
(PPI)
720 x 1280
(316)
640 x 960
(326)
720 x 1280
(341)
540 x 960
(256)
768 x 1280
(318)
480 x 800
(201)
RAM
2GB
512MB
1GB
1.5GB
2GB
512MB
Front camera
2MP
0.3MP
1.6MP
1.9MP
1.3MP
0.3MP
Rear camera
10MP
8MP
4MP
8MP
8MP
5MP
Storage
16/32GB
16GB
16GB
8GB
16GB
8GB
USB
Yes
No
Yes
Yes
Yes
Yes
microSD
No
No
No
Yes
No
Yes
 
Cellular
HSPA+ / LTE
HSPA+ 
HSPA+ / LTE
HSPA+ / LTE
HSPA+ 
HSPA+ / LTE
Wireless
Wi-Fi 802.11ac, Bluetooth 4.0
Wi-Fi 802.11n, Bluetooth 4.0
Wi-Fi 802.11n, Bluetooth 4.0
Wi-Fi 802.11n, Bluetooth 4.0
Wi-Fi 802.11n, Bluetooth 4.0
Wi-Fi 802.11n, Bluetooth 4.0
NFC
Yes
No
No
No
Yes
Yes
 
Operating System
Android 4.2.2
iOS 6
Android 4.2.2
Android 4.2.2
Android 4.3
Windows Phone 8
App Marketplace
Google Play
iTunes
Google Play
Google Play
Google Play
Windows Marketplace
Weight
130g
140g
122g
107g
139g
159g
Other
Always-on voice recognition / authentication, gesture controls
Airplay
 
 
HDMI out
via microUSB, Wireless charging