TechSpot is celebrating its 25th anniversary. TechSpot means tech analysis and advice
you can trust
.
We may be living in a digital world where you can hold thousands of albums in the palm of your hand, but an ever-increasing portion of the listening public is eschewing the convenience of MP3s for a seemingly anachronistic format: the vinyl record. (Cassettes are making a comeback too, but that's another story.)
While there are a number of theories about the vinyl resurgence --- nostalgia, wanting something tactile, sound quality --- sales of vinyl records have been increasing at a steady clip over the past seven years. According to SoundScan, only 900,000 records were sold in 2006. By 2011, vinyl sales jumped to 3.9 million, and this year saw sales of 4 million just in the first six months.
The Vinyl Resurgence
Given these numbers, it's not surprising that record labels are once again pressing their new releases to vinyl. The New York Times points out bands like Daft Punk, The National, and Vampire Weekend sold sizable numbers (19,000; 7,000; and 10,000, respectively) of their latest albums on launch week --- in an age when selling 2,800 units total can land you in the Billboard Top 200.
With the millennial generation driving this renewed interest in vinyl, many are no doubt considering buying a turntable (a.k.a. record player). If you're lucky, you might have inherited your dad's used record player, as the mass-produced turntables of the '60s, '70s, and early '80s were built to last and will continue working wonderfully for many years with just a little TLC. Just as likely, though, is that dad sold his record player for cheap at a garage sale along with his Loggins and Messina records, thus leaving you to your own devices.
Of course, you could scour garage sales yourself for one of those gems from the golden age, but given the many movable parts that make up an average turntable, finding a used one in perfect working order could prove to be difficult. Fortunately, there are also now more new record players being manufactured than there were even just a few years ago, with many models available for the newbie who is looking to spend decidedly less than $170,000.
Buying a Turntable
The first question you must ask yourself when purchasing a new record player is how you intend to use it. Will you just be listening to your records at home or do you plan to become the next Jam Master Jay? If your answer is the latter, then that narrows your options considerably.
Turntables come in two types: direct drive and belt-drive. In a direct drive turntable the platter is spun directly by the motor, hence the name. This allows the player to get up to speed quickly, which is important for deejaying. The durability and stability of Technics' SL-1200 turntables have long made them the go-to machines for DJs, but with the MK5 model going for about $1,200 (and you'll need two, right?), the price tag might be a little high for a beginner.
Fortunately, the Audio Technica AT-LP120-USB Direct Drive Professional USB Turntable ($249 with free shipping) is a worthy knock-off with the added capability of being able to plug into your computer via USB to rip records to MP3s.
While designed with the DJ in mind, the AT-LP120 would also be suitable for home use, although audiophiles usually prefer a belt-drive turntable. On such record players, the platter is attached to a rubber belt, which is then attached to the spindle of the motor. This allows for the motor to be isolated from the platter, thus reducing unwanted vibrations that could affect sound.
Turntables and Pre-amps
Buying a turntable for home use comes with another decision: whether or not to buy a record player with a built-in pre-amp. Because turntables produce a weaker audio signal than CDs or MP3 players, most turntables need to be boosted to line level with a pre-amp. Older receivers, and some newer ones, will have a built-in pre-amp (labeled "phono"), but many units made in the last 15 years won't. So, shoppers in the market need to either buy a turntable with its own pre-amp or will have to buy a separate unit. (DJs don't need to worry about this because their mixers have pre-amps.)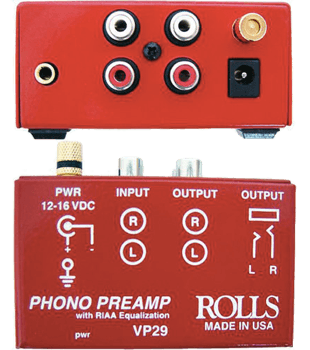 In most instances, you will get better sound if your receiver has a phono input or if you purchase a pre-amp like the solid Rolls VP29 Phono Preamp ($49.95 with free expedited shipping). But constraints of space or money may warrant buying a turntable with a built-in pre-amp, and in such cases, the Denon DP300F Turntable ($329 with free shipping) is a solid option. This turntable is fully automatic: it will begin playing with the push of a button and doesn't require you to put the needle on the record.
While the DP300F clocks in at around $280, we actually recommend purchasing the Denon DP300F Turntable with Ortofon 2M Red Phono Cartridge Bundle ($419 with free shipping). Not only does this bundle include an Ortofon 2M Red phono cartridge (a $99 value), but the cartridge will be expertly mounted and aligned, saving the novice a good deal of hassle.
The Best and Most Affordable Turntables
That same Ortofon cartridge comes standard on the stylish Pro-Ject Debut Carbon ($399 with free shipping), which is a better turntable choice if you don't need a pre-amp or any automatic play buttons. Called "the best turntable of 2013," by The Wirecutter, the Debut Carbon features a Sorbothane motor suspension to reduce vibration and gold-plated RCA jacks that make it a great investment for those looking to buy a new record player.
However, this universally praised turntable may soon have some new competition from U-Turn Audio, a company launched in 2012 via a Kickstarter campaign for their first product, the Orbit turntable. This turntable is designed using many of the same principles as Pro-Ject's machine to reduce vibration and hum, and is eye-catching for its exposed belt drive. What's really amazing about the Orbit, though, is its price tag: the base model has an MDF platter and an Ortofon Omega cartridge and is priced at $179; the plus version has an acrylic platter and an Ortofon OM-5E cartridge and is priced at $299 (both with $20 s&h).
Since the first models shipped earlier this year, the reviews have been great. AnalogPlanet called the lower-priced Orbit "a terrific turntable just about anyone can afford." And the reviewer at CNET gushed, "With the Orbit Basic turntable, U-Turn Audio has succeeded beyond my wildest dreams; their very first attempt is a knockout!"
You'll likely find more new and used record players for less than the ones we've discussed here, but unfortunately, the most you can hope for with many of them is that they don't damage your records: if the turntable is mostly made of plastic, stay away! You're better off spending a little extra time and money now to ensure that you can enjoy your vinyl collection for years to come.
Republished with permission.