Pebble returns to Kickstarter to launch third generation Pebble Time smartwatch
By Shawn Knight
TechSpot is celebrating its 25th anniversary. TechSpot means tech analysis and advice
you can trust
.
Pebble on Tuesday announced its third generation smartwatch, the Pebble Time, bringing a satisfactory end to a countdown that had been running on the company's website for days.
As per rumors, Pebble Time includes a new color e-paper display as well as a microphone for responding to messages and capturing voice memos. It's 20 percent slimmer than previous models at 9.5mm and uses Gorilla Glass to protect the display beneath.
The stainless steel bezel and chassis is slightly curved to better fit the contour of your wrist. As before, Pebble Time is water resistant and comes with a soft silicon band although any standard 22mm band will fit. It's offered in black, white and red color schemes with a claimed seven-day battery life.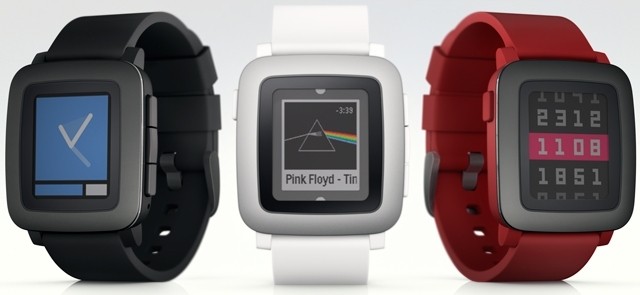 Pebble Time includes a brand new timeline interface that makes it easier than ever to access what's going on now and in the future. Best yet, all existing Pebble apps are compatible with Time and those created with the new SDK will be backwards compatible with earlier devices.
Going back to its roots, Pebble decided to make its new wearable available via Kickstarter campaign. The demand is clearly there as backers have already pledged more than $4 million - leaps and bounds above the initial $500,000 funding goal.
Why exactly Pebble went back to Kickstarter to fund Pebble Time isn't clear. I suppose it's entirely possible (perhaps even likely) that Pebble simply didn't have the funds on hand to mass produce their new smartwatch or considering the May ship date, perhaps they weren't ready yet. A Kickstarter campaign buys them roughly three months to complete production, etc.
Or it's just as likely that Pebble wanted to offer Time first to its loyal supporters.
Regardless of the reasoning, it is what it is and if you want a Pebble Time, you'll need to back their campaign with at least $179 which includes your choice of color (the early bird $159 price point is already sold out). Once the watch hits retail, it'll carry a price tag of $199 so you're getting a discount by ordering early.
Pebble is largely regarded as the device that jumpstarted the modern smartwatch movement and while it's hard to argue with a full week of battery life from the 64-color e-paper display, one has to wonder how it'll hold up against the full-color devices currently on the market and coming soon.