Your body is the controller with this wireless 'e-skin' shirt for HoloLens
SDK should be available this December
By Cal Jeffrey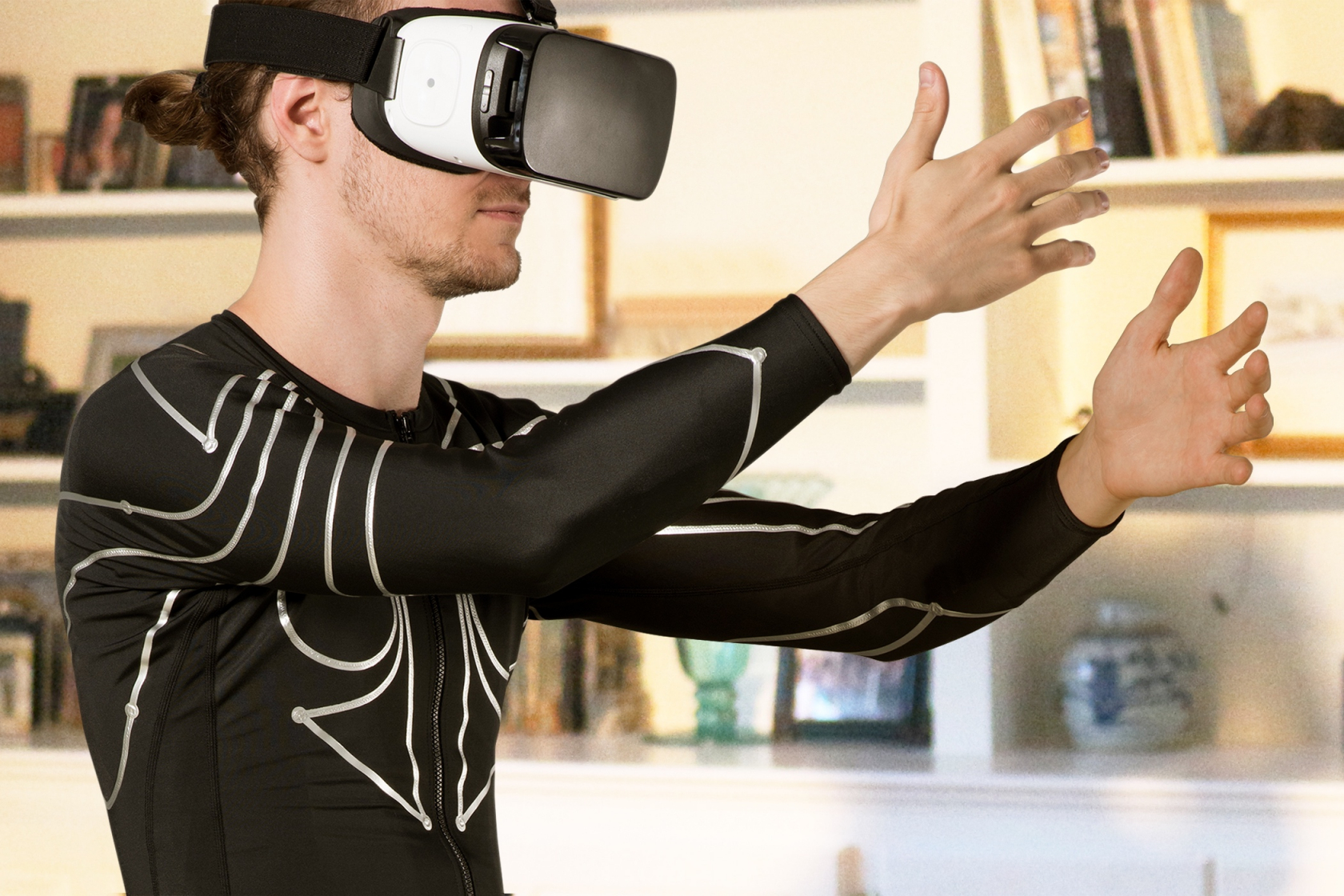 TechSpot is celebrating its 25th anniversary. TechSpot means tech analysis and advice
you can trust
.
A company called Xenoma founded by researchers from the University of Tokyo has created a shirt that tracks the motion and position of the upper body. This data can then be used to control actions in virtual and augmented reality or other applications.
The shirt, made from a printed circuit fabric called "e-skin," has an advantage over other motion controllers as it does not require a camera to function. Instead, it uses 14 sensors placed symmetrically at various points on the upper body such as the wrists, elbows and shoulders. The sensors, along with a six-axis accelerometer and gyroscope housed in the hub, provide data to any application developed for the wearable.
The hub is a barbell-shaped control unit that clips onto the front of the shirt. In addition to furnishing angular and orientational data, the hub houses a battery to power the shirt's circuitry as well as a Bluetooth transmitter for wireless functionality. Surprisingly, the shirt is machine washable (without the hub of course).
"Each of the strain sensors and stretchable conductive traces are electrically insulated to withstand sweat and moisture while remaining comfortable, durable and machine washable," Zenoma's Chief Marketing Officer James Eakin told Digital Trends.
The device is currently only compatible with Microsoft's HoloLens and uses Unity as its development platform. The company is working on integrating Unreal Engine but did not state when that would become available.
In addition to augmented and virtual reality tech demos, Xenoma showed off a few Android apps earlier this year at CES 2017. These apps were more about interpreting the information sent from the hub and did not require a headset. For example, one app analyzed a user's golf swing and provided advice on corrections that could be made to the swing. Another app promises to correct your posture by monitoring your sitting angles and alerting you when your spine is not aligned properly.
Xenoma boasts that development for the e-skin is made easier through its software development kit because it integrates with the e-skin while programming. When the programmer needs to insert code for a custom gesture, they just perform the movement while wearing the shirt and the SDK automatically enters the code for them.
Xenoma started a campaign on Kickstarter to raise money for the project. The campaign has already reached its goal of $50,000 with one day remaining.
A pledge of at least $479 will get the SDK with full documentation and support, plus one e-skin shirt and hub. They will also get at least one of the three apps already available (more for larger donations). This price is a considerable savings over what the company is planning to charge for the SDK (Xenoma is selling the SDK on its website for $5,000 to the first 100 developers and $7,500 after that).
As of this writing, it looks like Xenoma will be sending out 95 SDK bundles with initial shipments slated for December.
Keep in mind that this product is aimed at developers; commercial availability has not been announced. Like all bleeding-edge tech, going to market will largely depend on how much quality development gets behind the product.