Noctua introduces A-series fans with extremely tight tolerances
New liquid-crystal polymer material used to overcome challenges
By Greg Synek 16 comments
TechSpot is celebrating its 25th anniversary. TechSpot means tech analysis and advice
you can trust
.
Noctua has well established itself as an expert in air cooling solutions. Known for its iconic brown fans and whisper-quiet performance products, Noctua has launched its latest flagship A-series of 120x25mm cooling fans.
Also read: The Best CPU Coolers 2018
The NF-A12x25 utilizes a completely new Sterrox liquid-crystal polymer material for the fan blades. This allows for extremely little expansion to take place due to heat and provides stability across a wide range of operating conditions. Using a stronger material resistant to common issues allows a clearance of just 0.5mm between the blade tips and the fan housing.
Although many fans are specifically advertised as either "static pressure" or "air flow", Noctua is placing the new A-series as an all-around product. The small space between blade tips and fan casing helps improve static pressure performance when used on heat sinks or radiators while still remaining a fan very capable of pushing high volumes of air.
Comparing to Noctua's NF-F12 and NF-S12A, it is clear just how much of an improvement the A-series is over the previous generations.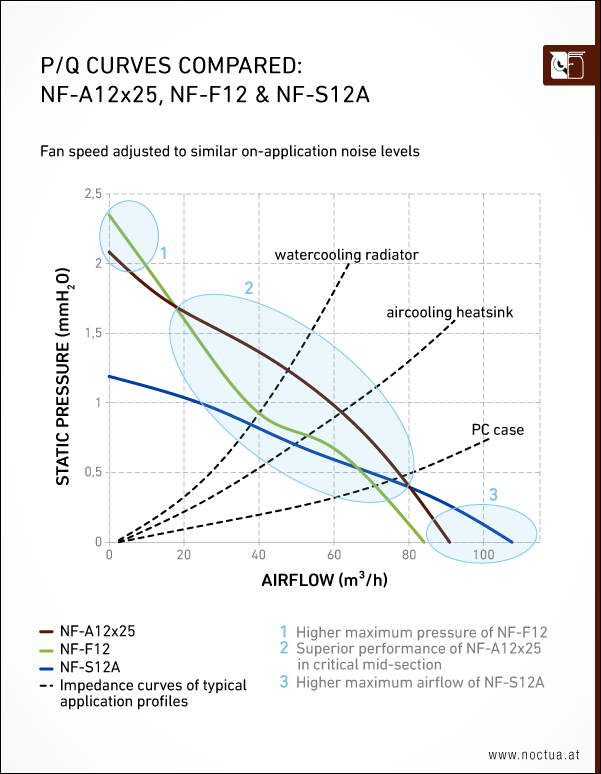 In a statement from Noctua's CEO Roland Mossig, it is clear that major effort has been put into developing the next generation of quiet performance cooling. "We have never put so much research and effort into a single fan so far, both on the level of fine-tuning the aerodynamic construction and on the level of materials and manufacturing."
In fact, it has taken more than four and a half years and over 200 prototypes to arrive at the current model. Typical fans use a clearance of 1.5mm to 3mm between fan blades and housings so that as centrifugal forces pull on the fan blades there are not any problems after years of runtime. Sterrox material helps combat impeller creep towards the casing while Noctua's use of a fully steel motor hub and axle mount reinforced with brass keeps the fan in alignment.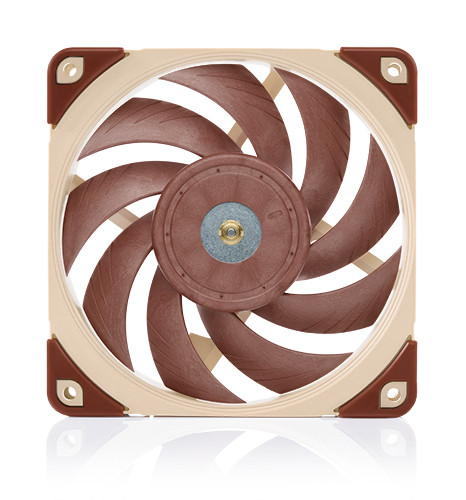 The NF-A12x25 arrives in 4-pin PWM and 3-pin FLX (flexibility) versions with low-noise adapters that allow for three different speed settings. An additional 3-pin ultra-low noise edition is also available. Also included is the NA-SFMA1 adapter that allows 120mm fans to be used on devices that have 140mm mount points.
New models are available from Amazon now. The NF-A12x25 retails for $29.90 / €29.90 and additional 140mm to 120mm adapters are available for $11.90 / €11.90.