Zotac Magnus EK71080 Mini PC Review
A Powerful Little Black Box
By Mike Fahey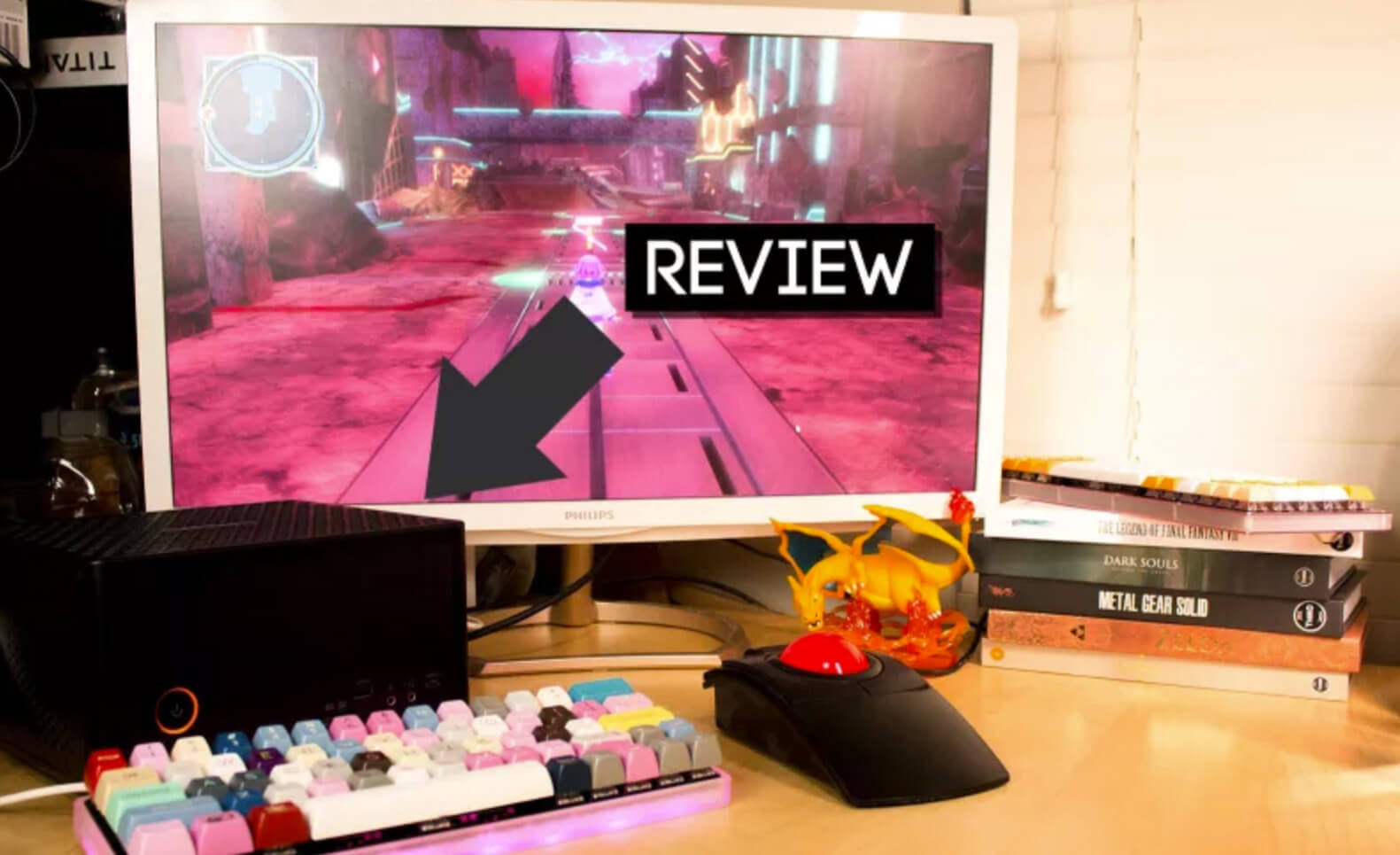 TechSpot is celebrating its 25th anniversary. TechSpot means tech analysis and advice
you can trust
.
Zotac is renowned for making powerful mini PCs. Zotac also makes the world's smallest GeForce GTX 1080 graphics card. Combine those two things and you've got one heck of a powerful small black box.
There are several ways to make a very small gaming PC. One way is to make a gaming laptop without the built-in keyboard or display. That's essentially how the first Zotac machine I played with back in 2016 was designed. Another approach is to engineer a case that fits full-sized components in as small a space as possible, like Digital Storm's Bolt line.
Zotac's Magnus EK71080 does a little bit of both. From the laptop we've got SODIMM memory, designed to be small and lay flat. It's got slots for both an M.2 laptop-style SSD and a normal 2.5 inch SSD or HHD. It's even got a slot for Intel Optane memory, which can provide significant speed boosts loading games and applications from a slower, higher capacity standard hard drive. It's powered by the Intel Core i7-7700HQ quad-core 2.8 GHz processor, a processor that's seen a lot in high-end gaming laptops.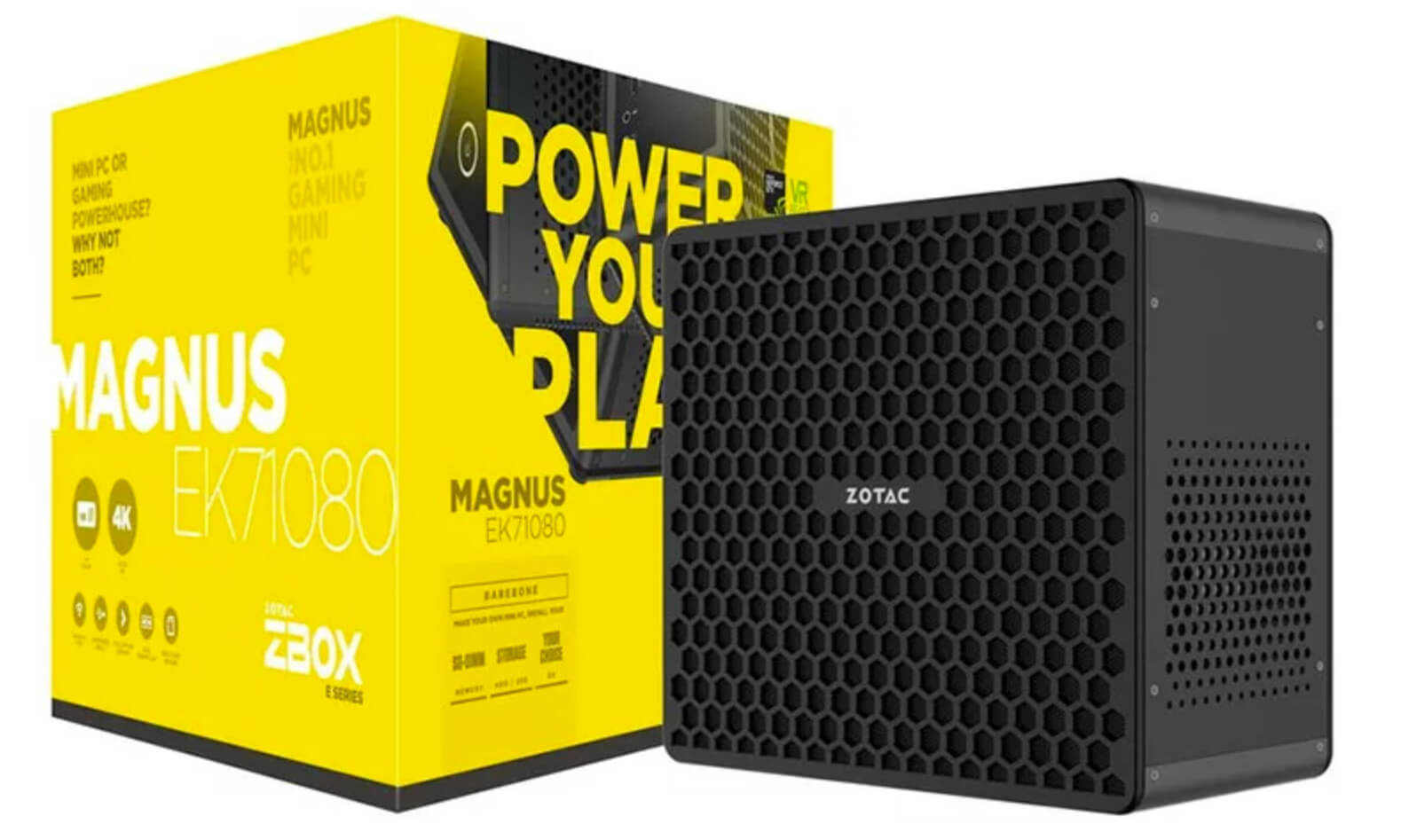 And then it's got this...
At just 8.3 inches long, the Zotac GeForce GTX 1080 Mini is the smallest Nvidia's 1080 gets without switching to the smaller, laptop-centric MXM profile.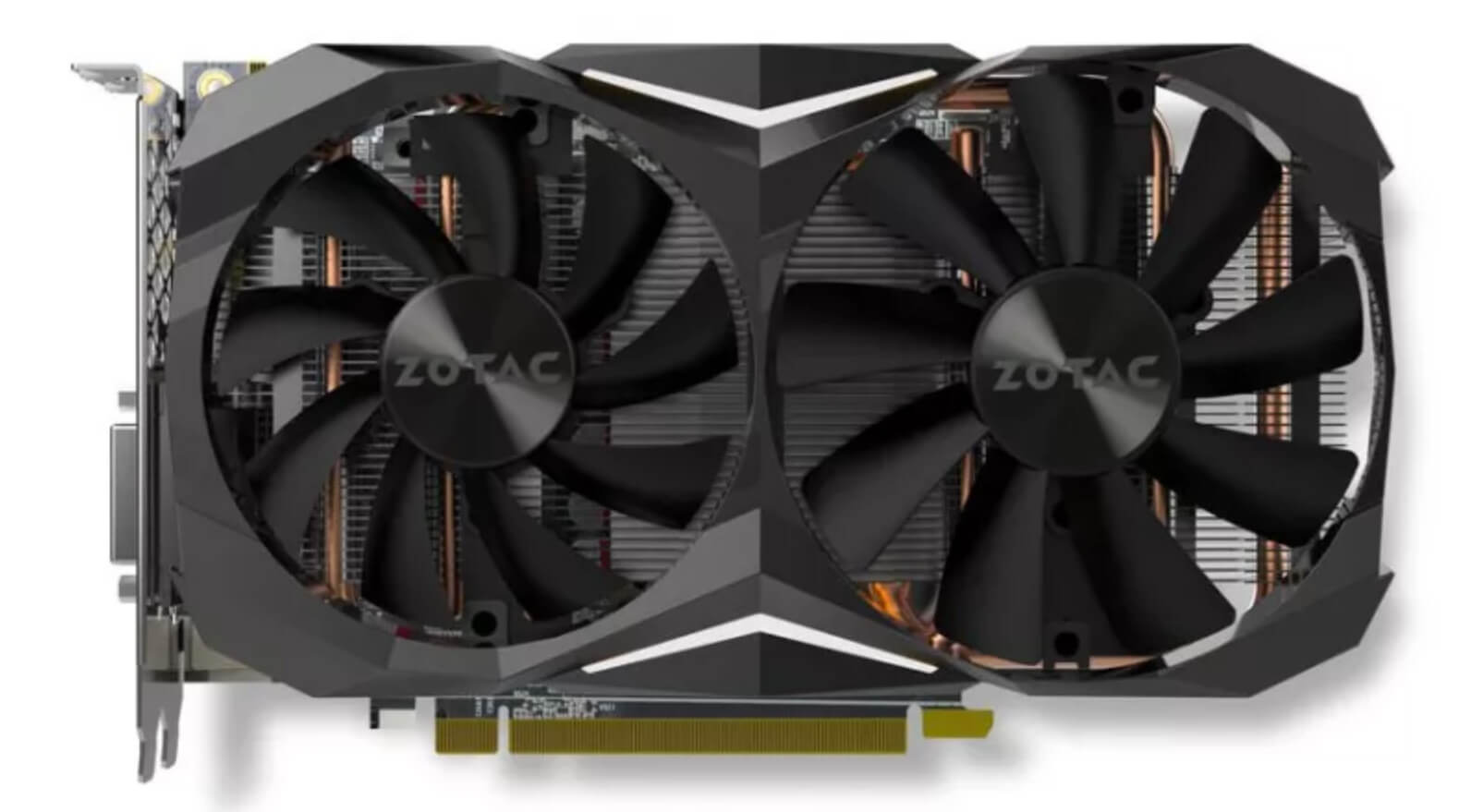 With performance on par or slightly higher than the Founder's Edition GTX 1080, it's the best possible graphics card for a very tiny PC. It's 4K ready. It's VR ready. And since it's a desktop card, it's got enough ports (three DisplayPort and one HDMI) to run four displays at once.
All of this inside a box that's nine inches wide, eight inches deep and five inches tall. Not bad.
Magnus EK71080 Specs:
Processor: Intel Core i7-7700HQ (quad-core 2.8 GHz, up to 3.8 GHz)
Memory Slots: 2 x DDR4-2400/2133 SODIMM Slots (up to 32GB)
Graphics: ZOTAC GeForce GTX 1080 Mini 8GB GDDR5X 256-bit
Storage: M.21 x M.2 NVMe PCIE x4 / SATA SSD slot (22/42,22/60,22/80), 1 x 2.5-inch SATA 6.0 Gbps HDD/SSD bay, Intel Optane Memory Slot
Ports: 1 x USB 3.1 Type-C, 1 x USB 3.1, 4 x USB 3.0
Network: Dual Gigabit LAN, 802.11ac/b/g/n Wifi
Dimensions: 225mm x 203mm x 128mm (8.86in x 7.99in x 5.04in)
Price: $1,500 without memory/storage/OS
Some Assembly Required
While there are models of the EK71080 that come with memory and storage pre-installed, the unit I am reviewing here came barebones. That means no memory, no hard drive and no operating system. So I opened it up and took a peek inside.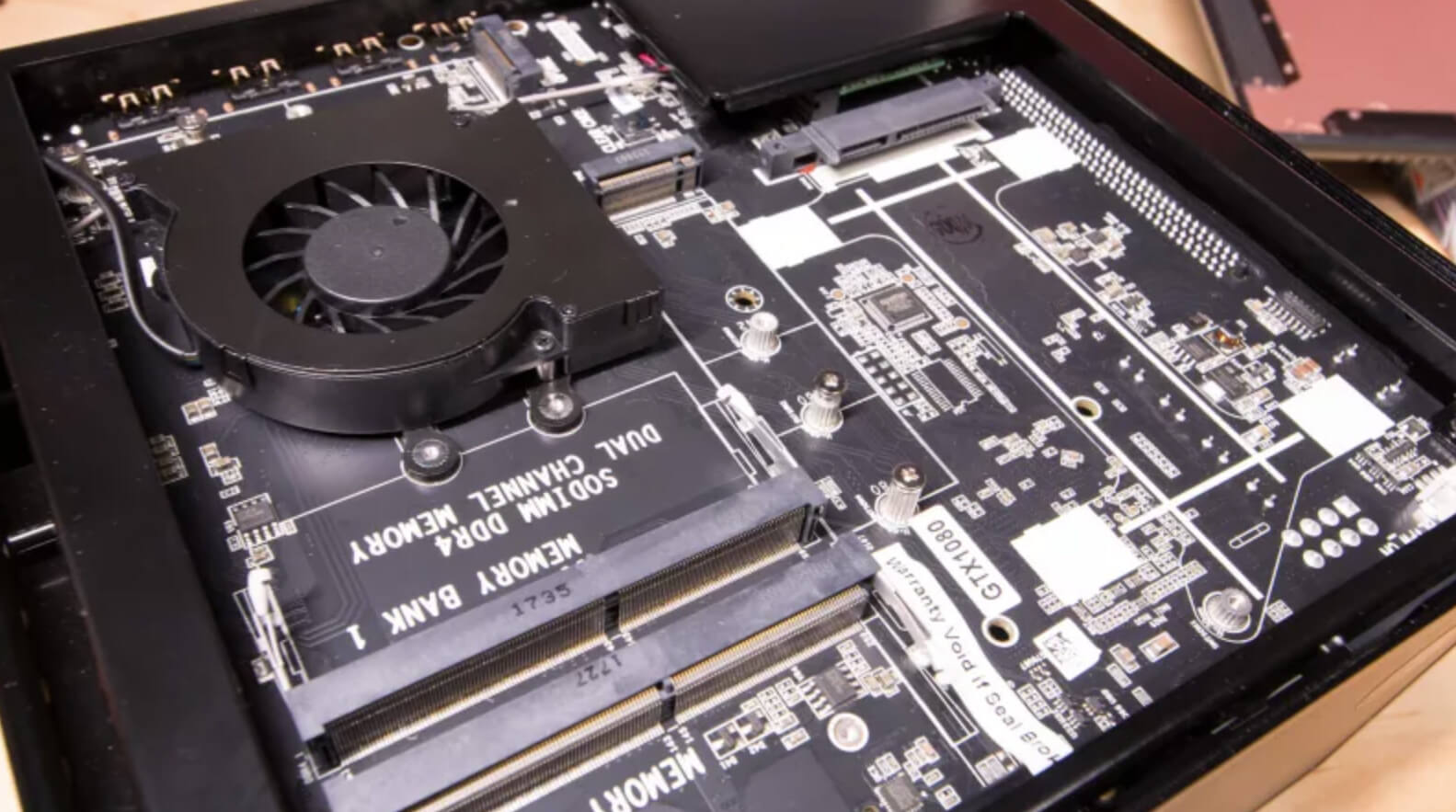 Turning the EK71080 upside-down and removing four speed screws reveals all the internals anyone needs to worry about. Clearly labeled areas show exactly where memory, an M.2 drive, an Intel Optane stick and a 2.5 inch SATA drive should go.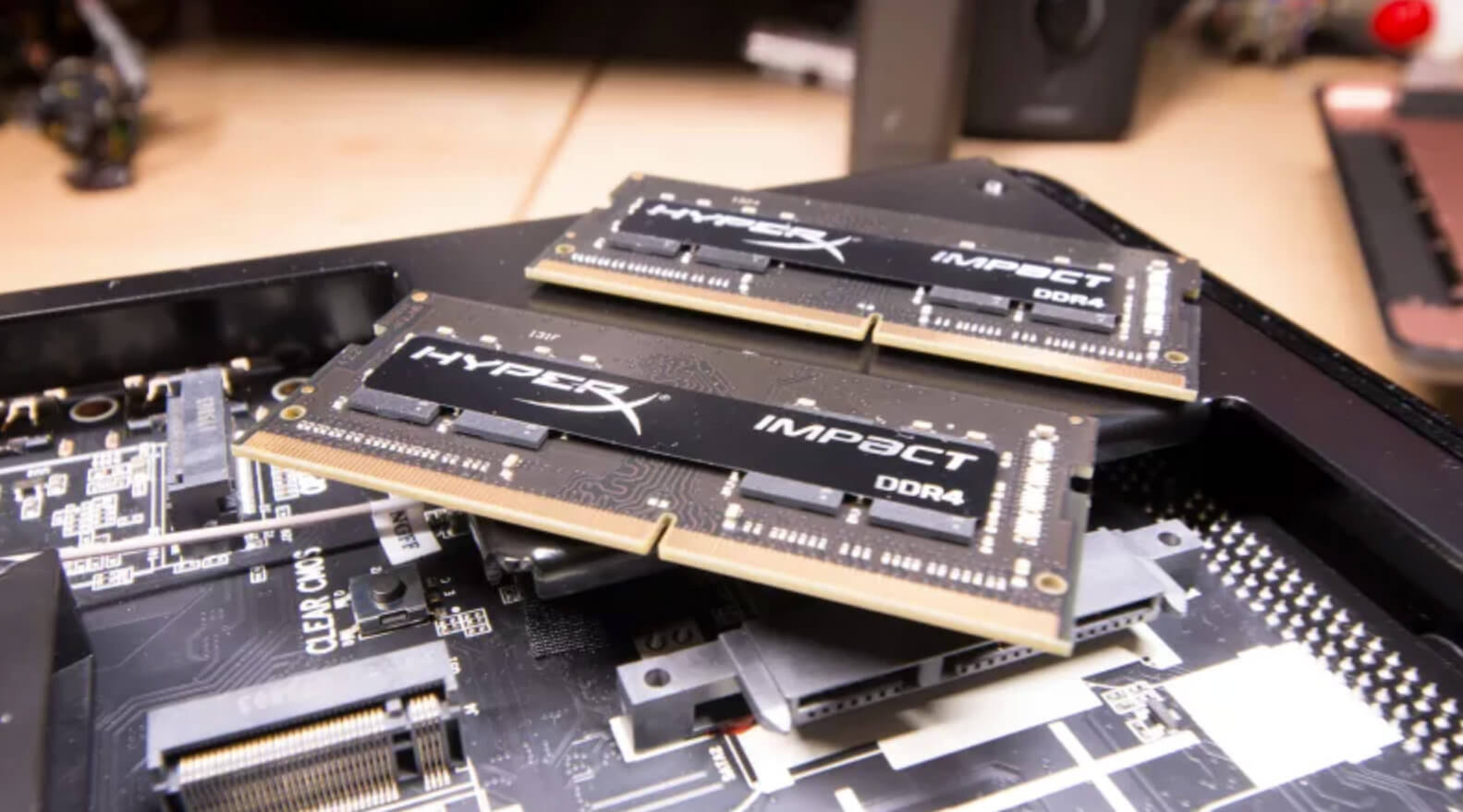 For memory I chose a pair of 8GB HyperX Impact DDR4 2133 SODIMM chips. The system can accept faster speeds and up to 32GB of memory, but it's a good starting place.
For storage, the obvious choice would be a nice-sized M.2 SSD drive. Would be a shame to leave a system with an M.2 slot without an M.2 drive, after all. Intel's 760p series is relatively affordable in all sizes, from the $70 128GB version on up to the $200 512GB beast seen here.
Note that the Intel SSD is perched on top of a much larger, much slower 2TB Seagate Barracuda laptop hard drive. I could combine the two, putting boot files and other programs I need to access quickly on the M.2, using the 2TB drive as storage. But this system also has an Intel Optane slot.
This little 32GB Optane memory module is the really cool. My 2TB Seagate drive is not a fast drive. After remembering to install the Optane disk management software (yes, there is software to install), my slow-ass drive sped up considerably. Games that took over ten seconds to load started up almost immediately. My browser opened more quickly. Windows loaded faster.
Optane has some very specific hardware requirements (not the least of which is an Optane memory slot), so it's not for everyone. But on a system like this one, that's built to use it? Its a great way to have a lot of storage without slowing things down.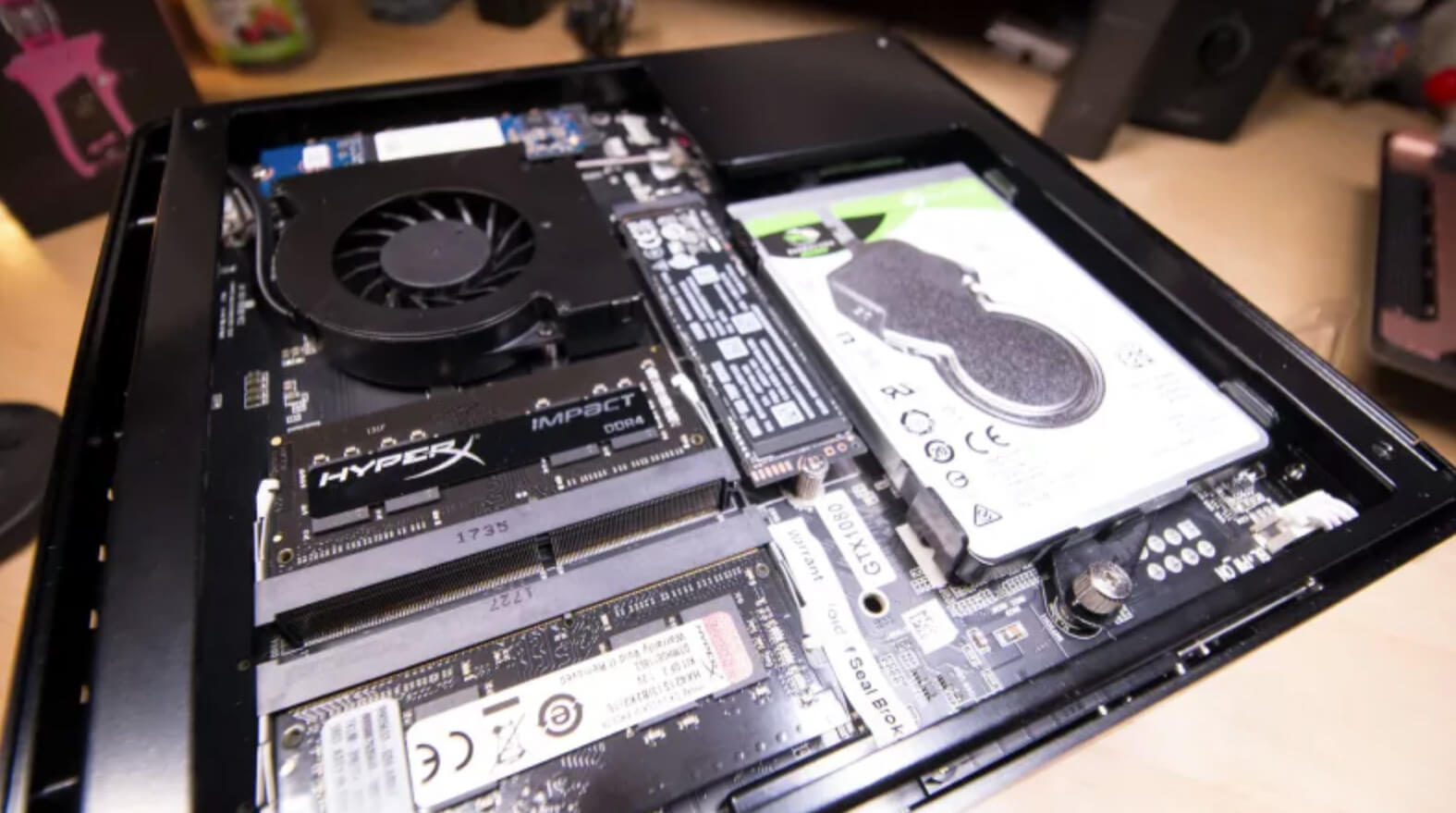 What I Did With It
Once the EK71080 was complete, I played quite a few games on it, including a few I cannot mention I am playing yet. It's basically taken over gaming duties for my normal gaming desktop during the review process, because the silly little thing is more powerful than my normal gaming desktop. That's kind of sad.
What's Great About It
Performance: There is no game out there that will give the EK71080 any trouble at 1080p, and few that give it pause at 2160p. Rise of the Tomb Raider, my current "ow it hurts" game, hovered around 60 frames per second at tweaked "very high" settings at 2160p, so it's a brave little toaster. 4K gaming is certainly doable, though some of the more demanding games out there will need the bells and whistles dialed back.
A VR Monster: The EK71080 is a perfect virtual reality box. Small and portable, yet powerful enough to do anything asked of it by the HTC Vive and Oculus Rift with nary a stutter. It makes me want to grab an extension cord and take it out into the driveway so I can finally do VR without breaking half of my office.
The Size, Obviously: There is so much stuff on my computer desk. When I initially agreed to look at the EK71080, I was looking to approach it from the point of view of someone looking for a living room PC. I'm sure it would be great for that as well, but damn if it isn't nice to have a PC the size of half a shoebox on a desk covered with toys, tablets, gadgets, video lights, coffee cups, scented wax burners and various gadgets and gizmos.
What's Not So Great
Not All That Upgradable: While one can fiddle about with hard drives and memory configurations quite a bit, there's not much else you can change in the EK71080. If it had just one tiny PCIe slot available, it would be perfect for my purposes (I use an internal video capture card). Considering most people looking for a very small form factor PC take such things into account, this might not be a negative for most. This is just me after looking up the cost of an external PCIe enclosure (several hundred dollars at best).
A Little Bit Loud: When not involved in vigorous gaming, the EK71080 is actually pretty quiet. I have a desk fan that's louder than it on its lowest setting. Things only get loud when the fans of the 1080 Mini kick into overdrive---Rise of the Tomb Raider did it, as did my 3DMark torture test (to see if the computer explodes---it did not). Something to keep in mind if you're looking for an unobtrusive gaming system.
Reliability: Since Kotaku and a few others reviewed the Magnus EK71080 around March, mostly with praises and positive views, the box has been selling on Amazon and Newegg where reviews are mixed with people loving the box, the size, and the hardware specs, but with a sizable portion of users giving Zotac's Mini PC 1 out of 5 reviews due to reliability issues and less than prompt resolution and/or lack of support from the manufacturer. Prospective buyers beware.
The Zotac Magnus EK71080 is a small black box that does everything I need and want it to do. Looking at it then looking at my gaudy pink tower PC with its missing drive bay covers and dust-choked acrylic side panel, I can't help but feel like I've made bad choices.