iPhone XR generates little excitement, but that doesn't mean it won't sell well
Teardowns and durability tests have found plenty to be happy about
By Isaiah Mayersen 20 comments
TechSpot is celebrating its 25th anniversary. TechSpot means tech analysis and advice
you can trust
.
The big picture: The iPhone XR offers better value than its big brothers, the iPhone XS and iPhone XS Max, however as it's often been the history with Apple's non-flagship products, the XR has failed to generate the excitement that iPhone releases are known for: it's received the shortest lines outside Apple stores in Apple history. Even Apple doesn't seem enthusiastic enough to launch any cases with the phone in the US.
As Apple stores opened around the world yesterday morning, eager fans lined up to buy the newest iPhone. Just not many of them. At Convent Garden, one of Apple's two stores in London, only 30 people were waiting as the doors opened. At San Francisco's Union Square, only 25 were waiting - and the first person in line was only first because they'd thought the shop was opening at 7 rather than 8. Interviewed by Cnet, he describes himself as an "Android guy" and revealed that he was actually only buying iPhones for his wife and sister.
The normally bustling New York store on Fifth Avenue saw the largest turnout of the XR launch, stretching about a block away from the store. Mark Guliaiev, a Ukranian student, was first in line and had been waiting since 2 am to buy a yellow XR for his parents. "I just wanted to be number one, simple as that." He needn't have waited so long, however, as second-in-line had only been waiting an hour. At the Sydney store in Australia, the first person in line had only been waiting for half an hour. She was buying the phone for her husband and admitted that arriving early had been "a bit of an overkill."
It was widely expected that the XR would generate less hype because of its sub-1080p 1792 x 828 non-OLED display - but compared to the eight hours most people spent lining up for the XS launch just a month ago, it is impressively quiet. According to analyst Gene Munster from Loup Ventures, however, that isn't indicative of sales.
"Apple's most loyal user base will buy the newest, largest, most expensive models without even seeing the devices," he said in a report. "The average consumer will make a more rational buying decision, which is where the iPhone XR wins." He is expecting the XR to comprise 38% of Apple's 2019 iPhone sales, compared to 12% for the XS Max and 9% for the XS.
Apple's marketing of the XR has been colorful and lively, rather than sleek and premium like their XS advertising. This has contributed to a second-class perspective, Munster says, but he insists that that perspective will wear off due to the highly positive reviews the device has been receiving.
Renowned Apple analyst Ming-Chi Kuo agrees and suggests that many XR customers will prefer to purchase the phone with a carrier due to the various perks and discounts they offer. The fact that XR customers are a less excited demographic than XS customers also appears to be a reason for the low turnout.
That hasn't stopped iFixit from digging into the bowels of the phone to see what it's made of. They've described the phone as a "spiritual iPhone 9" due to the fact that it houses many of the more advanced technologies from the X but also uses many older technologies from the iPhone 8 Plus. For example, it has the FaceID and design from the X but has slightly larger bezels due to using LCD screen technology. It also has a rectangular shaped battery rather than the L-shaped one in other X models, and though it's smaller than the 8 Plus', it has a larger capacity.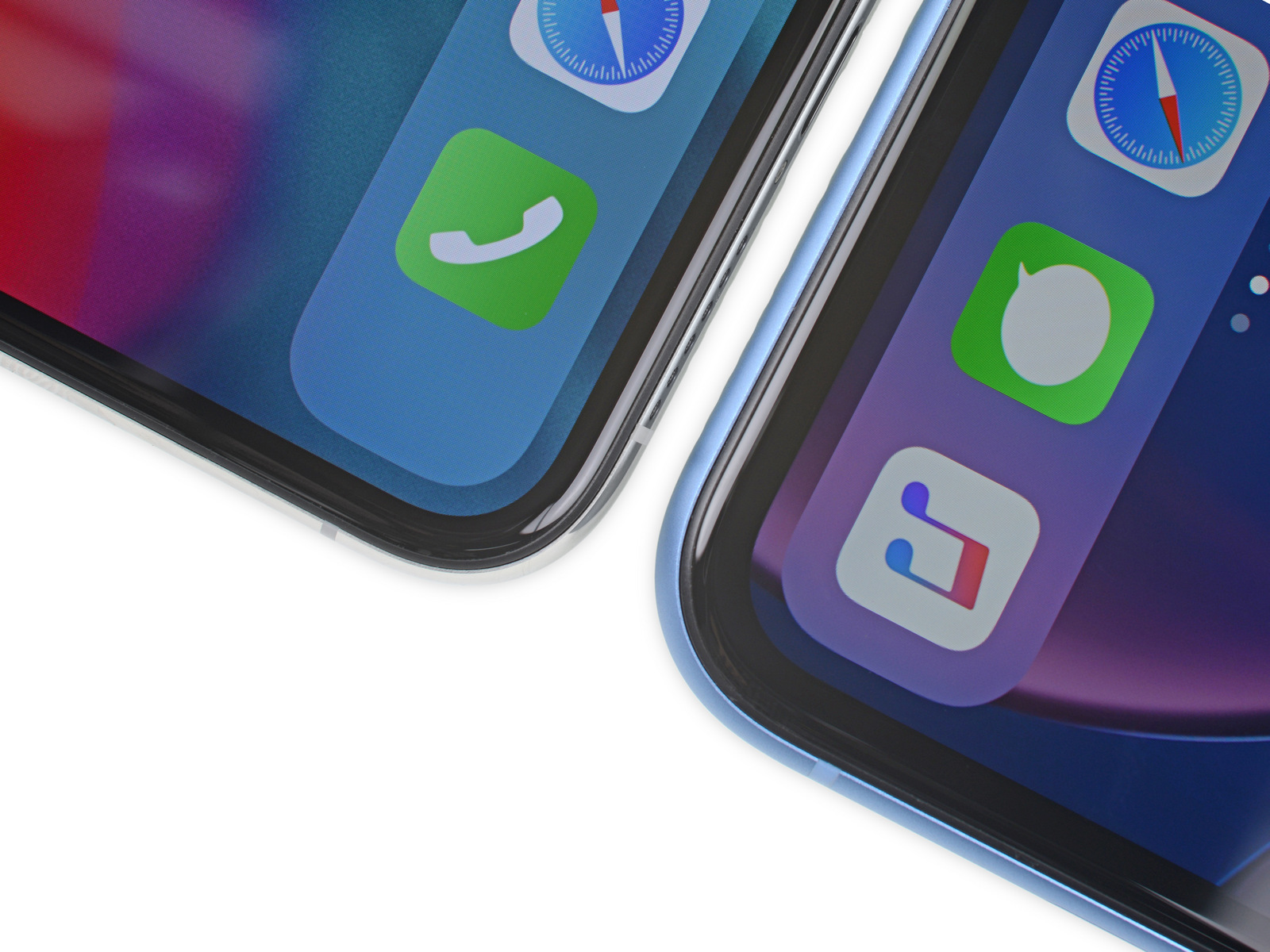 iFixit gave the phone a 6/10 repairability score, the same as what the XS and XS Max received. Like those two phones, they praised the easy access to the battery and easy display removal, which they call as "painless as it gets on a water-resistant phone." Unfortunately, the water-resistance does make other repairs harder, and having a glass front and back makes the phone less durable. Repair costs will be slightly cheaper on the XR than on the XS models.
Speaking of durability, JerryRigEverything clearly enjoyed attacking his orange XR on YouTube. While it uses an aluminum frame rather than the stainless steel one found on the XS, it's still impressively resistant to bending. The earpiece is also very tough, while the front and rear glass are pretty standard, both scratching slightly at a six on Moh's hardness scale. But despite being relatively durable, JerryRigEverything did not approve of the phone as a whole.
"It's pretty messed up that with Apple, you don't get what you pay for on so many levels... It's like [they're] robbing an old folk home."
His main gripe was with the screen, which he described as being very backwards thinking and unnecessary when much cheaper phones have higher resolution screens. Maybe don't watch the video if you're a fan of Apple, you might have your feelings hurt. Despite himself, he still had to conclude that "our little orange friend is built like a solid low-resolution brick."
In all likelihood, you're not excited by the launch of the iPhone XR. But regardless of whether you are or aren't, the phone is an outstanding choice of iPhone for everyone who prefers Apple over Android and are willing to forgo some of the necessary premium involved in that decision.