The Sega Tower of Power is now available on PC
This oddware tower is an awesome stack of nonsense
By Shawn Knight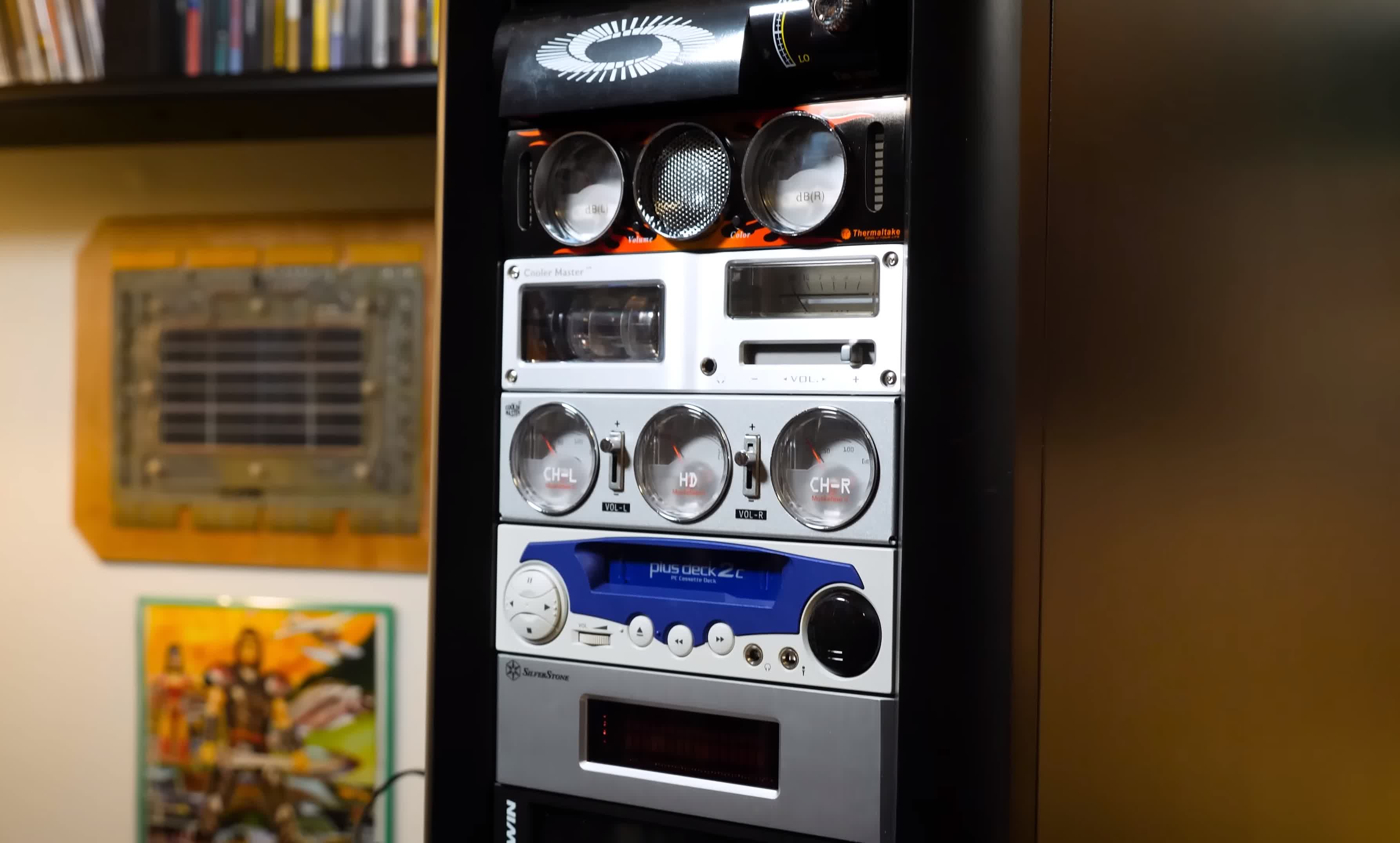 TechSpot is celebrating its 25th anniversary. TechSpot means tech analysis and advice
you can trust
.
Recap: The 2000s were a fascinating decade for computing enthusiasts. PCs were finally entering the mainstream, and those in the modding scene started using cases as a canvas to express their creativity. This was around the same time the car tuner scene was exploding so it's no surprise there was some crossover.
It didn't take long for peripheral makers to pick up on the emerging trend and flood the market with all sorts of 5.25-inch drive bay accessories. If you could conceive it, someone probably made it.
Clint from LGR has featured many of these quirky creations in his oddware series on YouTube but only recently brought together some of his favorites to construct the ultimate oddware tower.
The Antec Twelve Hundred full tower chassis features a dozen 5.25-inch drive bays, and you better believe Clint utilized each and every one. There was no shortage of options to choose from but Clint said he wanted to go with a good mix of hardware that wasn't too pedestrian.
From top to bottom, we have the Antec Veris multimedia station premier, the Evercool personal computer air conditioner, the Thermaltake circle fire, the Cooler Master Musketeer III vacuum tube volume controller, the Cooler Master Musketeer 2 system monitor, the Plus Deck 2C PC cassette deck drive, the SilverStone drive bay display, the Kingwin FPX-007 touchscreen fan controller, the Sunbeam cigarette lighter with cigarette tray, the NewQ Gold graphic equalizer and the Easy Connections mini subwoofer.
It's a lot like Sega's legendary Tower of Power but far less functional.
Unfortunately, the computer destined for the build didn't arrive in time for the video so not everything works. He was still able to put power to the tower and get an idea of what the finished behemoth will look like. In Clint's own words, "this is so dumb."
In retrospect, only a couple of these drive bay devices were actually practical. The NewQ Gold is something I lusted over for years, and the Kingwin fan controller would have also been useful. Similarly, the cassette tape deck might have been worth the money since it allowed you to convert tapes to MP3 files. Everything else was mostly just gimmicky eye candy.