Exascale-class Aurora supercomputer is finally ready for duty
An all-Intel machine designed to do science, simulations, and AI
By Alfonso Maruccia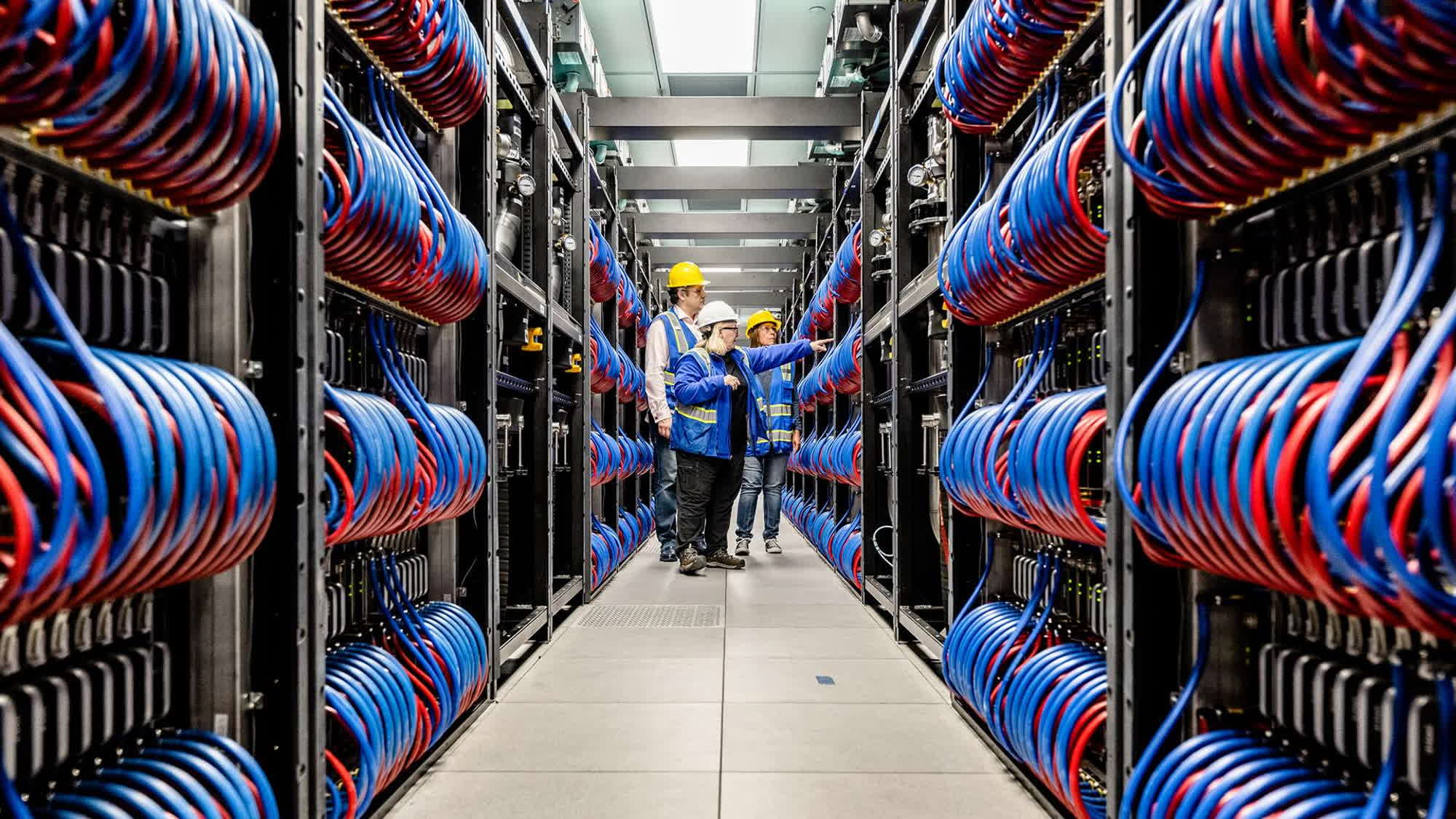 TechSpot is celebrating its 25th anniversary. TechSpot means tech analysis and advice
you can trust
.
The big picture: It's a bit behind schedule, but Intel's Aurora supercomputer is now complete. The new star in the high-performance computing (HPC) market can theoretically do an enormous amount of calculations per second and will provide the scientific community with never-before-seen simulation capabilities.
Initially expected to be ready by 2021, the Aurora supercomputer has now been equipped with all its 10,624 compute blades at the Argonne Leadership Computing Facility (ALCF) data center. A partnership among Intel, Hewlett Packard Enterprise (HPE), and the US Department of Energy (DOE), Aurora is expected to achieve a theoretical peak performance of more than 2 exaflops – or 2 billion billion operations per second.
Aurora's 10,624 compute blades are installed in 166 racks, with each rack accommodating 64 blades on eight rows. The refrigerator-size racks need a lot of room, of course, as they occupy a space equivalent to two basketball courts at the Argonne National Laboratory.
Each blade contains two Intel Xeon Max Series CPUs and six Intel Max Series GPUs, plus all the memory, networking and cooling technology that's needed for high-performance applications. Overall, Aurora boasts 63,744 Intel GPUs and 21,248 Intel Xeon CPUs, with more than 1,024 distributed storage nodes, 220 petabytes of storage capacity and 31 terabytes per second of total bandwidth.
Intel said its recently introduced Max series of CPUs and GPUs can provide a significant performance improvement over competing products, with up to two times the performance of AMD MI250X GPUs on OpenMC. Xeon Max Series CPUs have a 40 percent "performance advantage" over the competition in many real-world HPC workloads, the Santa Clara corporation states, and Aurora will certainly need all the performance it can get to do everything scientists are expecting from it.
Intel says Aurora is designed to unlock the potential of the so-called "three pillars" of modern high-performance computing, namely simulations, data analytics, and artificial intelligence on an "extremely large scale." The exascale-class supercomputer will provide the tools to push the boundaries of scientific exploration in astrophysics, healthcare research, large language models, and everything in between.
Now that the installation phase is complete, Aurora will need a bit of warm-up before starting to crunch impossibly large numbers. Early users will "stress test" the supercomputer to identify potential bugs in the system, migrating their work from the Sunspot test bed which was previously used to develop and test the same architecture as Aurora but with only two racks.