8BitDo releases adapter for using modern controllers on PS1 and PS2
Enables Bluetooth and USB-C connections to classic Sony consoles
By Daniel Sims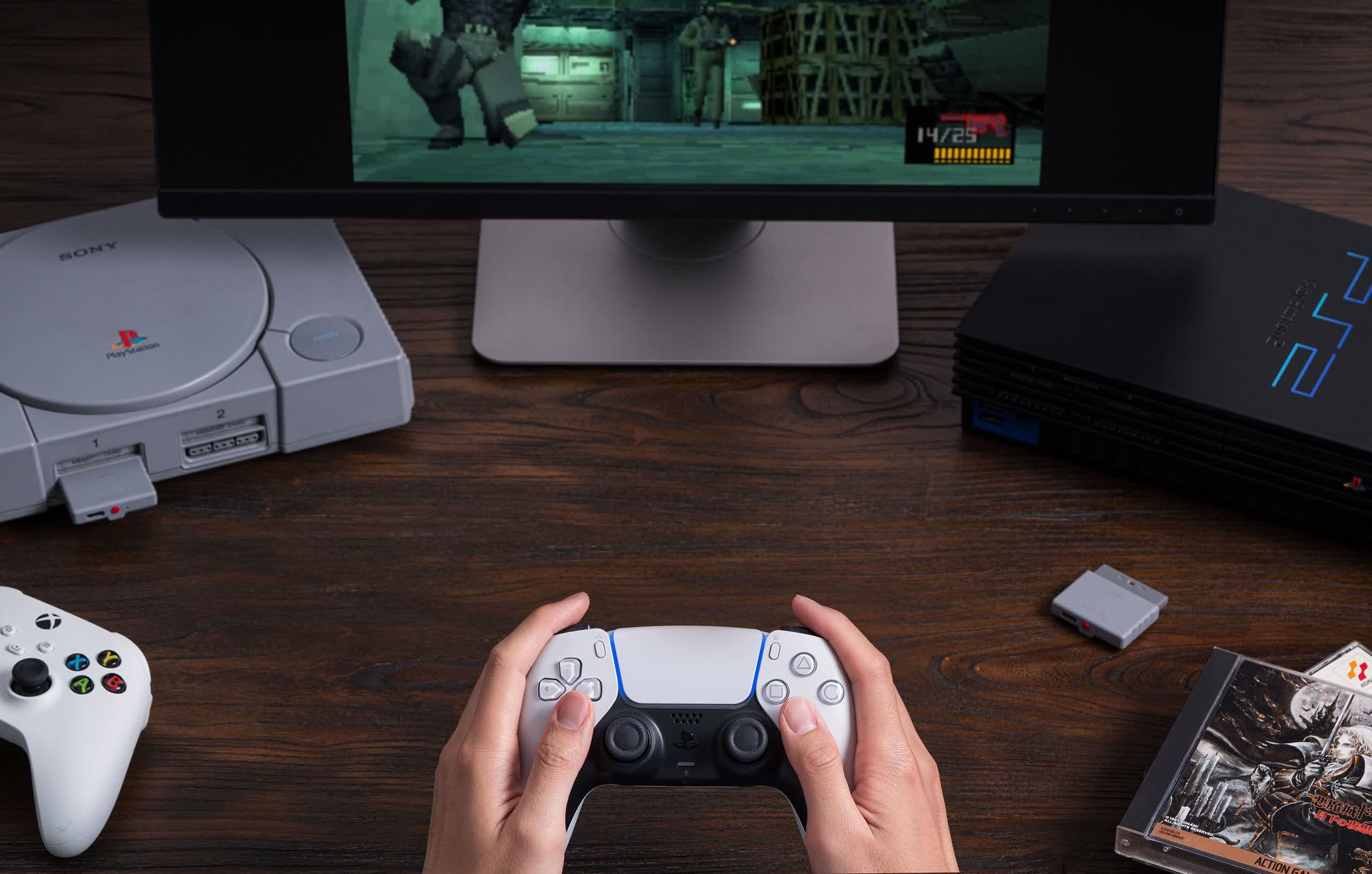 TechSpot is celebrating its 25th anniversary. TechSpot means tech analysis and advice
you can trust
.
Why it matters: Acquiring functional classic game controllers can be nearly as challenging and expensive as obtaining their discontinued console counterparts. One of 8BitDo's primary product categories includes adapters that allow modern controllers to operate on legacy systems. Its latest solutions are for the first two generations of PlayStation consoles.
Owners of Sony's classic consoles, PlayStation and PlayStation 2, now have another option for replacing worn-out controllers – the 8BitDo "Retro Reciever." The Retro Receiver can make modern controllers compatible with both discontinued consoles since the PS1 and PS2 controller ports are identical. The adapter is available through the 8BitDo store or on Amazon for $25.
The retro receiver's best feature is Bluetooth connectivity. The aging consoles pre-date wireless protocols meaning that legacy controllers are tethered. Now users can enjoy wireless gaming. However, the Retro Receiver also supports a USB passthrough connection for charging and playing while connected. 8BitDo's latest receiver is the first to employ USB-C – its predecessors use USB Micro ports.
Unsurprisingly, the adapter works with Nintendo, Sony, and Microsoft pads from the last couple of console generations: the DualShock 4, DualSense, Xbox One, Xbox Series, Wii U Pro, and Switch Pro controllers. It also supports almost all of 8BitDo's specialty gamepads and arcade sticks.
However, players should note that some PS2 titles rely on the PS2 controller's pressure-sensitive face buttons to receive different inputs from a half-press than from a full press. The Gran Turismo and Metal Gear Solid games are the most prominent examples of core gameplay mechanics using these unique inputs. Most modern controllers lack this feature, so be aware.
The retro receiver for PS1 and PS2 follows 8BitDo's similar adapters for the Nintendo Entertainment System, Super Nintendo, and Sega Genesis, collectively covering the most popular retro game consoles. Like those, the PS1/PS2 adapter requires no initial setup (other than pairing), and the company says its connection is lag-free. The device is also future-proof since it can receive firmware updates.
Although it has not announced anything officially, 8BitDo could conceivably introduce solutions for systems like Dreamcast, GameCube, Sega Saturn, Neo Geo, TurboGrafx, and other niche classic platforms. However, it recently opened pre-orders for its first console-themed mechanical keyboard, due out in late September. The $100 87-key device is available in colors evoking Nintendo's NES and Famicom consoles.