Huawei P9 Review
Page 8 :

Software: EMUI and Android 6.0 By
TechSpot is celebrating its 25th anniversary. TechSpot means tech analysis and advice
you can trust
.
When you buy through our links, we may earn a commission.
Learn more
.
Software: EMUI and Android 6.0
Perhaps the weakest point to the Huawei P9 is its software. The phone is running Android 6.0 with Huawei's custom EMUI skin. In fact it's a bit generous to call EMUI just a "skin": it's a pretty comprehensive reimagining of the standard Android elements, and changes some aspects to this operating system significantly.
I'll start with one thing I absolutely hate about customized versions of Android: bloatware. The Huawei P9 is loaded with a standard collection of first-party apps, along with a collection of duplicate apps (two photo apps, two music apps, duplicate office apps, two email apps). On top of that, there's straight up spam apps on the P9, along with a ton of "tools" all grouped in a folder.
Any time I see a pop-up asking me to choose an app to open a photo or play a song, I cringe. This is a bad user experience and something that should be eradicated entirely from Android. Most of these duplicate apps are completely unnecessary and offer basically no additional functionality. OEMs should just choose to keep one app and remove the other; it's not that hard.
The design language Huawei has used around EMUI is different from the latest versions of Android, but it isn't completely terrible: it's just different. On its own, the style used in EMUI's stock apps and in the settings screen is okay, however it doesn't fit all that well with Google's design language. Jumping from the Play Store or Gmail apps into EMUI's Contacts or Calendar apps shows a pretty stark difference in design, and that leads to a lack of cohesion as you navigate through the OS and its apps.
I'm not saying that all Android OEMs have to use stock Android. I like stock Android, and I think it's great on its own, but I understand the need to differentiate a smartphone from its competitors through software. However, when choosing to modify Android, I prefer to see the general style of the OS remain so that the software feels like a single ecosystem as you use various apps. Skinning for the sake of skinning is bad; evolving the OS through clever, useful additions is good. This is where the HTC 10 succeeded in it skinned version of Android, and where Huawei has fallen behind.
EMUI uses a launcher that doesn't include an app drawer, which I don't particularly like but I know some people do. It forces me to dump rarely used apps in a series of folders, and I like the ability to search for apps in an alphabetic list. It's a minor complaint, and of course I could just download a different launcher from the Play Store to resolve the issue.
The notification pane is very different from stock Android. When notifications arrive, they appear on the timeline, while all quick settings are shoved into a separate tab. I prefer the design of the stock Android notification pane as it can show more information for any one notification, and as I frequently use quick setting toggles, having them hidden in a separate tab slows down my access of them.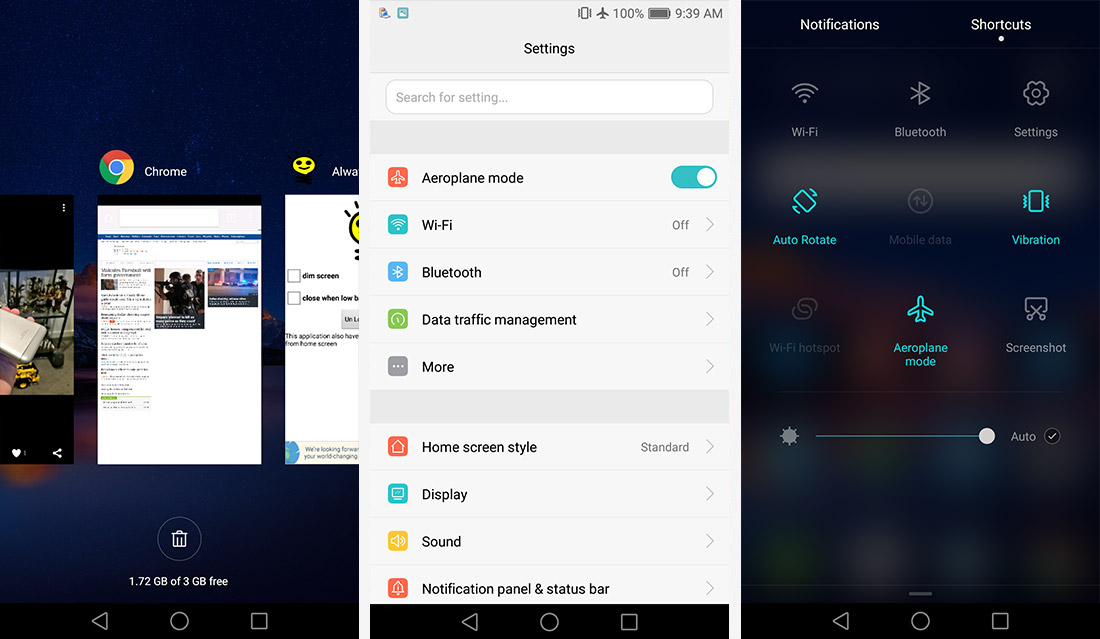 The Huawei P9 also has a terrible habit of nagging me with annoying notifications by default. I constantly received warnings that an app was using too much power, even mere seconds after I switched to a different app. Of course Facebook Messenger would be consuming power while I'm actively using it, I don't need to be nagged about that.
There are some good features found in the Huawei P9's software. I liked the revamped data usage monitor, which gives useful information about how much data each app uses and when. The ability to disable apps from sending notifications is nice, as are some of the power saving features hidden under the "advanced settings" tab.
At the same time, there are some features I didn't feel the need to touch at all. Huawei includes a ton of 'smart assistance' features, which include motion and gesture controls, scheduled power on and off functionality, and even a "floating dock" for easy access to navigation buttons. I also barely used some of Huawei's many additional pre-loaded apps, like the Health and Phone Manager apps.
With that said, I'm sure some people will find some of the additional apps useful. The Phone Manager includes easy tools for cleaning up your device's storage, and there are ways to secure apps behind a password or fingerprint. Plus the dedicated apps for a torch, mirror, compass and so forth could be useful at times.
Huawei's track record for Android updates is poor, so I doubt the P9 will receive Android Nougat, the new and upcoming version, in any sort of reasonable time frame. The previous-generation Huawei P8 doesn't appear to have received its promised update to Android 6.0 beyond a "beta" version, and it's been more than eight months since Android 6.0 was released. If you want fast updates, you should be looking at Google's Nexus line (of which the Huawei Nexus 6P is a member) over the P9.