TechSpot is celebrating its 25th anniversary. TechSpot means tech analysis and advice
you can trust
.
When you buy through our links, we may earn a commission.
Learn more
.
Nvidia recently gifted laptop gamers with fully functional GeForce 10 series GPUs. Our coverage of the launch and details on Nvidia's new mobile lineup can be found here, but for those who missed the announcement the big news is that Pascal brings GPUs with near exact specifications to laptops as their desktop counterparts. This is in stark contrast to essentially every other mobile GPU ever released.
In other words, on a GeForce GTX 1080-powered laptop you can expect 1080-like desktop performance, or thereabouts.
To put those claims to the test we received a prototype of Asus' ROG GX800. Those of you familiar with the previous-gen ROG GX700 will know it's an over the top liquid cooled laptop. Well, brace yourself because the GX800 is even more extreme. The G-Sync panel on the new model is larger, the Core i7 processor is clocked higher, there are now three SSDs of the NVMe variety, the keyboard is mechanical and not just the GPU is liquid cooled but also the CPU.
We totally expect to see more svelte laptops powered by the GTX 1060 and possibly 1070s, however the GX800 is not about balances, it's about performance and it's the first laptop we've held that carries two GTX 1080 GPUs which will let us test mobile Pascal on both single and dual GPU scenarios.
The clunky old GTX 980 has been dropped for GTX 1080 SLI. In combination with all the other enhancements it sees the laptop's thickness increase by almost 30% and weight by 46% to a back breaking 5.7kgs. This all sounds crazy and wildly impractical, but Asus doesn't care. That is kind of the point.
Asus is well aware this laptop isn't for everyone and it doesn't make sense for most, but the challenge here is to push the bounds of current PC gaming technology, in creating something out of curiosity, out of pride. For that we commend them.
As keen as we are to show you the GX800 in detail, the unit we received is still a prototype, so our official review will come at a later time. For now, we'll be content to see just how well the GTX 1080 performs in a laptop and how comparable the performance is to the desktop. While we are at it, it won't hurt to look into the SLI performance as well.
So with that we'll get into benchmarks. In total we have tested eight AAA titles at 4K, so that should give us a clear idea of how Pascal performs when condensed down to notebook form.
Can Laptop Gaming Be Just as Good?
All results we gathered were using the Asus ROG GX800 docked to the liquid cooling unit which also supplies the laptop with more power. This is required to power both GPUs. There is the option to undock and the laptop will still run normally but then the two GPUs are throttled down, throwing less than desired performance. In such scenario, you can use the ROG Gaming Center to disable one of the GPUs and still get pretty good performance.
Asus' ROG software can also be used to enable XMP mode which enables a 100MHz higher CPU boost clock and operates the DDR4 memory at 2800MHz. Asus recommends users run with this mode as it boosts memory performance by almost 20% and the combined CPU and memory performance ensure higher minimum frame rates when gaming.
With XMP mode enabled but SLI disabled it is possible to use the GX800 on air and get about the same performance you would when docked and only one GPU enabled. So the single GTX 1080 figures you are about to see are achievable using just air cooling, while the SLI results require the dock, not so much for its cooling abilities but for that extra 330 watts of power.
First up we compare our Core i7-6700K desktop test system to the Asus ROG GX800. Using a single GTX 1080 we find the same 49fps on both platforms. Enabling SLI boosted the GX800 frame rate performance by 90% to a seriously smooth 93fps at 4K. This is again comparable to a fully-fledged ATX desktop system running a pair of GTX 1080 Founders Edition graphics cards.
This time we find exactly the same SLI performance on both platforms while the GX800 laptop managed to come out slightly ahead in the single card comparison. The fact that the card is being liquid cooled is likely helping it maintain higher clock speeds.
No doubt someone was going to say "but can it play Crysis", well the answer is yes, at 4K. Granted we aren't exceeding 60fps but the game is being played with 4xTXAA enabled, so the 50fps average with SLI enabled is still very impressive.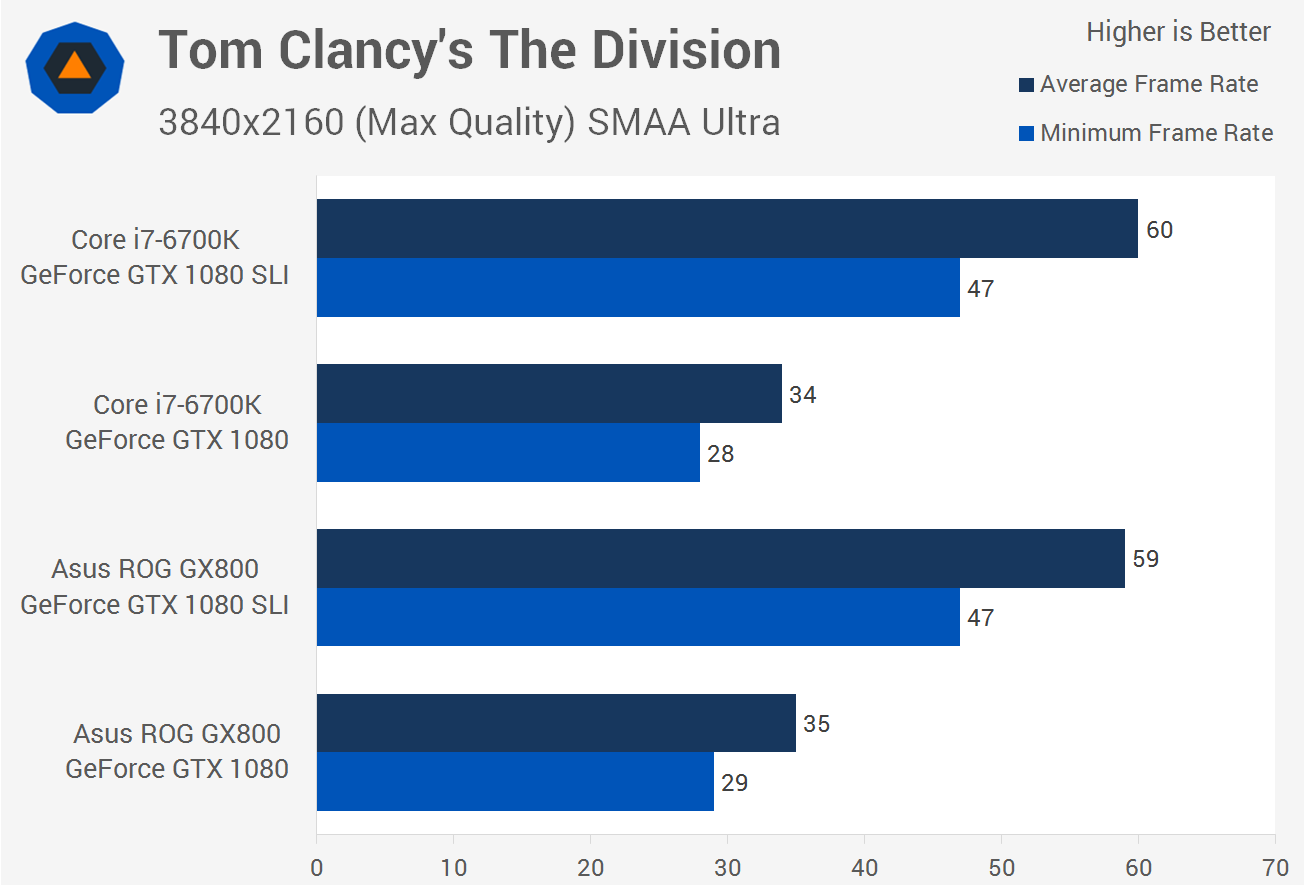 Tom Clancy's The Division was very smooth at around 60fps on the GX800 with SLI enabled and with frame dips no lower than 47fps the 4K performance was exceptional.