TechSpot is celebrating its 25th anniversary. TechSpot means tech analysis and advice
you can trust
.
When you buy through our links, we may earn a commission.
Learn more
.
Creative Software Features and Functionality
If you have used Creative sound cards in the past, you will already be very familiar with the audio console. For brevity, I won't go through every detail but will briefly mention some of the most relevant menus and functions.
In the speakers menu you are given the option to optimize audio output for 2/2.1 speakers or headphones and also manage the bass boost function. This goes to remind you that the X-Fi Go! will not add 5.1 audio output to your notebook.
Creative's EAX Effects menu lets you choose from a number of presets like amphitheater, jazz club, opera hall, etc. as well as adjust the amount of effect applied. X-Fi CMSS-3D represents Creative's virtual surround sound software that is used to emulate true surround sound through 2/2.1 speakers and headphones. Unless you are an audio purist, most people seem to like having this effect turned on for movies and gaming.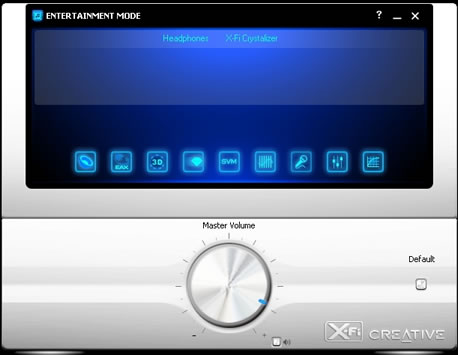 The X-Fi Crystalizer has been the center of speculation since its inception. Some debate whether it actually improves audio quality despite the fact you can clearly hear a difference in the audio when it is enabled. I personally am a big fan of the Crystalizer, but this feature's benefit will come down to personal taste.
SVM, or Smart Volume Management, monitors and controls the dynamic range of sound volume. When enabled, it limits the volume differences between the loudest and softest passages of songs so as to avoid large volume fluctuations during playback. This could potentially work very well when watching movies using your HTPC and home theater setup.
A full-range graphic equalizer is available, allowing you to fine-tune the audio output to your exact liking.
The Microphone Effects menu gives you access to VoiceFX as well as traditional mic effects. VoiceFX can be used to mask your voice when chatting in games. A mixer is included in the Creative console but it really doesn't offer much more than the Windows sound mixer.
The final option is Performance, which allows you to select the Master Sampling Rate and Bit Depth. 48 kHz is the only option available for the sampling rate. For bit depth, you have the option of 16 or 24 bits.