7-Way Intel P55 Motherboard Round-Up
Page 11 :

EVGA P55 FTW – Design By
TechSpot is celebrating its 25th anniversary. TechSpot means tech analysis and advice
you can trust
.
When you buy through our links, we may earn a commission.
Learn more
.
EVGA P55 FTW – Design
The P55 FTW is a dark and menacing looking motherboard. EVGA has gone with a black-gray theme with almost all their P55 motherboards. While the board looks quite imposing, it does so without being covered in a maze of massive heatsinks. In fact, the cooling setup is very similar to that of the Asrock P55 Extreme which is more than sufficient.
The P55 chip is cooled by a small black passive heatsink located directly behind the SATA ports. The board's 12 + 2 power phase is cooled by a pair of large black aluminum heatsinks, which are designed to receive air-flow from the CPU cooler. When benchmarking we found the motherboard cooling to be ample, even when overclocking to extreme frequencies.
The EVGA P55 FTW provides three PCIe x16 slots, though using two of these with either Crossfire or SLI technology will reduce its bandwidth to x8 each. The P55 FTW also comes equipped with a single PCIe x1 slot and two traditional PCI slots.
There is a version of this motherboard known as the 'FTW 200' that improves multi-GPU support for three-way PCIe x8 bandwidth, though it is considerably more expensive.
The primary and secondary PCIe x16 slots are separated by two slots though there is ample room that even a third could have been included. This will allow for plenty of air flow between Crossfire or SLI graphics cards on the P55 FTW.
These PCIe x16 slots are color coded gray, matching the EVGA dark theme.

The EVGA P55 FTW's board layout is one of the best designs in our round-up. The common DIMM slot/PCIe x16 connector conflict is not present and we found installing/removing memory on this motherboard to be a breeze with a large graphics card installed.
The 24-pin ATX power connector is located in the top right hand corner of the motherboard where it is easy to access, and the eight onboard SATA ports have been mounted on a 90-degree angle to avoid any conflicts with long graphics cards. The CMOS battery is located between the PCIe x16 slots making it difficult to access, but with the addition of a CMOS reset button on the I/O panel we can let this slide.

Speaking of the I/O panel, we have a PS/2 keyboard port, six audio jacks, optical and S/PDIF ports, dual eSATA, CMOS clear button, dual LAN ports and six USB 2.0 ports. With a further six USB 2.0 ports featured onboard we would have liked to see more make their way into the I/O panel.
Like Asrock, EVGA has thought outside of the box by including support for both LGA1156 and LGA775 coolers with the P55 FTW. Rather than include a single set of mounting holes EVGA has also accommodated for the older LGA775 heatsinks. Each set is clearly labeled either LGA1156 or LGA775 on the board itself to avoid confusion.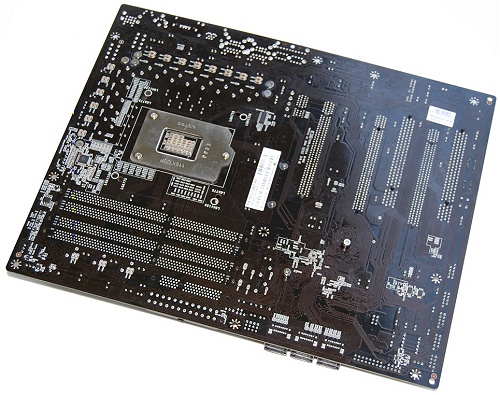 Another feature that hits at the hardcore soul of the EVGA P55 FTW are the voltages read points at the top of the board, which allow users to attach a multi-meter to read various system voltages. EVGA has also gone with LIC Capacitors (low inductance chip), another feature meant to help enthusiasts push their CPU to the limit.