7-Way Intel P55 Motherboard Round-Up
Page 13 :

Gigabyte P55-UD6 – Design By
TechSpot is celebrating its 25th anniversary. TechSpot means tech analysis and advice
you can trust
.
When you buy through our links, we may earn a commission.
Learn more
.
Gigabyte P55-UD6 – Design
The Gigabyte P55-UD6 employs an odd color scheme that combines baby blue with white, dark blue and some gun metal gray. The color scheme doesn't look bad, but it doesn't look terribly great either. For those that don't mind a splash of baby blue, the layout is excellent.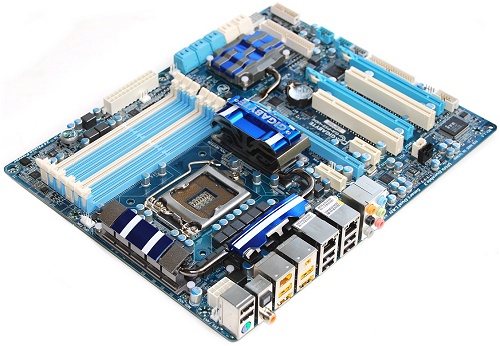 Something you may notice about the design of the Gigabyte P55-UD6 is that it looks much like any other motherboard, and by that we mean any other motherboard that features the traditional north and south bridge chips.
Rather than placing the P55 chip in the lower right corner of the board like virtually every other P55 motherboard, Gigabyte has given it a more central location, exactly where you would expect to find the north bridge.
There is however another large heatsink down where the south bridge would be typically located. Here Gigabyte has chosen to cool the "Gigabyte SATA2" (JMB363) and one of the JMicron JMB362 controllers. Gigabyte decided to passively cool just one of the two JMB362 controllers, though neither controller requires cooling of any type, nor does the Gigabyte SATA2 controller in theory.
Cooling the huge array of power chips surrounding the LGA1156 socket are a pair of aluminum heatsinks connected using a single heatpipe. This same heatpipe also extends to the heatsink cooling the P55 chip and the smaller heatsink covering the Gigabyte SATA2 and JMicron JMB362 controllers. While this is a complex cooling design for a P55 motherboard, it is not over the top either, especially compared to many P45, X48 and X58 motherboards.
As we've mentioned the Gigabyte P55-UD6 includes six DIMM slots rather than the typical four. Despite this they have managed to fit everything rather well without creating a cramped board layout. In order to avoid the common DIMM/PCIe x16 slot conflict Gigabyte has placed the primary PCIe x16 slot further down the board.
The primary and secondary PCIe x16 slots are still separated by a PCIe x1 and PCI slot leaving ample room between graphics cards that utilize dual-slot coolers. In total, the P55-UD6 features 3 PCIe x16 slots, 2 PCIe x1 slots and 2 PCI slots which should provide more than enough room to expand.
Along the right side of the motherboard we have a total of 8 SATA ports, all of which have been mounted at a 90-degree angle. The ATX power connectors are also well placed with easy access to both the 24-pin and 8-pin connectors. At the bottom of the P55-UD6 there are just a pair of USB 2.0 headers supporting 4 ports. This means the rest of the ports should be located on the boards I/O panel so let's check that out...

The P55-UD6 has an extremely busy I/O panel that features virtually every connection you could possibly need. There is a single PS/2 connector supporting either a keyboard or mouse, 8 USB 2.0 ports, 2 Firewire ports, 2 eSATA ports, 2 LAN ports, 6 audio jacks and a S/PDIF and Coaxial connector.