7-Way Intel P55 Motherboard Round-Up
Page 12 :

Gigabyte P55-UD6 – Features By
TechSpot is celebrating its 25th anniversary. TechSpot means tech analysis and advice
you can trust
.
When you buy through our links, we may earn a commission.
Learn more
.
Gigabyte P55-UD6 – Features
Like the Asus P55 range, there are a dozen Gigabyte boards on offer that vary in price from $110 through $250. Their best value high-end P55 motherboard in our opinion is the P55-UD5 which costs $210 and offers a few more features than the Asus P7P55D Deluxe. However, Gigabyte decided to send us the P55-UD6, which is their flagship product and you guessed it, costs a handsome $250.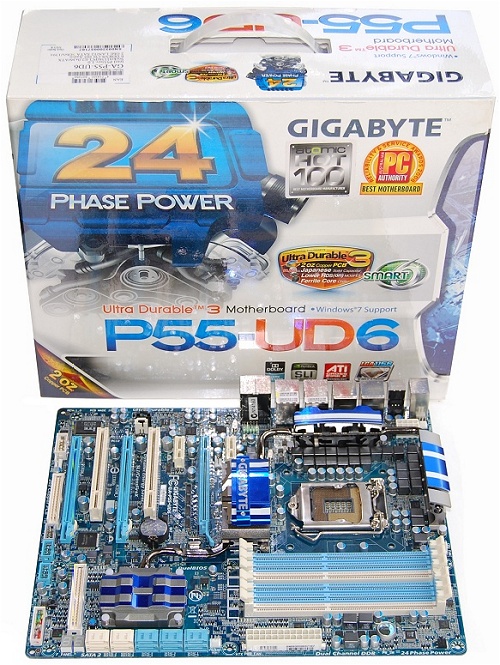 The key difference between the P55-UD6 and the P55-UD5 is that the more expensive board features a 24-phase power design and six DDR3 DIMM slots. The P55-UD5 instead uses the standard four DIMM slots and a more civil 12 phase power design. For an extra $50, the P55-UD6 could be hard to justify for most.

Another issue we see with the P55-UD6's price point is that this is meant to be a mainstream platform, a cut down version of the LGA1366 platform, if you will. So spending $250 on a P55 motherboard could be seen as a little nutty when Gigabyte themselves offer X58 boards for less than $200.
Also it's equivalent X58 board (EX58-UD5) costs just $30 more, but logically offers support for LGA1366 processors and better multi-GPU capabilities. Keep in mind that the Core i7 920 processor is only $80 more expensive than the Core i5 750, so the real savings come when matching this CPU with a mainstream priced platform.
The P55-UD6 officially supports up to 16GB of memory like most other P55 motherboards, but it comes with six DIMM slots. This means that you can opt to configure 8GB of memory using 4x2GB modules like most P55 products, or also use 12GB like X58 motherboards. This is an interesting addition, but again you have to ask yourself if users investing in the LGA1156 platform are going to want more than 8GB of memory.
The 24-phase design is another questionable feature. Do you even need it and is it a real feature or just marketing fluff? Now, it should be pointed out that when it comes to this stuff I am certainly no electrical engineer or expert on the subject. However, as I understand it the Gigabyte P55-UD6 uses an Intersil ISL6336 "6-phase" PWM controller. In order to achieve their so called "24-phase" design, Gigabyte quadruples the power load across more components. This should improve the board's durability and reduce temperatures, but it is not really a 24 phase design as they claim.

Where the Gigabyte P55-UD6 truly shines is in its storage capabilities. Whereas the Asus P7P55D Deluxe and DFI LanParty DK P55-T3eH9 managed to provide 9 SATA ports, the P55-UD6 boasts an incredible 12, 10 of which are on-board.

Gigabyte has included a total of three JMicron controllers. The JMicron JMB363 chip provides two ports with support for RAID 0, RAID 1 and JBOD. Then a pair of JMB362 controllers provide four more ports, two of which have been mounted on the I/O panel as eSATA ports. The JMB362 controllers also support RAID 0, RAID 1 and JBOD. So in short, the P55-UD6 is the best equipped P55 motherboard in our round-up when it comes to storage.
Other connectivity features include the T.I. TSB43AB23 Firewire controller providing 3-ports, two of which are located on the I/O panel. There are also a pair of Realtek RTL8111D controllers providing Gigabit LAN with support for teaming and smart dual LAN. Finally, audio is handled by the Realtek ALC889A codec supporting 8-channel audio, Dolby Home Theater and S/PDIF in/out.