TechSpot is celebrating its 25th anniversary. TechSpot means tech analysis and advice
you can trust
.
When you buy through our links, we may earn a commission.
Learn more
.
Installation
Installing the DS410j is a really straightforward (yet lengthy) process that starts by putting all the drives inside the DS410j – the hot-swap bays made this a breeze. Next you are required to run the Disk Station Assistant which configures the hard drives, installs the operating system, and that's pretty much it. You can then gain access to the Disk Station Manager 2.2 by connecting to the DS410j using a web browser.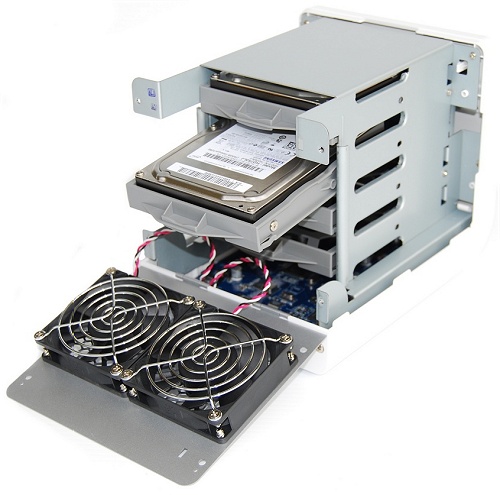 For the purpose of this review Synology supplied a pair of 750GB hard drives which retail for roughly $80 each, making the total hard drive bill $160. However, to justify spending $370 on the DS410j users may want to go with at least 1TB drives, giving a total storage capacity of 4TBs and a ~$360 hard drive bill.
The Disk Station Assistant software is provided on a CD, though the latest version as of this writing (2.0-0844) can also be downloaded from the Synology website and is less than 6MB in size.

The Disk Station Assistant software detects the DS410j and allows the user to install the latest firmware. In this case it is the Disk Station Manager 2.2-0959 (Build Date: 2009/11/13) software which is a 92.1MB download. This is the second release for the DSM 2.2 and fixes a few bugs while offering a number of enhancements.
Once the latest firmware is installed, the user is redirected to the DS410j login page for accessing the Disk Station Manager 2.2 software.

After creating a volume, which I might add took a considerable amount of time, you will need to choose which hard drives you want to use and the volume type. The options are basic: JBOD, RAID0, RAID1, RAID5, RAID5 + Spare and RAID6. The DS410j was configured to use RAID0 and after almost five hours this gave us 1.5TB of storage capacity, minus the room taken up by the operating system.


Once the volume has been created, the user is free to configure the DS410j as they see fit. The next logical step would be to setup user accounts and privileges. Shared folders can then be assigned and features such as the Download Station can be initiated. Users are also free to connect a UPS or a printer to the DS410j.