TechSpot is celebrating its 25th anniversary. TechSpot means tech analysis and advice
you can trust
.
When you buy through our links, we may earn a commission.
Learn more
.
In the last few months, AMD and Nvidia released what will likely be the last additions to their current generation graphics cards: the Radeon HD 6990 and GeForce GTX 590. Although both products deliver incredible performance for single card solutions, they are reserved for the most demanding users with pricing set around $700.
For all the glory that comes with owning a dual-GPU video card, the reality is most hardware buffs don't have the coin to fund their desires. Instead, the typical system builder settles for a graphics solution in the $100 to $250 territory, which generally provides enough performance to play any modern game with reasonable settings.
Fortunately for cash-strapped gamers, intense competition between AMD and Nvidia ensures that the sub-$200 market is well stocked. Along with wallet-friendly HD 6000 and GTX 500 products, many older mainstream cards have been demoted to the budget bracket. We'll compare the most relevant ones in this review.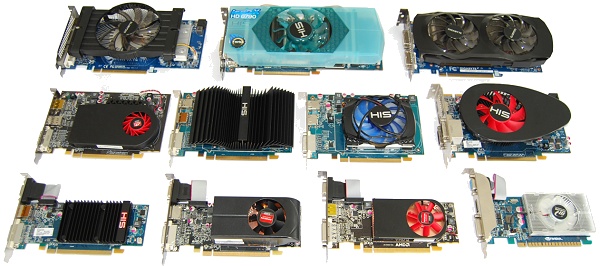 Folks looking to spend around $150 have several options to choose from, no matter what camp they root for. Nvidia's current-gen GeForce GTX 550 Ti is at $145, while the GeForce GTX 460 (768MB) is now only $150, down from $200 last summer. On the other side of the fence, AMD recently released the Radeon HD 6790 at $155.
Stepping down a level, AMD recently launched its Radeon HD 6770 at $120 and the HD 6750 at $110. It should be noted that both cards are rebadged versions of the original HD 5770 and HD 5750, barring a firmware update that adds support for HDMI 1.4a as well as hardware-accelerated Blu-ray 3D video playback.
AMD's Radeon HD 6670 also occupies the $100 territory, though it's not a rebadged 5670. The HD 6670 is based on a new core codenamed "Turks," which has a higher clocked GPU that boasts a more complex configuration. Meanwhile, the $80 Radeon HD 6570 and $55 HD 6450 are also updated versions of their predecessors.
Nvidia relies on its eight-month-old GeForce GTX 450 to compete with the Radeon HD 6770 ($120), HD 6750 ($110) and HD 6670 ($100). Priced at $110, the GTX 450 represents Nvidia's only offering in this bracket, and the company feels no urgency to change this because again, AMD's HD 6770 and 6750 are renamed 5000 series cards.
At the bottom of the pile, Nvidia's GeForce GT 430 will square off with the Radeon HD 6570 in the $70 range, while the $60 GT 520 will be pitted against the HD 6450.
Before placing your bets, we should note that AMD won our previous sub-$200 showdown. In fact, Nvidia notoriously focuses on the performance market and it hasn't recently had much of a presence in this price range, so it'll be interesting to see if the green team can pull an upset this time around.