TechSpot is celebrating its 25th anniversary. TechSpot means tech analysis and advice
you can trust
.
When you buy through our links, we may earn a commission.
Learn more
.
AMD introduced its first Radeon HD 6000 graphics card last October, when we reviewed the mid-range Radeon HD 6870. Since then AMD opened up to show its GPU roadmap and the cards that soon thereafter were coming to market.
The high-end Radeon HD 6970 and HD 6950 also arrived late last year, while the dual-GPU version of AMD's last generation graphics series code-named Antilles was expected to arrive shortly after. Coincidentally (or not) both AMD and Nvidia took a few months longer than expected to show its hardcore dual-GPU graphics cards, with the former making the first move to finally unveil the Radeon HD 6990.
Having looked at most of the previous generation Crossfire and SLI products, we were certainly looking forward to see what AMD had in store for us with this dual-GPU monster.
We don't think AMD sells large volumes of these dual-GPU cards, in fact, previous versions of their topmost offerings have been known to disappear from retail temporarily and then stock back up again. Having that said, the Radeon HD 6990 is an important product on AMD's line-up as it can do a lot for the series reputation, just as the HD 5970 did before.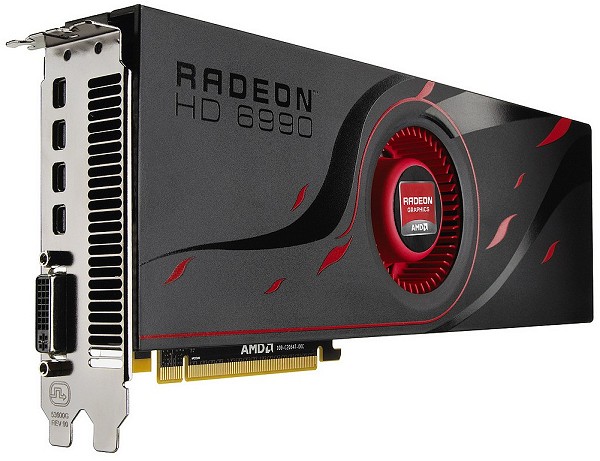 With both AMD and Nvidia trying hard to push its graphics technologies beyond PC gaming, including the use of embedded graphics in motherboards and processors, that has also meant that the discrete GPU market on the low-end segment is shrinking and thus mid-range offerings are taking a new level of precedence.
Holding the performance crown can be a big deal, and AMD did so uncontested for quite some time with the Radeon HD 5970. As you may recall, the GeForce GTX 400 series was simply too hot to stick a pair of GPUs on a single PCB and therefore Nvidia was never able to respond with a dual-GPU offering of their own. Nvidia has overcome all those issues now, having also released their latest generation architecture with multiple GeForce 500 series products on offer today.
The GeForce GTX 580 is able to match the dual-GPU Radeon HD 5970 and even beat it in a number of areas. With the arrival of the Radeon HD 6990, AMD is hoping to take back the performance crown which they will likely hold until the GeForce GTX 590 arrives.
Under the hood, the Radeon HD 6990 is essentially a pair of underclocked Radeon HD 6970 GPUs on top of a massive PCB. This is the same of what we found with the Radeon HD 5970 which featured a pair of HD 5870 GPUs operating at slightly lower frequencies.
When designing the older Radeon HD 5970, AMD worked hard to keep within the PCI Express specification which calls for a maximum TDP of 300 watts. At 294 watts the HD 5970 just scrapped in and was still the most power hungry graphics card of its time. However, the new Radeon HD 6990 is much closer in specification to the HD 6970 than the HD 5970 was to the HD 5870. As a result the card's TPD rating has increased to a staggering 375 watts.
Perhaps for some that won't be the biggest shocker. The new Radeon 6990 is set to sell for $699, which translates in a $100 premium versus the HD 5970's price at launch. At this price point gamers can alternatively purchase a pair of Radeon HD 6970 cards and still save a few bucks while scoring a little extra performance. With that in mind, let's check out the almighty Radeon HD 6990 in better detail...