Asrock CoreHT 252B HTPC Review
Page 3 :

Taking Apart the CoreHT By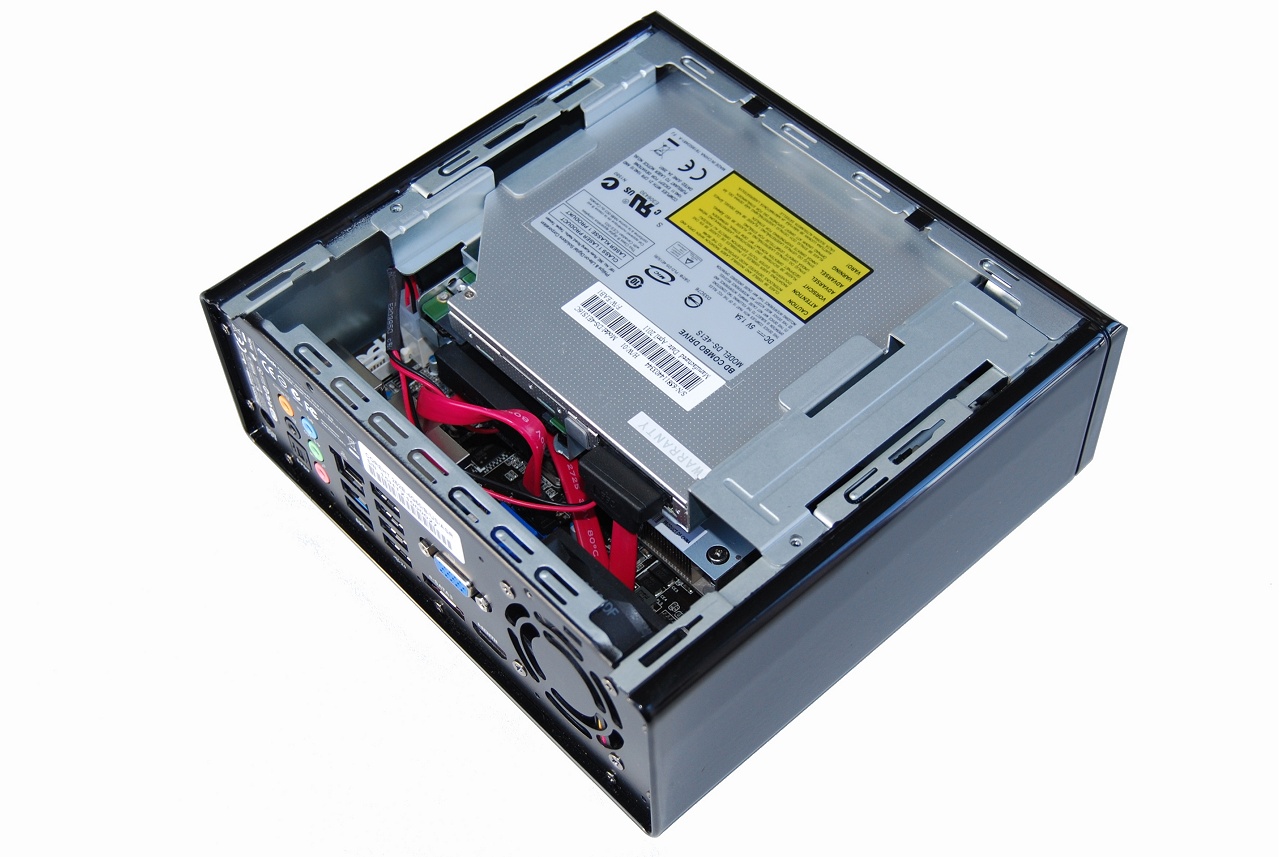 TechSpot is celebrating its 25th anniversary. TechSpot means tech analysis and advice
you can trust
.
When you buy through our links, we may earn a commission.
Learn more
.
Taking Apart the CoreHT
As nice as the CoreHT's exterior is, we were itching to peek inside. Like the exterior, everything was very tidy under the hood. Asrock designed a neat cable system for delivering power and data cables to the optical and hard drives.
Mounted above the motherboard we found a Western Digital Scorpio Black 2.5" 500GB hard drive, along with the Philips & Lite-On DS-4E1S Blu-ray combo drive, which have a combined retail value of $160.
The optical drive supports 4.8x Blu-ray read speeds, 8x DVD read speeds and 24x CD read speeds, 8x for DVD+/-R, 4x for DVD+/-R DL and DVD+/-RW media, 16x for CD-R and 10x for CD-RW media. The drive features a 4MB buffer with access times of 200ms for Blu-Ray, 160ms for DVDs and 160ms for CDs.
The crown jewel is Intel's Core i5 2520M processor, which features two cores and four threads thanks to Hyper-Threading. Based on the "Sandy Bridge" (32nm) architecture, the processor operates at 2.5GHz, has 3MB of L3 cache and sports the HD Graphics 3000 engine, which operates at 650 to 1300MHz.
This processor currently retails for $250, which means the CoreHT 252B should cost considerably more than the 231B and 231D models which use the Core i3 2310M. Although the 2310M is an OEM-only part (i.e. it has no retail price), it's featured in sub-$500 laptops, suggesting it costs less than the i5 2520M.
The Core i3 2310M operates at just 2.1GHz and doesn't feature Turbo Boost technology, but is otherwise the same processor as the Core i5 2520M.

All three models feature a pair of DDR3 SO-DIMM slots that are populated with ASint "SSZ3128M8-EDJ1F" 2GB DDR3-1333 modules for a total capacity of 4GB. To upgrade the CoreHT's memory, you'll have to replace this with two 4GB modules, which are surprisingly cheap as quality Corsair, G.Skill and Kingston kits can be had for as little as $60.


On the network front, the CoreHT uses the Realtek RTL8211E Gigabit Ethernet controller along with an Atheros 802.11 b/g/n Wireless LAN PCI Express Half Mini Card. Although the former uses the old PCI bus, throughput won't be severely limited as there are few devices sharing it.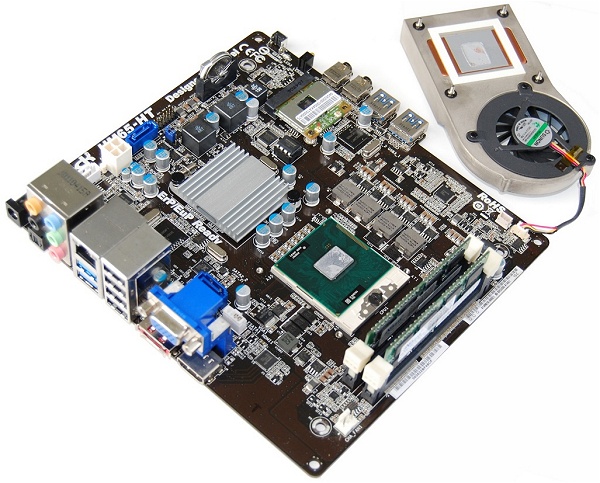 Asrock has also stuck with Realtek for audio, using their tried and true ALC890B 8-channel audio codec. By adopting the Nuvoton NCT6775F IC, Asrock has achieved the EuP2.0 standard, indicating that the total AC power consumption of the system is under 0.5W when powered off.
The CoreHT also supports RAID 0 and RAID1 when installing a secondary 2.5" hard drive, which is an impressive feature for such a tiny device. While Asrock didn't provide much guidance on how to go about installing a second drive, we were able to work it out with a little effort.
The drive in question must be mounted under the primary drive. To do so, the optical drive and primary hard drive will have to be removed from the mounting bracket first. Asrock also included a cable that connects from a special power connection on the motherboard to the second hard drive.
Ultimately, this opens the possibility of purchasing a pair of Western Digital Scorpio Black 2.5" 500GB hard drives, configuring them for RAID0, and getting a terabyte of fast storage inside this little box.
The thermal apparatus is typical of what you would find paired with a laptop-bound Core i5 Mobile chip. The CPU has a small aluminum heatsink that is actively cooled by a tiny 35mm fan, while the Intel HM65 chipset is passively cooled by a much smaller heatsink. This combination manages to keep the CoreHT relatively cool and quiet.