TechSpot is celebrating its 25th anniversary. TechSpot means tech analysis and advice
you can trust
.
When you buy through our links, we may earn a commission.
Learn more
.
It's been a great year for prospective SSD shoppers as prices are finally becoming more practical for system builders and consumers alike. Scrolling through our reviews from last year, most of the higher capacity models were prohibitively expensive for "mainstream" enthusiasts.
The OCZ Vertex 3 240GB was $500 ($2.08/GB) when it arrived last spring, while the Crucial m4 256GB appeared around the same time for $1.95 per gigabyte and Samsung's 830 Series debuted later in the year for around $1.66 per gigabyte.
By mid 2012, SSD prices fell through the floor, costing approximately half as much as last year.
Granted, that's still nowhere near as economical as standard hard drives, so companies have continued to offer affordable solutions in addition to their high-end series to drive sale volumes. Such is the case with OCZ and the Agility 4, a budget-minded counterpart to the Vertex 4 that employs cheaper NAND flash memory.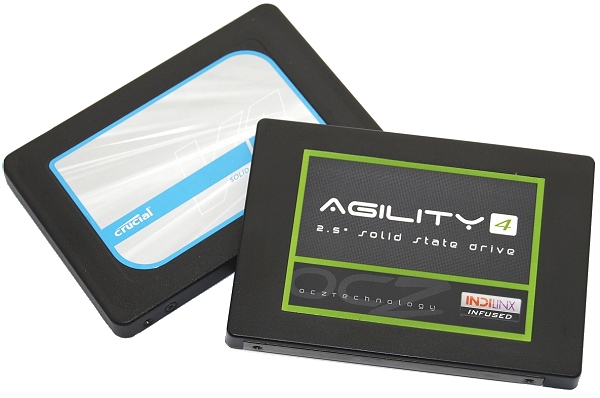 In similar fashion we recently saw the arrival of the Crucial v4 series. Compared to the m4 series, the v4 has a different controller and memory, and it's not SATA 6Gb/s-complaint, which significantly reduces its peak read and write performance. So in this particular case, the v4 isn't precisely a neutered version of Crucial's flagship drive.
With both the Agility 4 and Crucial's v4 priced at just under $200 for 256GB models, it seems we have the makings of a value-driven shootout...
OCZ Agility 4 Series
First, let's take a closer look at the Agility 4, as I am sure many of you are familiar with its big brother. Like the Vertex 4, the Agility 4 is available in 64GB, 128GB, 256GB and 512GB capacities.
The performance of the smaller 64GB and 128GB models is slower than the 256GB and 512GB versions. For example, the 64GB model features a read/write throughput of 300/200MB/s, while the 128GB model is much faster at 420/300MB/s.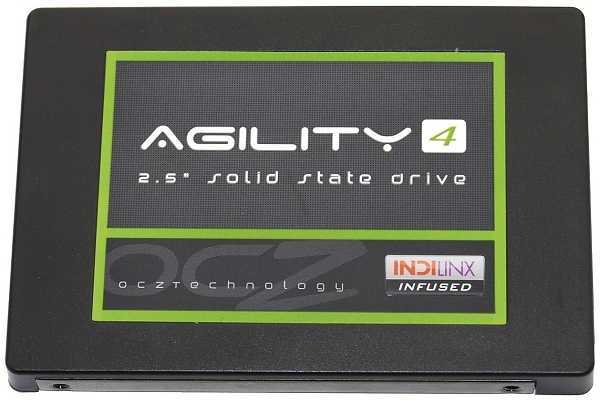 Even so, when compared to the 560MB/s read performance of the 128GB, 256GB and 512GB Vertex 4 drives, the Agility 4 series is at least 25% slower on paper because it uses asynchronous memory instead of synchronous. The cheaper unit also has a modified DRAM cache. Instead of two Micron DDR3-800 512MB chips for a DRAM cache capacity of 1GB, the Agility 4 has a pair of smaller Hynix DDR3-1333 256MB cache chips, for a total capacity of 512MB.
Besides those changes, the Agility 4 and Vertex 4 are virtually indistinguishable, featuring the same Indilinx Everest 2 IDX400M00-BC controller on an identical-looking PCB.
The Agility 4 includes features that are purportedly unique to the Indilinx controller, including latency reduction technology to enhance system responsiveness and enable instant-on boot-ups (OCZ says access times are as low as 0.02ms), and a "Fast Boot" technology that supposedly delivers speedier boot times compared to existing SSDs. Couple that with no data compression limitations as in SandForce drives and you can expect better performance with certain operations involving media files and the like.
There's also the proprietary NDurance 2.0 technology which increases the lifespan of the NAND flash memory by as much as two times, from the 3,000-5,000 PE write cycles currently seen on 20nm NAND drives, back to the 6,000-10,000 range we saw with 30nm NAND.
Despite NDurance 2.0, OCZ has only given the Agility 4 a MTBF (Mean Time Between Failure) rating of two million hours, identical to the Vertex 4. Regardless, the Agility 4 carries a respectable three-year warranty, which is also backed by toll-free tech support and 24-hour Web support on the OCZ forum.