Late last year we checked out AMD's desktop version of Trinity, comprising Piledriver CPU cores along with an on-die Radeon HD 7000 Series (not Graphics Core Next) graphics processor. The A10-5800K debuted at just $130, pitting it at the time against the Core i3-3220. The end result was a typical Intel vs. AMD battle. While AMD had a clear cut advantage in GPU performance, the CPU side of things was more closely contested.
Overall, Trinity picked up where Llano left off, providing an affordable package with enough processing speed for most users while supplying sufficient graphics muscle for most of today's PC games on modest settings.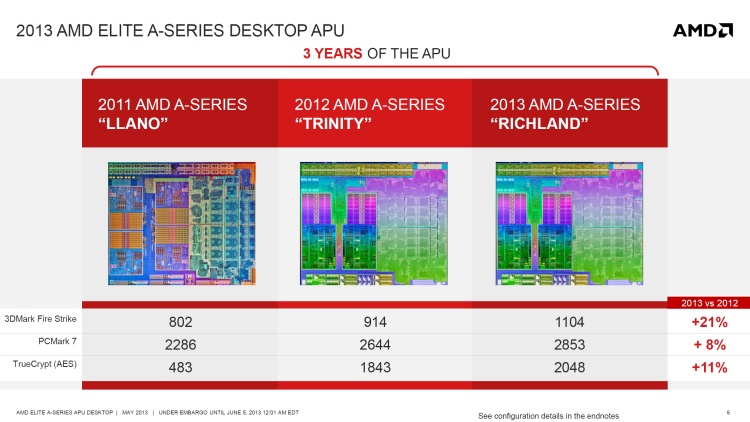 Now, little over 6 months down the road, AMD is updating their product lineup with a minor refresh. Codenamed Richland, these new APUs offer no substantial changes to either the CPU or GPU. Other than some clock speed improvements, better power management, and a few new software features, everything is the same.
Leading the pack today is the A10-6800K, which as you might have guessed, is stepping in to replace the A10-5800K. Both processors are identical with a few minor exceptions. The A10-6800K is clocked slightly higher and has an updated Radeon HD 8670D GPU. We're also taking a look at the bargain basement A4-4000 at the other end of the spectrum, which we suspect is going to be a slightly slower version of last year's A4-5300.