EMS' HSDRAM review
Posted by Adam Klein on May 22, 2000 - Page 4/4
Company: Enhanced Memory Systems Product:

HSDRAM
Conclusion
I expected a lot out of this memory before testing it out that was mainly due to the userís feedback I have been hearing lately. My high expectations of this memory were more than adequately reached after doing all of the testing.
The price of HSDRAM has also gone down quite a bit lately and is now reasonably priced. It is still a little higher than other PC133 memory out there, but if your looking for the most stable memory, or memory that can take you to the extreme with overclocking, then this is a wise purchase.
If you were looking forward to purchase a new Pentium III CPU with thoughts of overclocking, then purchasing HSDRAM would be a good choice for memory. Also, as the new VIA 133MHz chipsets continue to grow in popularity, using 133MHz rated memory such as HSDRAM in these boards makes great alternative to Intel i820 based motherboards.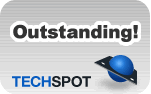 3D Spotlight review score:
9/10
Company: Enhanced Memory Systems Product: HSDRAM