TechSpot is celebrating its 25th anniversary. TechSpot means tech analysis and advice
you can trust
.
When you buy through our links, we may earn a commission.
Learn more
.
Updated: See our latest Gaming Monitor Buying Guide
It's time to revisit our recommendations for the best 1080p gaming monitors currently on the market, something we enjoy doing as it's a great opportunity to use the wealth of testing data we've accumulated over the last few years.
1080p remains a very popular resolution for budget monitor buyers, and at the higher end, 1080p also offers a great experience for competitive gamers thanks to super high refresh rates. We often see comments as if 1080p was a dead resolution, but that's absolutely not true based on what we see at retail, with 1080p high refresh being the second most popular category for buyers in 2020 after 1440p.
Our buying recommendations will be split in gaming monitors capable of 144Hz, 240Hz and 360Hz refresh rates, and clearly this advice is heavily influenced by monitors we've actually tested and know to be good. Beyond our primary picks, do check out what we have to say about alternative models and why we've chosen these specific models. Without further ado...
Best 144Hz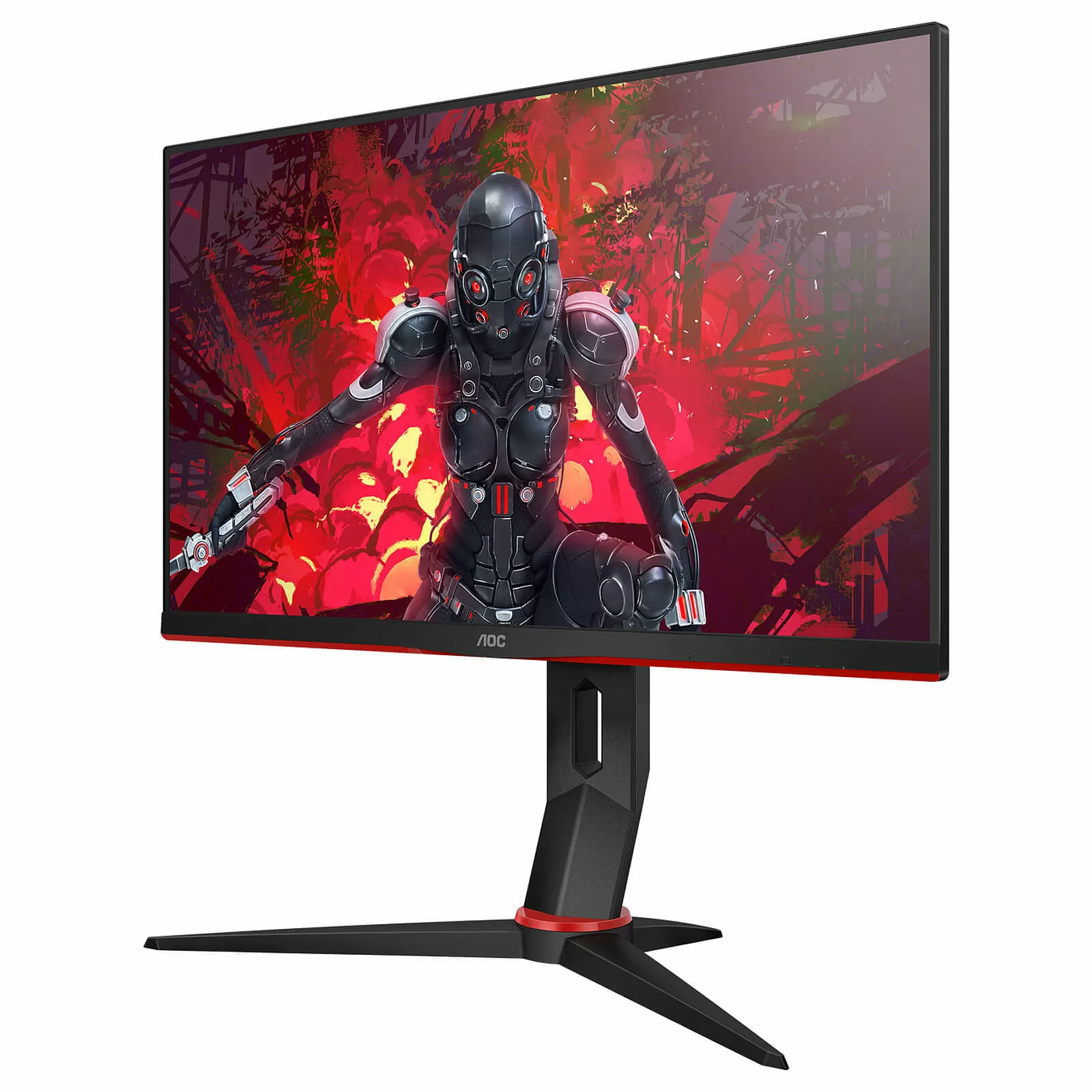 The AOC 24G2 remains in the leading position for a value-oriented 1080p option. For $170, the 24G2 delivers an excellent experience, bringing a 24-inch 1080p 144Hz IPS panel that performs well and packs solid color quality - regardless if you get the original 2019 variant or the updated 2020 variant.
It also includes an ergonomic stand with height adjustment, often omitted from other budget 1080p monitors. The overall package AOC is offering is balanced between gaming performance and image quality, so I'm comfortable continuing to recommend it.
Other options considered included the MSI G242 and Gigabyte G24F, but both are more expensive and don't appear to be offering anything better than the AOC. I've also liked the performance BenQ delivers with the EX2510. It's a better all round package than the AOC 24G2, but it's very hard to justify at $250 when the Asus VG259QM is just $230.
Is there anything worth buying if I have less than $170 to spend?
Unfortunately, the answer is mostly no. You can shave off around $10 opting for a curved VA panel instead, with 1080p 144Hz specifications. However, we've typically found these monitors perform much worse than the 24G2 with unsightly issues like dark level smearing, making them not worth the minor price saving. The same can be said about TN monitors that can be found for around $150, you will be sacrificing performance in general for a small discount.
These days monitors that top out at 144 to 165Hz are more medium-refresh rate, given the prevalence of 240Hz and above especially at 1080p. This is by far the most popular category for 1080p buyers, and there's a serious wealth of options to choose from, which makes picking one out quite tricky. For this reason, we're splitting this category in two brackets: the best quality IPS offering and the more budget oriented monitors for cash strapped gamers.
It should be noted that the best value option will vary based on your location and local pricing. And while this is usually the case, today there's more volatility in the monitor market and supply issues are affecting displays, just not to the same extent as other PC components.
For most people, our top recommendation for 1080p 144Hz is the AOC 24G2. The 24G2, and the larger 27-inch variant (27G2), include an IPS panel, adaptive sync and a refresh rate that tops out at 144Hz. We were impressed with the build quality that includes features like a height adjustable stand, not often found on more budget oriented displays. But one of the key features, especially of the newer 2020 variant, is response time performance, which is very strong and in some ways as good as higher-end 1440p monitors. The 24G2 is among the best 1080p IPS monitors we've tested for motion clarity, which makes it a great choice for gaming.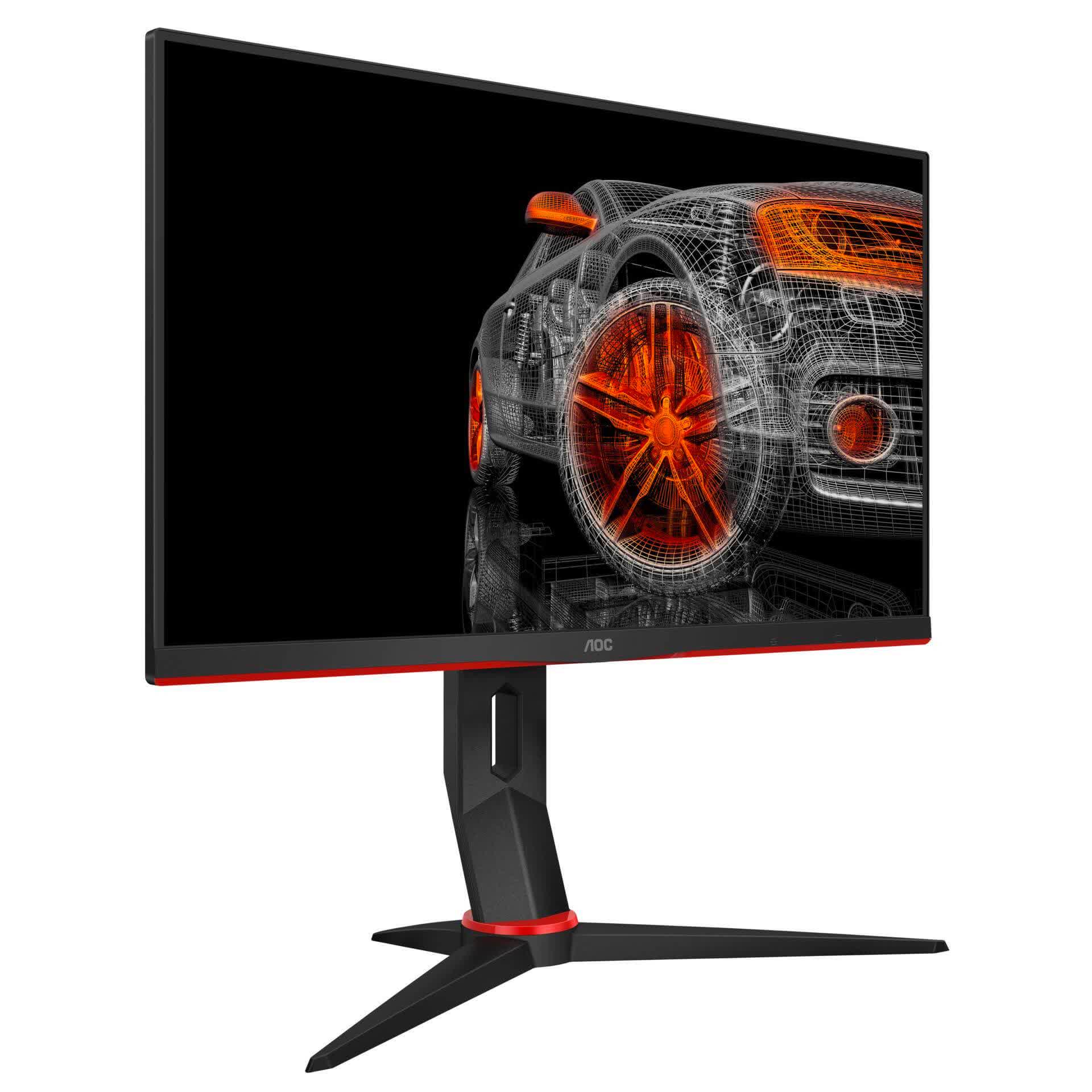 At some point we hesitated to keep recommending the 24G2, given that AOC silently changed the panel last year, without changing the name or informing customers. However, we bought the new variant and found that while it doesn't perform the same as the older variant, in some ways it's actually superior. Other aspects are solid as well, including its wide gamut support and contrast ratio, however the older 2019 variant is superior for contrast ratio and factory calibration, so it may be worth hunting the older model if you need those features. But in general this is a versatile monitor with a nice set of features and great performance at this price.
Two Alternatives: BenQ & MSI
If you are unable to find the AOC, there's a great alternative in the BenQ EX2510. While usually more expensive than the 24G2 for a similar level of performance, if pricing is similar to the 24G2 in your region then it's also a good choice.Another option worth considering is the MSI Optix G242. It uses the same panel as the newer AOC 24G2 suggesting that performance should be similar in terms of response times and color performance, although MSI will use different overdrive settings. Based on previous MSI monitors that we have reviewed, they are competent at getting decent results from a given panel.
Going Larger or Cheaper
If you want something larger, in the 27-inch range, in addition to the AOC 27G2 we'd also consider Gigabyte's G27F and M27F, which offer a classic 1080p 144Hz IPS experience. Gigabyte are mostly focusing on 27-inch 1080p monitors in their line-up, and these two options often have competitive pricing in the $220 range.
While products like the AOC 24G2 and MSI G242 can be quite affordable, there are cheaper options also worth considering. Both the Pixio PX248 Prime and the Asus VP249QGR are worthy affordable options. We've tested both the PX248 Prime and the Prime S version, and honestly we'd save the money to get the slightly cheaper non-S model, which retails for just $170. Response times are similar to the older version of the 24G2, and while factory calibration could use some work, it's an acceptable panel overall.
What Not to Buy
What we'd steer clear from at the moment are 1080p VA monitors. The value proposition isn't there compared to IPS, especially as most of these VAs use fairly mediocre panels with issues like dark level smearing and slow response times. The Asus VG24VQ, for example, is a particularly popular option, but it costs $180 - only $10 less than a decent IPS like the MSI 24G2 and $10 more than cheaper options like Asus' own VP249QGR.
As for 1080p 144Hz TN panels, again the value proposition isn't great. You can find some monitors with these specs below $150, like the Acer KG241QP, but many options we feel are overpriced. The LG 24GL600F was a great budget option on release, but the price squeeze on IPS places it around the same mark as budget IPS alternatives. You may want to consider one for backlight strobing technology, although finding a panel that does this well at 144Hz at an acceptable price is difficult.
Among gamers 1080p monitors are still extremely popular. While some will no doubt look to upgrade to a higher resolution with their next monitor purchase, if you only have around $200 to spend, you'll get by far the best experience going with something 1080p. There are several 1080p monitor types on the market, and we've been recommending VA or TN panels in this category depending on where pricing sits at any given time. But in 2020, with the release of several really high quality yet affordable IPS options, we believe the best bang for buck right now lies with this often premium monitor technology.
Currently the best budget 1080p monitor is the AOC 24G2. Not only is this the best 1080p 144Hz gaming monitor on the market overall, but thanks to a low $180 price, we also believe it's the best bang for buck 1080p monitor you can get.
The 24G2 uses a 24-inch flat 1080p 144Hz IPS panel with adaptive sync and low frame rate compensation. The gaming experience is simply great due to a combination of factors. We get a high refresh rate, great adaptive sync implementation that works flawlessly with AMD or Nvidia GPUs, and fast response times due to its use of IPS technology.
A 5ms grey to grey average using its optimal overdrive settings is a good bit faster than equivalent VA panels, and approaches some TNs that typically retail for around the same price. Throw in a backlight strobing mode and the 24G2 delivers very good motion handling, which makes it ideal for fast paced gaming.
AOC backs this up with low input lag, a high contrast ratio for an IPS panel, low power consumption and an ergonomic design that includes a height adjustable stand, which is rare among budget oriented monitors. Even factory color performance is solid with the bonus of some wide gamut coverage.
This is nearly a complete package that nails all the key areas for a gaming monitor. With that low $180 retail price that puts it around the mark of several popular TN monitors, we see no reason to choose a TN panel over this IPS model. It's a great buy.
A larger alternative, and even cheaper options
There are several other options that take our fancy in this market. If you want something larger, say 27-inches, the AOC 27G2 is the bigger brother of the 24G2 that retails for $210. We'd choose this over the similarly priced Acer Nitro VG271P, as the Acer model has a more limited stand and lacks adjustable overdrive when adaptive sync is activated. While we do believe both the 24G2 and 27G2 deliver the best bang for buck in the 1080p market, $180 might be on the upper end of your price range, and that's understandable.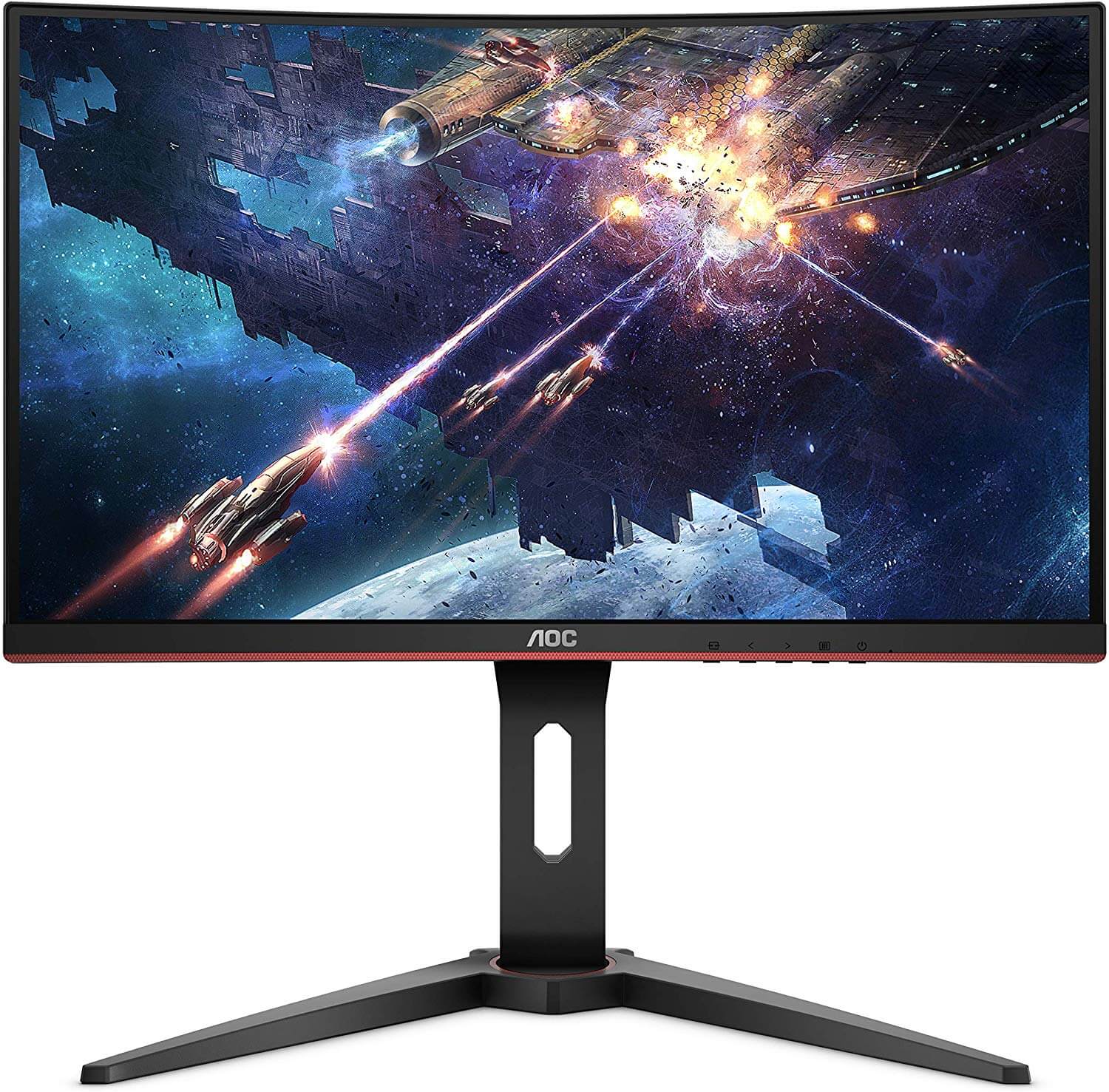 There are other 1080p 144Hz monitors available closer to $150, which is a decent saving of 17% or so. At this price point, you're looking at a curved VA monitor, but you'll still be getting a 144Hz display with adaptive sync performance. VA panels tend to be a bit slower than IPS and can suffer from an issue called 'dark level smearing', where slow response times for dark colors in particular can cause more blur than you'd like. But we think this issue tends to be overstated a bit given modern VA panels are pretty decent.
If you'd prefer to save some cash and spend $150, here's what we'd recommend: for 1080p 144Hz VA options, we have the Viotek GN24CB which comes close to the performance we see from the 24G2. It's available for just $150 in the US. It lacks a height adjustable stand and its performance isn't as strong at lower refresh rates, like 60Hz.
If you can't get the Viotek, or you want a height adjustable stand, our choice would be another AOC monitor, the C24G1. At ~$145, it packs the same height adjustable design as our top IPS recommendation although panel performance isn't as solid, but it's good enough for the price. Outside of these, we're not enthused by the value proposition of any 1080p TN monitors right now, so we'd just stick to the options we've mentioned.
Best 240Hz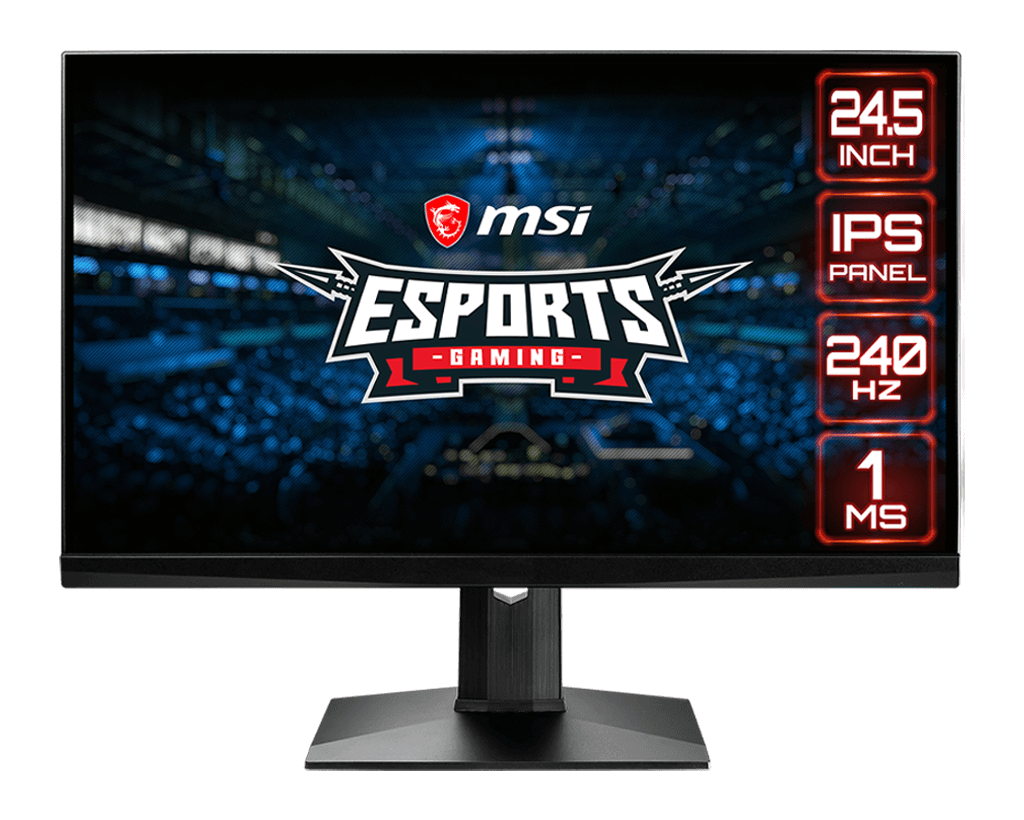 When buying a 240Hz monitor, there are two clear paths you can take: 1) you can go down the full esports route and buy a high quality TN monitor with excellent backlight strobing, or 2) you can grab something more balanced, and that's where today's 1080p 240Hz IPS monitors come into play.
We've reviewed a handful of 1080p 240Hz IPS offerings, and our pick of the bunch is the MSI Optix MAG251RX, which offers an excellent balance of fast response times and image quality. One of this monitor's strengths is offering TN-like speed at 240Hz, giving you the true benefit of that refresh rate, along with low input lag. MSI backs this up with great performance across the refresh range, better than Asus' TUF Gaming competitors which unfortunately deliver varying performance when gaming with adaptive sync enabled.
The MAG251RX is also surprisingly competent at backlight strobing, although not as good as today's best TN monitors that we'll talk about soon. However, this does keep the MSI model around the mark for gamers that like a mixture of gaming, both esports and AAA single player. When combined with its strong contrast ratio for an IPS panel, excellent viewing angles, and great factory calibration, MSI are delivering a well balanced experience.
Two Alternatives: LG and Asus
The MAG251RX can be difficult to find in some regions unfortunately. If you can land one, it's not only the best performing 1080p 240Hz IPS we've tested, but also the best value, which may explain the stock issues.
There are backup option however. We'd go for either the LG 27GN750 at 27-inches, or the Asus VG259QM at 24-inches. Our first option would be the LG monitor as it delivers superior response time performance, however it won't be a great option for those that want backlight strobing, as it doesn't support it. Other areas are generally equal and both deliver a great color experience. However, those after strobing should consider Asus TUF VG-QM monitors instead.
144Hz vs. 240Hz
It should be noted that 240Hz 1080p monitors are usually a lot more expensive than 144Hz, so the question becomes: is it actually worth spending double the price (or more) to nab something 240Hz?
That depends a lot on your upgrade plans and the games you play. A 1080p 144Hz display is considered an entry-level product, and we'd imagine many would be looking to upgrade eventually to something like a 1440p panel. In contrast, a 1080p 240Hz display will last you longer, especially if high refresh rate gaming is your thing, because there's a lot more headroom on offer here. So one angle is that while 240 Hz is more expensive, it's also more future proof.
Generally these high refresh rate displays at this resolution are better suited to competitive gamers, so if you only play these sorts of titles occasionally, then it may not be worth the cost increase. 240Hz does offer a lot to gamers that play Fortnite, Overwatch, Valorant and similar titles, and it should last those gamers a fair while. I'd prefer a 1080p 240Hz display over a 1440p 144Hz monitor in those situations, which are often a similar price.
Esports Gaming Pick
The ultimate monitor for esports gaming at the moment is the BenQ Zowie XL2546K. This is a 1080p 240Hz TN monitor whose main selling point is BenQ's DyAc+ backlight strobing technology. While we haven't tested this monitor yet, various other outlets and users have consistently shown outstanding backlight strobing results, leading to a super clear image that benefits esports gamers.
Combined with a high refresh rate and the input latency benefits that brings, the XL2546K is the go-to choice for high-end competitive gaming in a lot of circles.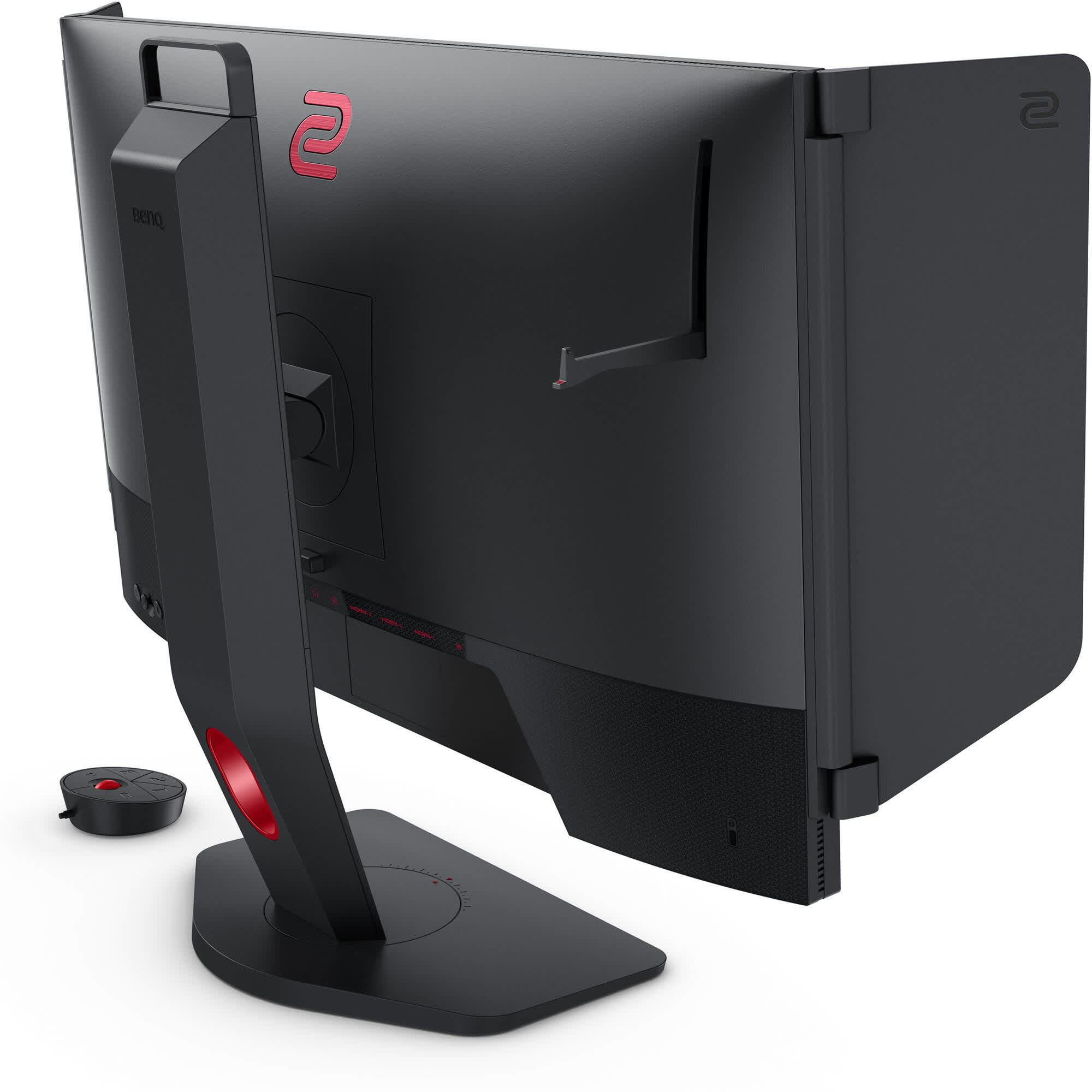 However, the XL2546K is not for everyone. Certainly not for those after a balanced experience. As like with many TNs, the Zowie sacrifices on color performance to achieve blazing fast response times. Expect poor viewing angles and a mediocre contrast ratio.
It's also selling for ~$500, which is at least $100 more expensive that the other IPS options we just discussed. In other words, you must be set on using DyAc to get the most out of what is otherwise a pricey option. But if you want the best, then as usual that comes with a price.
If you don't want a 360Hz display at a high price tag, then 240Hz might be right for you. The MSI Optix MAG251RX is an excellent 1080p 240Hz IPS monitor with a competitive price tag of just $360. This display has very strong performance with up to 3ms response times at 240Hz, better than similar displays we've tested, along with great color quality and viewing angles thanks to its use of IPS technology.
Then for budget monitor buyers, the AOC 24G2 and its larger brother (AOC 27G2) remain our top budget choices for under $200 if you can get them at that price. The Asus VG24VQ might be a better option depending on availability.
The AOC 24G2 packs a 24-inch 1080p 144Hz IPS display with solid performance in this price class. No need to worry about slow IPS panels, this screen can push up to the 5ms range on average, which isn't too far off some of the best 1440p IPS monitors we've tested. Of course, just 1080p, and capped to 144Hz, but the motion handling experience is great, and that's complemented by excellent viewing angles and color performance overall. With this sort of performance on offer in a sub-$200 display, we don't see a point in buying an even cheaper 1080p display using VA or TN technology.
Best 360Hz
This is the cream of the crop of 1080p monitors, there are not many models out there, and all use the same AU Optronics panel. When we reviewed the Asus PG259QN last year, we were extremely impressed with its blazing fast response times, but also thanks to the use of IPS, it offers great color reproduction.
Asus calibrates this display to an outstanding level out of the factory, leading to some of the best accuracy results we've ever measured, to go along with great viewing angles. The real star of the show here though is that 360 Hz refresh rate. Motion clarity without using backlight strobing was marginally higher than at 240 Hz, however the real reason to buy this display is the latency benefits. Using 360Hz is so ridiculously fast that it makes 144Hz feel sluggish, almost like the difference between 144Hz and 60Hz. This has serious benefits for gaming, and those after the absolute lowest latency should be very interested in something 360Hz.
As for drawbacks, the backlight strobing mode is only decent, and those after the clearest image through strobing should instead look at the 240Hz BenQ XL2546K. The Asus PG259QN is a more balanced alternative, but its lack of strobing at 360Hz is a disappointment. It's also an expensive affair, with retail pricing close to $900 which is nearly twice as much as other 1080p monitors, even those running at 240Hz.
There is no question of quality or the technology on offer though, it's simply not meant to be a value offering. Alienware also makes the AW2521H, a 360Hz monitor with similar specifications. We haven't tested it but you can often find it on sale for less than the PG259QN.
1080p displays are not nearly as popular as they once were, but it still remains an important resolution for some gamers, especially those that want to push the boundaries of refresh rates and frame rates in esports titles.
Currently, the best 1080p monitor on the market is the Asus ROG Swift PG259QN and it's not even close. This is a phenomenal 360Hz monitor that has been designed specifically to succeed in nearly all areas of performance. Not only is the refresh rate extremely high, but we also get average response time performance in the 2-3ms range, which is class leading among gaming monitors. And that's all with an IPS display, not TN, meaning we still get great viewing angles and color performance.
In fact, when it comes to color performance, the Asus PG259QN is one of the best factory calibrated displays we've ever tested. Factor in the elite input lag... this is the most responsive monitor we've ever tested, and overall one of the best. The only downside is the relatively low 1080p resolution and a high price tag of $700.